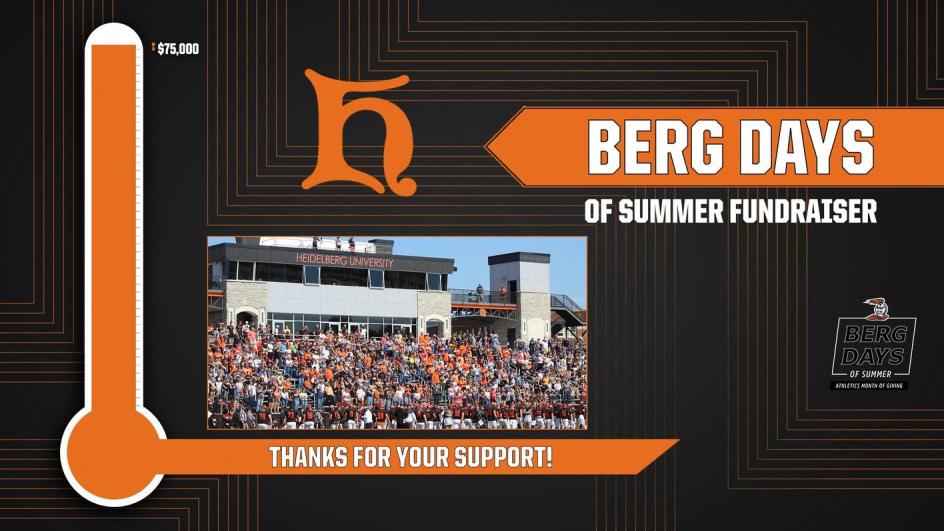 ---
For the third year in a row, Heidelberg Athletics' Berg Days of Summer comprehensive fundraiser has surpassed its goal. While gifts continue to roll in from families, friends and alumni, the department has already raised more than $76,000.  
Started in 2021, the Berg Days of Summer is an annual, month-long effort to help each team raise funds for its unique needs, including equipment, technology upgrades and travel.
"Time and time again, I am blown away by the generosity and support of the Heidelberg community," said Athletic Director Greg Cooper. "The funds raised will be put to good use, improving the experience of our student-athletes."
To date, more than 700 individual donors have contributed to the project. The Berg Days of Summer is a joint project between the Office of Athletics and University Advancement & Alumni Affairs.
"As a former student-athlete myself, I am keenly aware of the impact that Athletics has on our campus culture," said Sydney Hieronymus, Director of Annual Giving and Alumni Engagement. "Being able to spearhead the Berg Days of Summer from our side of campus was a wonderful opportunity."
Of the 17 programs involved, 11 reached their individual fundraising goals. Men's lacrosse, under the leadership of first-year head coach Ryan Sinnema, reached 471% of its goal.
"Every year, the Berg Days of Summer gives us a great opportunity to reach out to our alumni, friends and family," said Head Women's Soccer Coach Maddie McLaughlin, whose team surpassed its goal and had the most individual donors of any program. "From everyone who makes a gift to everyone on campus who helps the project get off the ground, I know our student-athletes feel the Berg Pride!"
Though the Berg Days website has closed, H Association members are still able and encouraged to use the latest newsletter to continue to support their Sweet Alma Home. Gifts received through the H Association Newsletter will be added to the totals.