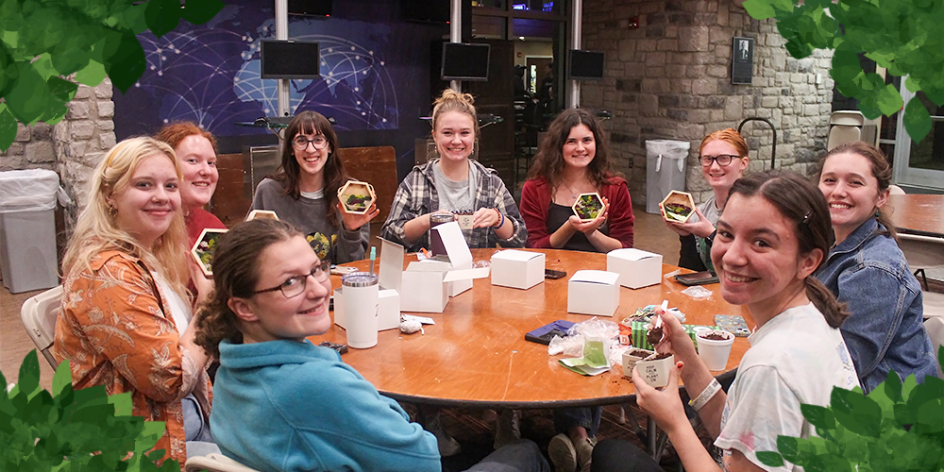 ---
The Berg Events Council, also known as BEC, held a craft night on Monday, September 18, in University Commons, in conjunction with the Alliance for Sustainability (AFS). 
When BEC President Jocelyn Everett was looking through the craft kits available for purchase, she found the plant-themed ones – and the gears started turning. Jocelyn is a member of the Alliance for Sustainability – and the president of AFS, MacKenzie Haneberg, is a member of the BEC. Very quickly after the discovery, Jocelyn brought up the idea of a collaboration to MacKenzie, and the craft night became a group effort celebrating nature!
For those unfamiliar with BEC, the Berg Events Council plans a lot of fun activities on campus such as Labor Stay, Homecoming Week events, Winterfest, Siggy Summer Send Off, as well as their monthly bingo night and craft nights. Like all BEC events, on Monday, undergraduates were invited to freely attend and make these crafts: a moss art kit and a mini herb garden.
Collaboration is Key
Because of BEC's familiarity with running large events, collaboration is fairly normal. They even have a form that other groups can fill out with suggestions for collaborations and the help they need. BEC works closely with the Office of Student Engagement, offering advice to Jacqueline Sironen about what students would find engaging and fun.
"I didn't know this," Jocelyn explained, "but Among Us is still really cool to our incoming freshmen." Among Us is a video game that became popular during 2020, and allows friends to collaborate or trick one another as they snoop out who is the murderer on board an alien ship.  "We told Jacqueline and talked about it," Jocelyn divulged, "so now there's going to be an Among Us party on the Monday of Homecoming Week. If you like Among Us, don't miss it!"
Get Involved
Ideas like the Among Us party only spring up thanks to the collaboration and opinions of students. If you're interested in giving the council your own ideas for events, membership is easy and noncommittal! Staying up to date on what BEC is doing is as simple as following them on Instagram. "But we encourage students to pop in to our meetings, listen to the plans and give your opinions – it helps a lot!" Jocelyn encouraged. BEC meetings are held Sunday nights at 9, in Campus Center 220.
BEC serves all students, so be sure to drop a follow or drop into a meeting, and help make campus life more vibrant and fun!
Contributing Writer: Gracie Forrest '27
Published on
Sep 19, 2023