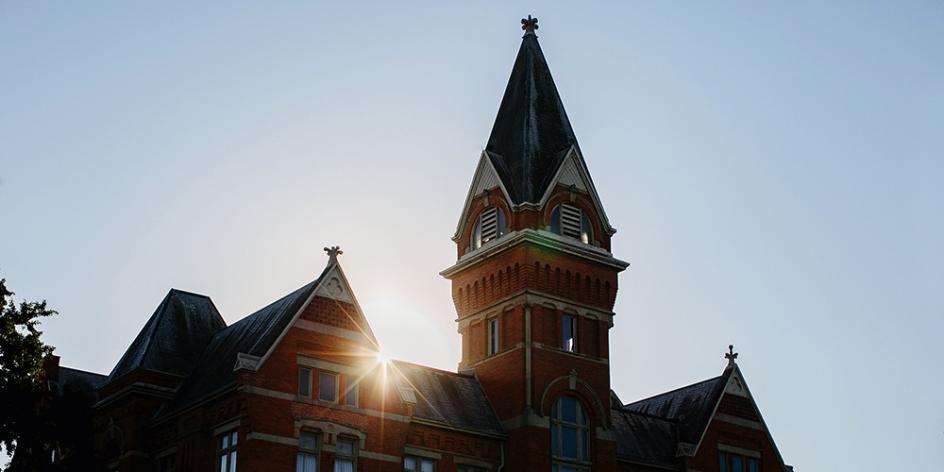 ---
Heidelberg University has climbed higher in U.S. News & World Report's annual survey of "Best Value" colleges and universities in the Midwest region. In the rankings released Sept. 18, Heidelberg is listed at No. 27 – up from No. 48 a year ago – on the "Best Value" list.
According to the magazine, placement on the "Best Value" list confirms that Heidelberg provides a high-quality education at an affordable price. The list considers the percentage of need-based financial aid and the average cost after financial aid is awarded.
"Heidelberg has invested in multiple opportunities for our traditional, transfer, and adult students to gain advantages in pursuing their higher education goals while also keeping costs low," said President Rob Huntington. "This commitment has paid off in our students landing top jobs with good wages without overwhelming debt. Heidelberg's significant climb among regional colleges for 'Best Value' is the result of this investment and our students' hard work."
Rob added that Heidelberg has worked to continually improve by prioritizing academic programs that lead to the best employment opportunities, including expanded internship and career placement opportunities through its HYPE Career Ready® Program. The University takes a holistic approach to enrollment, offering test-optional admission for students who feel their ACT/SAT scores might not reflect their true academic ability. Students also can take advantage of Heidelberg's Fixed Tuition Guarantee and its Four-Year Graduation Guarantee.
Heidelberg has increased its academic scholarships with opportunities including a Diversity and Inclusion scholarship. Additionally, funding from the Rural Post-Secondary and Economic Development grant is helping Heidelberg create clearer pathways and better support for students from rural communities to pursue a college degree."
During the last academic year, Heidelberg launched its Open Transfer Program, a concentrated effort to remove the typical barriers for community college graduates who want to pursue their bachelor's degree at Heidelberg, according to Sara Rowlinson, Director of Admission. "Scholarships, along with grants and other financial aid opportunities, help students bridge the gap between their family's resources and the cost of attending college," Sara said.
In addition to the "Best Value" ranking, Heidelberg is listed as a "top performer" on U.S. News's Social Mobility list, coming in at No. 26 in the Midwest Regional Colleges category. Social Mobility measures how well colleges and universities graduate students who receive federal Pell Grants. Social Mobility rankings are based on two factors: graduation rates of Pell-awarded students and graduation rate performance comparing the six-year graduation rate of Pell recipients with non-Pell recipients.
U.S. News also gave Heidelberg high marks in the top tier among best regional colleges in the Midwest; HU is listed at No. 53, the same as the previous year.
This year's U.S. News survey indicates that Heidelberg continues to rank among the best colleges in value and affordability as well as academic preparation. "Our University remains committed to investing in opportunities for all students across the Midwest who wish to pursue their dream of a college degree," Rob said. "We believe these investments will ultimately pay off in improved retention and graduation rates as well as student placement upon graduation."
Rankings such as those released by U.S. News help students and families make the important decision about where to invest in themselves and their college education.
Published on
Sep 27, 2023