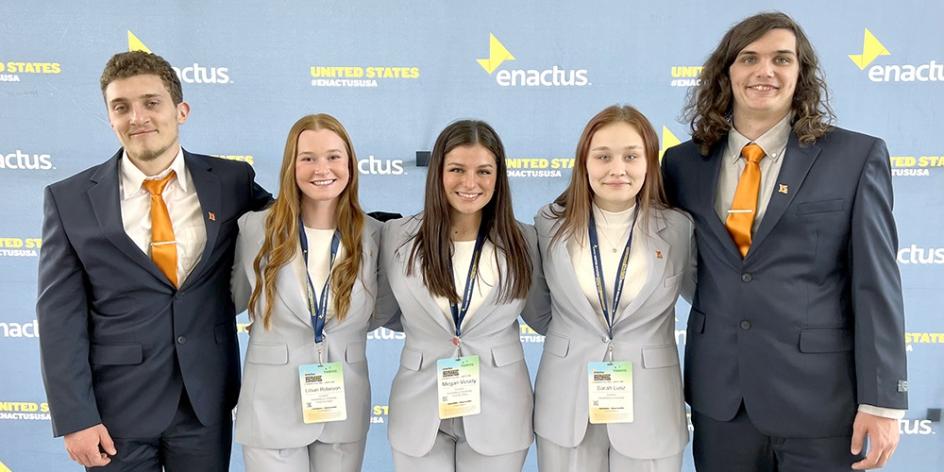 ---
Berg Enactus has come a long way in a short time. Last week, their efforts made it all the way to a national stage when five students and their faculty advisor, Professor Scott Miller, traveled to Dallas to compete in the Enactus United States National Exposition – a national competition where teams from across the U.S. showcase the collective impact of their community outreach efforts.
And although the team didn't advance, they took away so many valuable lessons and pieces of advice that will help prepare them for the competition next year. And their advisors were super proud of their efforts.
"I was very proud of how Berg Enactus team members stepped into a highly competitive environment and held their own," Scott said. "We were up against some very experienced teams with projects that have been running for several years. But we had done great work on our three projects over the past year, so we viewed this competition as an opportunity to highlight our progress and show that Heidelberg belongs on this stage."
The students – senior Megan Vesely and Berg Enactus president, junior Sam Scheele, sophomore Lillian Robeson, and freshmen Conor Sukel and Sarah Lusz – "rose to the occasion and represented Heidelberg very well."
The team plus a number of additional students reinvigorated Berg Enactus this year by launching three community-minded projects: Gym Class Heroes, Enact-Gift and a campus recycling program. The projects and their development formed the theme of their presentation at the exposition.
Strong preparation yields experience
Decked out in professional attire – matching gray suits for the women and navy suits with orange ties for the men – the students felt well-prepared.
"Before we even wrote our script and decided what we wanted to present, we watched a lot of videos of prior competitions," Lillian said. "That really helped us determine what we should include in our presentation."
Conor added, "Our biggest challenge with preparation was getting our speech memorized and working out the timing of it."
Although they experienced some anxiety prior to their presentation, especially the three minutes of "prep time" right before they took the stage, it didn't show.
"The other teams were so polished and we don't have as much experience," Lillian said. "But I watched a video of our presentation and we did a good job for the number of times we rehearsed."
They're already thinking about ways they can improve. Some of those ideas are the product of helpful networking with other teams who were willing to trade reports with the Heidelberg group. Those networking opportunities were some of the most valuable the team brought back to campus.
"It was inspiring to learn the stories of the other teams and why they're involved in Enactus," Lillian said. "Everyone was so friendly and upbeat. It's a very welcoming community."
A shared sense of pride
Salil, a co-advisor to Berg Enactus, was particularly proud of the way the students came together as a team, collaborated to prepare for the competition and presented as a cohesive unit. The faculty advisors give a great deal of credit to the leadership of Megan to motivate the group.
"The current Enactus group and especially the President, Megan Vesely, has exceeded my expectations," Salil said. "By taking so much initiative, they really made our job as faculty advisors easier."
The exposition – and the entire Enactus experience this year – have been rewarding for Megan as she gets ready to graduate.
"As president of Enactus, I was so proud of our team for our presentation," she said. "We have come a long way in a short amount of time, despite not having a lot of experience.
"I have had leadership roles in other organizations but the dedication it took for students in Enactus did not compare. This trip really made all of our hard work pay off."
On a personal note, it was a sweet swansong during Megan's last semester as an undergrad, before she returns to Heidelberg for her MBA this fall. "As a senior attending this expo, I knew it would be my last major event before graduation. It was such a nice finale to my years of undergrad being able to represent Heidelberg and the School of Business."
Career guidance from a special friend
While at the exposition, the 'Berg students also took part in a career fair with partner recruiters, a career services session and academic symposium, and a special Enactus forum, "Optimizing the College Experience for Career Readiness."
The team also had the great fortune to meet over dinner with 'Berg alumnus and Trustee Emeritus John Adams '58, and members of his family. John spoke reverently about his Heidelberg experience and offered advice to the students that focused more on relationship-building less on business acumen, according to Conor.
The 'Berg group, which also included Dean Dr. Anne Anderson, Susan McCafferty and Ashley Helmstetter, appreciated hearing about John's life and accomplishments and took the opportunity to thank him for his support of their trip.
"Mr. Adams provided advice to the students that I'm sure will stay with them for a long time," Scott said.
On the horizon
"We're already thinking of ways to improve for next year," Conor said. Megan added, "We learned exactly what we need to do to prepare for next year, and I really believe that Heidelberg can compete with the bigger, more experienced schools."
 
Published on
Apr 28, 2023
Programs
Accounting
Business Administration