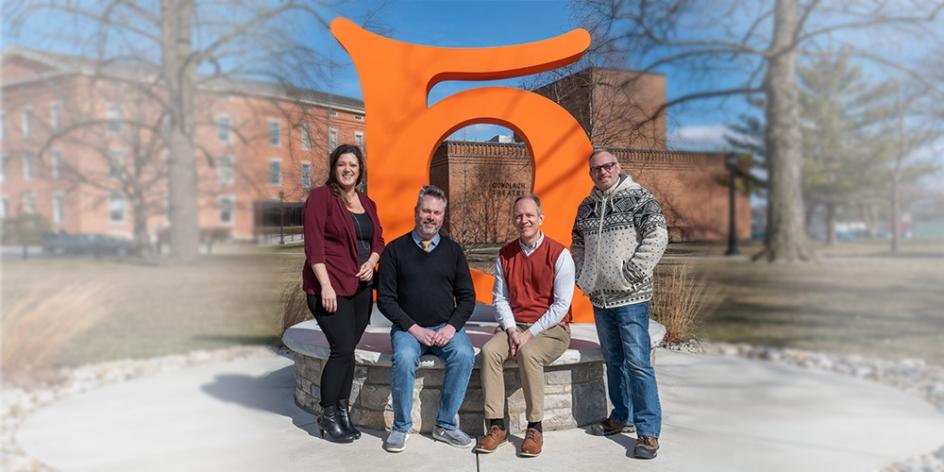 Four faculty members have earned recognition for their excellence in teaching, research, commitment to the humanities and distinguished service to the campus.
The annual Faculty Awards were presented in conjunction with the winter Board of Trustees meeting annual dinner, in Wickham Great Hall on Thursday, Feb. 16.
Huge congratulations to this year's award recipients:
•    Dr. Meagan McBride, assistant professor of graduate counseling – the Ream-Paradiso Distinguished Teaching Award
•    Dr. Greg Ramsdell, professor of choral music education – the Jane Frost Kalnow Professor in the Humanities
•    Dr. Barry Devine, assistant professor of English – the Distinguished Scholarship/Research Award for Faculty
•    Dr. Aaron Roerdink, associate professor of chemistry – the Faculty Distinguished Service Award.
Each of the award recipients shared remarks, advice and appreciation for teaching, research and service to students. The awards dinner was hosted this year by Board Chair Kathy Geier. Board Vice Chair Rich Odell gave a special presentation about significant recent gifts and Chaplain Paul Sittason Stark provided the invocation. Following his opening remarks, Provost Bryan Smith presented the awards.
The Ream-Paradiso Teaching Award was first presented in 1996 and the Distinguished Scholarship/Research Award in 1999. This is the 22nd year for the Frost-Kalnow Professorship and the fifth year the Distinguished Service Award has been presented.
Published on
Feb 22, 2023
Programs
Chemistry
English
Master of Arts in Counseling
Music