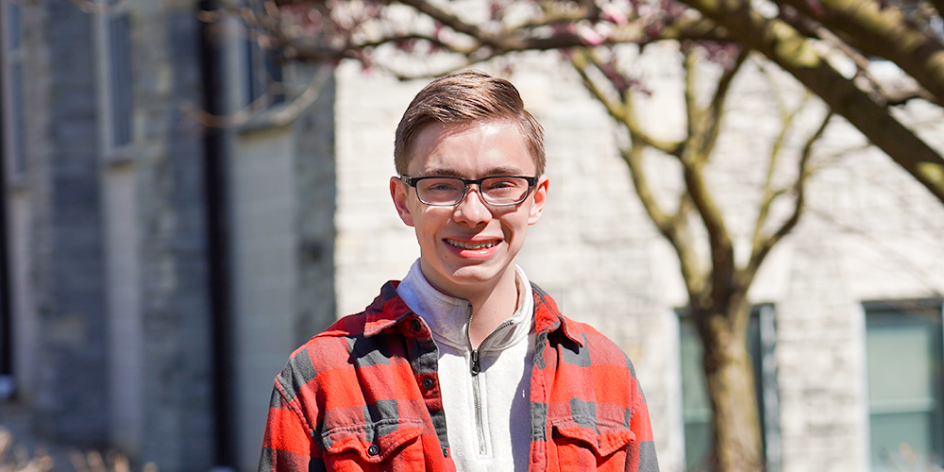 ---
Caleb Silvia is a freshman on a mission.
When Caleb was a toddler, he was diagnosed with an autoimmune disorder. Being so small, he didn't remember much from his stay in the hospital. "But I remembered the toy cart," he shared. In 2012, when Caleb was 8, he decided he wanted to "do something special" for someone important for him around Christmas time. He went around his neighborhood and collected 300 toys to give to Nationwide Children's Hospital in Columbus, where he had stayed when he was 2. 
Three years after his first toy drive, Caleb Cares 4 Kids was founded as a 501(c)(3) non-profit organization. Caleb's organization "provides gifts and financial support to pediatric hospital patients and their families." He continues to help run his organization along with their Board of Trustees and his parents ('Berg alumni Andrew and Erica Rhineberger Silvia), collecting toys and monetary donations for the Children's Miracle Network with his creative annual programs. Recently, Caleb Cares 4 Kids has begun the process of establishing a scholarship fund. The new program was recently announced, and details are still being finalized for how Caleb's organization can help local students who've dealt with health crises.
Caleb Cares 4 Kids has many ongoing projects. Along with the classic toy drive, Caleb collects pop tabs that are donated to the Ronald McDonald House – which can earn around 50 cents for a pound of pop tabs. Caleb Cares 4 Kids has an M&M fundraiser as well, where people can purchase a tube of M&M's from them for $1, and then they are encouraged to fill the tube with quarters once they've finished the candy. The biggest event of their year is the Spaghetti Dinner and Auction, around October.
In order to create awareness for the Spaghetti Dinner, Caleb's organization has a fun, unique way to raise funds: Priscilla, the Pink Pooper. Caleb originally thought of the idea when the "You've been flocked" trend on social media was popular. The trend saw people's yards filled with dozens of flamingos as a prank. Caleb Cares 4 Kids takes the prank in a new direction – utilizing it to raise money to benefit sick kids and health organizations. "It's a pink toilet that goes to individuals, businesses and schools in the community," Caleb explained. To have Priscilla removed is $10; to designate where Priscilla should go next is $20; and "Potty Protection Insurance" for the season costs $30. 
Working for your own non-profit organization and being a full time college student takes a lot of dedication. "I have so many people supporting me at home, and so many people are understanding while I'm at school," Caleb said. His endless creativity and genuine drive means that the organization is still a priority – one he assists with while at school, and travels home to tend to some weekends. "So, not so stressful, but it's definitely busy." 
You can help Caleb's mission by visiting their website, calebcares4kids.org. You can also  keep up with their mission on Facebook, Instagram, and TikTok.
 
Published on
Apr 13, 2023