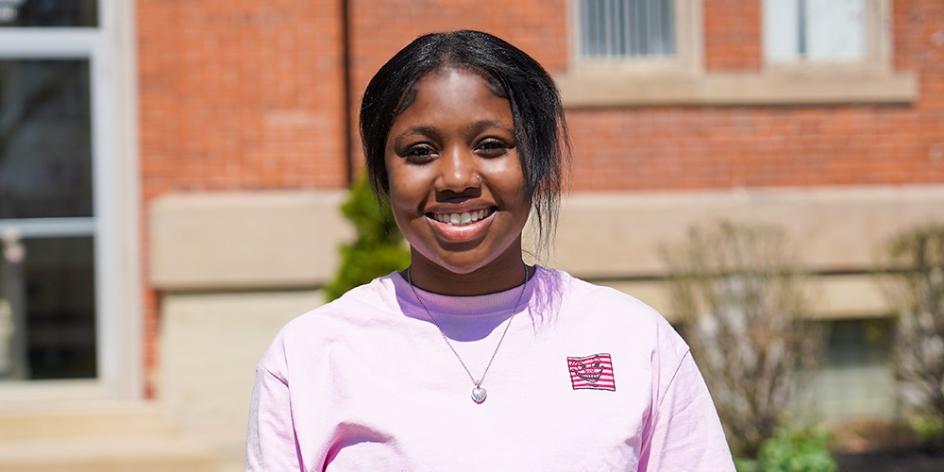 ---
Though she's just a freshman, Yaniah "Niah" Powell knows where she's headed. A prestigious National Science Foundation Research Experience for Undergrads (REU) will help her get there.
On May 29, Niah heads to the University of North Carolina in Charlotte for the two-month experience in Data Science and Crime Analytics. The National Science Foundation-funded paid REU provides hands-on experience to undergrads who are interested in graduate degrees or careers in computer science, criminal justice, crime analysis, analytics and data science undergrads hands-on research experience.
Just nine students across the country were selected for the experience, and Niah is ecstatic to be selected – so much so that she almost overlooked a requirement for a personal interview with the program's organizers. But she handled that and now, she's preparing for the academic experience of a lifetime. 
As a child, Niah recalls watching lots of crime dramas and enjoyed psychology and law courses in high school, sparking her interest in a double major in criminology and psychology. As part of the REU, she'll have the opportunity to work closely with UNC faculty members who are nationally recognized for their expertise in working with large data sets, data mining and manipulation, quantitative analysis and data visualization.
According to the NSF, student teams will work with faculty mentors in their research track for 40 hours per week to complete a project. Students may work with a local criminal justice agency as part of the project. At the end of the experience, they will present their research at a final luncheon and could potentially submit a manuscript for publication.
Niah's research project will focus on the analysis of data on police killings.
"That ties into my major and what I want to do," she said. "My biggest hope is to gain exposure that will help me in the future toward my goal of working with Internet Crimes Against Children," Niah said.
Dr. Sarah Lazzari, who encouraged Niah to apply for the REU, recognized her young student's abilities and interest right away. She's equally excited for what the program will offer Niah.
"This program is going to give Niah so many skills," Sarah said. "There is such a need for Criminal Justice practitioners to have research skills and the ability to translate research to other practitioners."
Although graduate school is a few years off, the REU will help Niah build her resumé and stand out when the time comes.
We can't wait to hear all about Niah's experience when the fall semester begins!
 
Published on
Apr 14, 2023