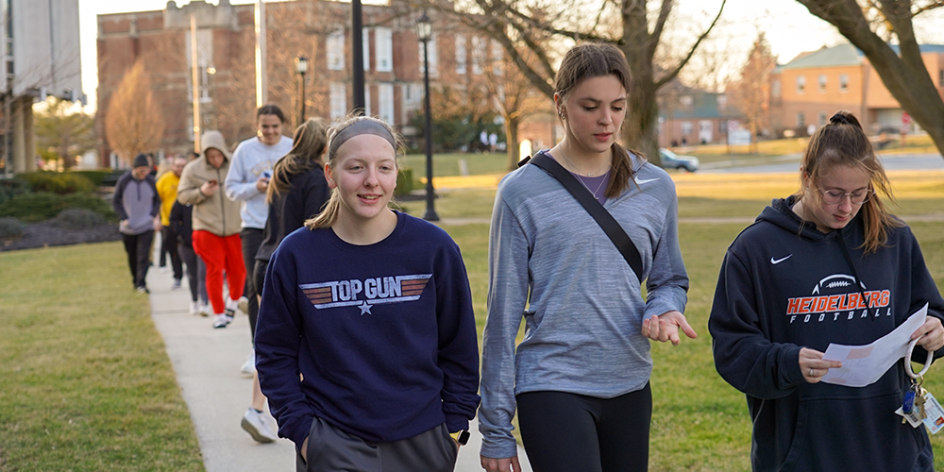 On Thursday, nearly 100 students and several vendors from the community gathered for a Justice Jog, hosted by Aaron Nelson in celebration of Black History Month. The Justice Jog divided the participants into six groups, each walking a designated trail around campus. Along that path were six stops, where the groups sat together to hear about the life story, and the unjust end, of Black people who have lost their lives due to police brutality. 
The community was happy to be involved. Tiffin Police Chief David Pauly was in attendance. "I was involved in some great conversations with several students and staff about many of the presentations," Pauly shared. 
"I very much appreciated Aaron Nelson inviting me to join in the event and my hope is this begins much-needed conversations about bias and perceptions. The last thing I want as the police chief of this community is to ever have any person feel they've been marginalized or discriminated against by anyone in the Police Department." 
The chief went on to share his hopes and goals for his department, and its involvement in the community. Pauly adheres to the belief that "the police are the public and the public are the police," meaning that it is the responsibility of the police force to follow the community's interests as to how it should be run. "Events like the Justice Jog create opportunities so we can talk with one another about difficult topics and realities in a fair, open and honest way. As you police chief, I welcome those discussions."
Aaron, a 2010 graduate of Heidelberg, is the new Director of Diversity, Inclusion & Belonging and the key organizer of the Justice Jog event. He was extremely proud of how the event went, and is excited to make it bigger and better in the years to come. "I think it was motivational," Nelson shared "It sparked interest into advocacy. It was a great conversation-starter with community members." Aaron expressed how happy he was to introduce the community to Heidelberg's goals moving forward in the world of diversity, inclusion and belonging. He said he hopes for a future where events like the Justice Jog are a pure information exchange, a conversational bridge between Heidelberg and the community about common efforts towards inclusion. "The goal is for us to look back at this event and remember where we started"– and to feel appreciative of where we will be in those coming years.
 
Published on
Feb 24, 2023