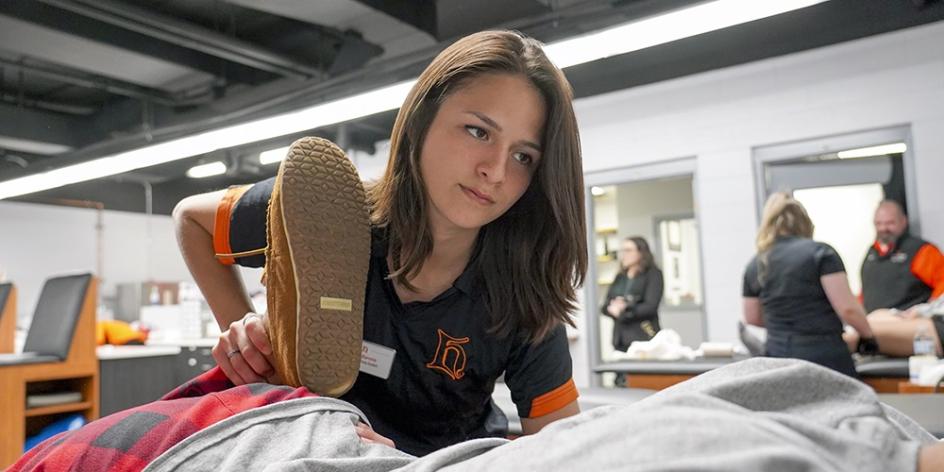 ---
Heidelberg students who have a strong background in health sciences, anatomy & physiology and psychology as well as a passion for helping others have a new opportunity for graduate school and a career in occupational therapy. 
HU and Wilmington College have signed a post-graduate affiliation agreement in which Wilmington will offer preferred status to HU graduates who enter the Master of Science in Occupational Therapy (MSOT) at Wilmington. The agreement is a win for both institutions.
"A student who fits at Heidelberg is going to fit at Wilmington," says Dr. Ryan Musgrave who worked on the agreement with Wilmington's Dr. Erin Bales, assistant professor in the MSOT program, and faculty and administrators from both institutions.
"We seek students who have a passion for helping others, who have some knowledge related to the occupational therapy profession and who show strong potential as future clinicians. We believe Heidelberg students can fill that need," Erin says.
Up to three Heidelberg graduates will be provided Guaranteed Early Admission if they meet the prerequisite criteria for admission into the MSOT program. Students from any undergraduate major are eligible to apply as long as they have completed the seven prerequisite courses and have maintained a minimum 3.0 GPA required for admission. The program runs for six semesters over 24 months, with the first four semesters on campus and the last two semesters in the field.
Emphasis on rural health
Wilmington's MSOT program has a unique emphasis on rural health, Erin says. "Our students receive coursework that prepares them to navigate the benefits and challenges of working in rural areas."
For example, MSOT students regularly participate in community outings to explore rural lifestyles and routines, and learn how to utilize resources from organizations such as AgrAbility, a project funded through the U.S. Department of Agriculture to help farmers, ranchers and agriculture workers remain employed on the farm after an injury, illness or disability. 
Additionally, in partnership with Wilmington's agriculture and equine departments, MSOT students are piloting a Therapeutic Riding Camp this summer for children with disabilities.
Familiar family-like atmosphere
Heidelberg students who enroll in Wilmington's MSOT program will feel right at home. Erin says the program offers "ample opportunity for hands-on learning and a family-like atmosphere among classmates and faculty."
All MSOT students are assigned a 1:1 faculty mentor to ensure their academic success and students are assigned a clinical Occupational Therapy mentor for up to one year post-graduation to ensure their smooth transition into the workplace.
Strong job outlook, career opportunities
The U.S. Bureau of Labor Statistics projects a 14 percent employment growth from 2021-31 – much faster than most fields. With a wide variety of OT paths, the median wage in the field is $85,570.
Occupational therapists work in a variety of healthcare and non-healthcare arenas. For example, OTs work in traditional settings such as hospitals, clinics, skilled nursing facilities, and home healthcare. OTs also work in specialty areas such as local school districts to provide services to children in the schools, neonatal intensive care units, therapeutic riding centers, community-based mental health centers, and many more! The sky is the limit in OT!
Published on
Apr 17, 2023
Programs
Biology
Exercise Science
Health Science
Psychology