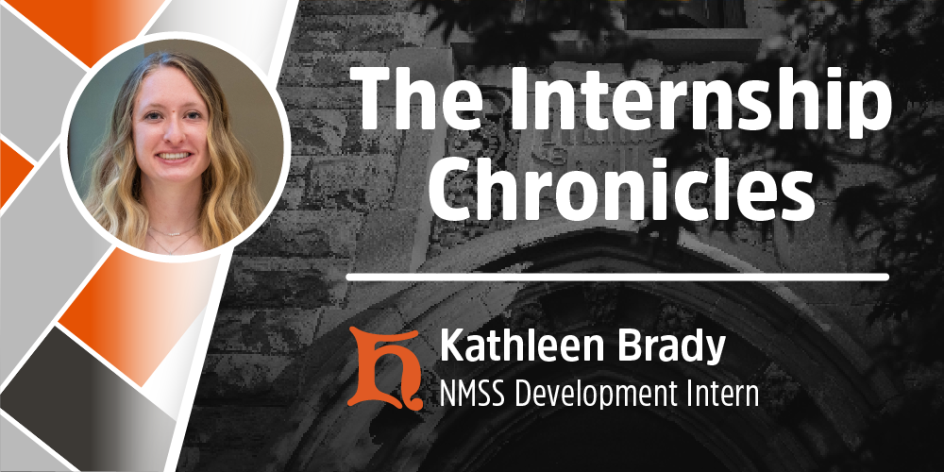 One winter day, a Student Prince decided to go on a little adventure. "It won't be long before I have a career," the Prince said, "so I'd better start preparing now." So with some 'Berg education under their hat, and some connections in their back pocket, the Student Prince began forging their way through an internship.
We continue our web series, Internship Chronicles.
Chapter 23: Come Together for a Cause
Kathleen Brady is a current MBA student from Fenton, Michigan. Kathleen is passionate about using creativity to advance an organization's mission. For that reason, she is excited to pursue a marketing career in the nonprofit sector. This semester, she is starting to add nonprofit development to her resume through an internship with the National Multiple Sclerosis Society.
How did you find your internship, or how did the internship find you?
I came across internship opportunities at the National Multiple Sclerosis Society through their website. I took interest in looking for opportunities at this organization recently because I have a close family member affected by multiple sclerosis.
What did you expect from your internship initially?
Initially, I expected that this internship would entail prospecting, relationship building with potential partners/sponsors, and assisting with some marketing endeavors.
What really happens in your day-to-day work?
 Day-to-day, I spend my time researching potential companies and their leaders who may be willing to partner with the National MS Society and support its mission. I have the amazing opportunity to sit in on meetings with a variety of different departments to gain exposure in all areas of nonprofit management and development. I am currently working on a variety of projects ranging from prospecting to updating internal resources.
What connections have you made?
I have made connections with many different individuals, the strongest of those being with the great team I am working with. I have already learned so much from each of them, and am excited to continue to learn from them and others that I connect with in other departments. Working remotely, I have the opportunity to work with individuals anywhere in the US. Everyone on the Corporate Engagement team that I am on resides in a different state, and it is a really great experience to see people come together from all over the country to serve the MS community.
What is the most valuable thing you'll bring back to the classroom after this experience?
The most valuable thing that I'll bring back to the classroom after this experience is substantial knowledge of what it takes to run a national nonprofit organization. I believe I will have a solid understanding of many different departments within an impactful organization, and how they work together.
If your internship was a book or a chapter in a book, what should it be titled?
"Come Together for a Cause"
To keep up with Kathleen, check her out on LinkedIn. 
 For more information about the National Multiple Sclerosis Society, check out their website.
Published on
Mar 14, 2023