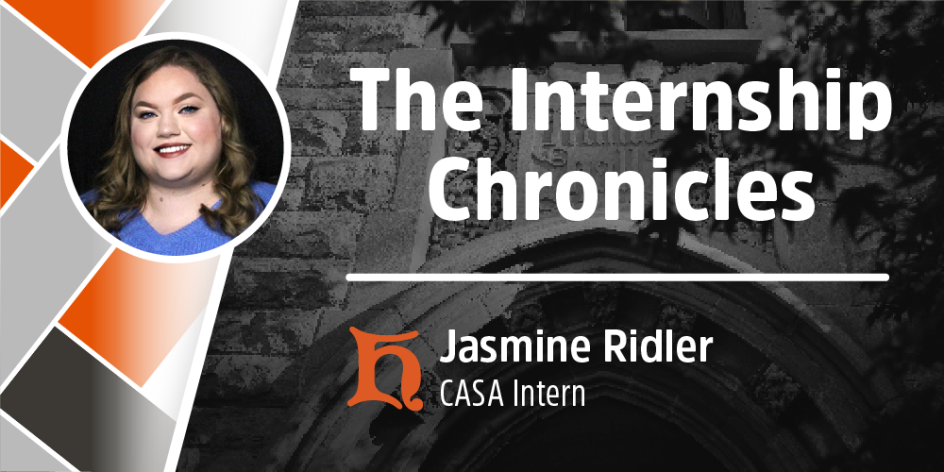 ---
One spring day, a Student Prince decided to go on a little adventure. "It won't be long before I have a career," the Prince said, "so I'd better start preparing now." So with some 'Berg education under their hat, and some connections in their back pocket, the Student Prince began forging their way through an internship.
We continue our web series, Internship Chronicles.
Chapter 26: How I Learned to Use a Fax Machine!
Jasmine Ridler is a current OnePlusAdvantage® MBA student from Rittman, Ohio. She attended Heidelberg for her undergraduate degree as well, where she studied theatre and history. After finding a passion for leadership in minority-empowerment groups during undergrad, Jasmine has decided to venture into fields that uplift others and allow her to utilize her creativity for good. This semester, she's interning with Court Appointed Special Advocates for children (CASA) for Seneca, Sandusky and Wyandot counties.
How did you find your internship, or how did the internship find you?
After a google deep dive, I found this opportunity on the organization website.
What did you expect from your internship initially?
I really wasn't sure what to anticipate, it was entirely new territory, but I was afraid I would be in over my head immediately. Lucky, I was able to understand pretty quickly.
What really happens in your day-to-day work?
I work on a hybrid schedule and I have two different titles, so, no one day looks exactly the same. Some days I research grants at home, and other days I'm cold-calling donors in the office - just depends on the day!
What connections have you made?
I've made close connections with everyone in the office, it really is such a tight-knit group. I've also had the chance to call almost every small business owner in Sandusky County and personally ask them for money, so that's something!
What is the most valuable thing you'll bring back to the classroom after this experience?
There's a certain amount of tactical fearlessness that comes with working in fundraising, and exacting research that comes with grant-writing; so in group projects, I won't be afraid to take the lead, do the difficult research required and conduct any outside interviews that could benefit projects.
If your internship was a book or a chapter in a book, what should it be titled?
"How I Learned to Use a Fax Machine!"
To keep up with Jasmine Ridler, you can visit her LinkedIn.
For more information about CASA of Seneca, Sandusky and Wyandot Counties, visit their website.
Published on
Apr 14, 2023