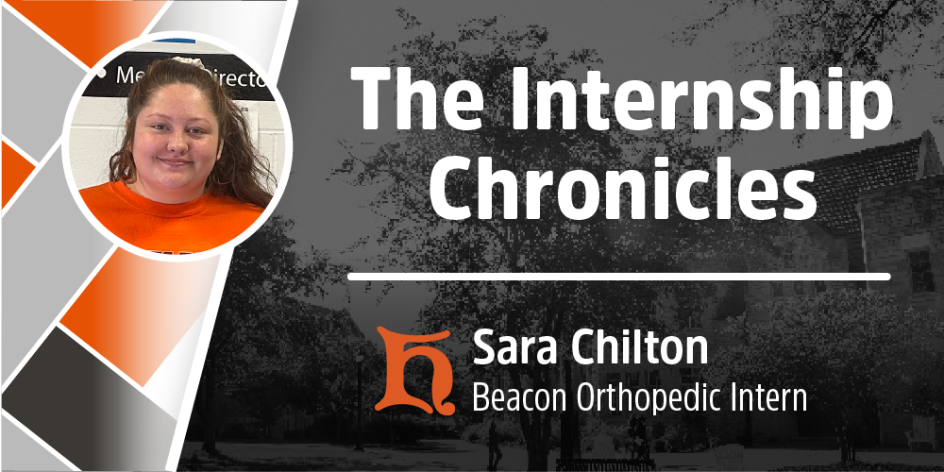 ---
One summer day, a Student Prince decided to go on a little adventure. "It won't be long before I have a career," the Prince said, "so I'd better start preparing now." So with some 'Berg education under their hat, and some connections in their back pocket, the Student Prince began forging their way through an internship.
We continue our web series, Internship Chronicles.
Chapter 28: One step closer to the final destination
Sara Chilton is a health science major with a minor in biology from Xenia, Ohio. She is pursuing a career as an athletic trainer, beginning with high school and college athletics, before working up to the professional leagues. This summer, Sara interned with Beacon Orthopedic and Sports medicine, located in West Chester, Ohio. 
How did you find your internship, or how did the internship find you?
I found my internship thanks to my academic advisor Robert Oates and his connections to beacon orthopedic and sports medicine. I did my research on the company and the rest is history! 
What did you expect from your internship initially?
When I started my internship I thought it was going to be a very "sit here and watch" type of internship where I could not do much but observe. 
What really happens in your day-to-day work?
What really happens on a normal day of work is I help with the set up for football by filling water boys and getting the team all the water to stay hydrated. Next I would work in the field house by helping with ice and by getting CJ whatever he needs to help an athlete! Some days I would help out inside with paperwork since Lakota West does mostly paper copies of important documents. I would help organize them to help out the athletic trainers. I got many opportunities to do some hands-on learning, which I am very grateful for. As the summer continues I will get to experience what a game day is like and I can not wait!! 
What connections have you made?
I have made many connections within Beacon and the Lakota West sports medicine department! 
What is the most valuable thing you'll bring back to the classroom after this experience?
The most valuable thing I'm going to bring back to the classroom is my new ability to overcome the unknown. When I started at Lakota West I had no idea what I was walking into but now I know that the unknown is not so scary and that the unknown is actually really fun!! 
If your internship was a book or a chapter in a book, what should it be titled?
"One step closer to the final destination."
For more information about Beacon, visit their website.