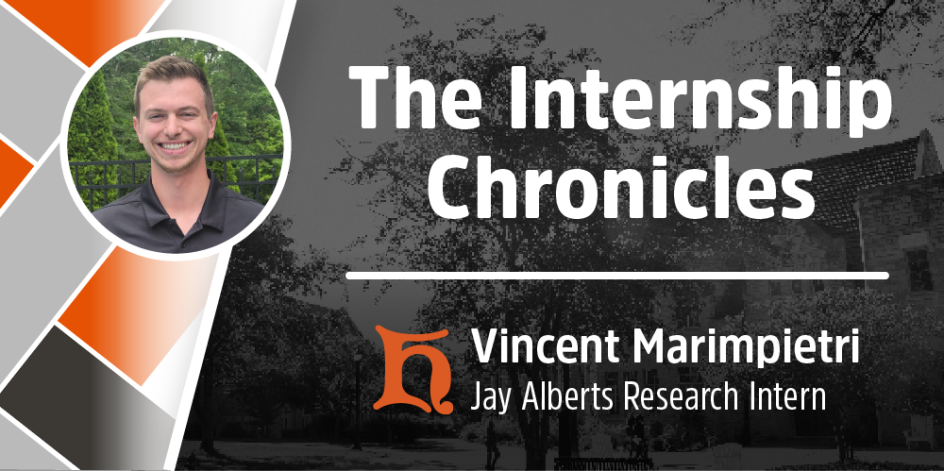 ---
One summer day, a Student Prince decided to go on a little adventure. "It won't be long before I have a career," the Prince said, "so I'd better start preparing now." So with some 'Berg education under their hat, and some connections in their back pocket, the Student Prince began forging their way through an internship.
We continue our web series, Internship Chronicles.
Chapter 29: Just the Beginning
Vincent Marimpietri is a health science major with a biology minor from Howland, Ohio. Vincent is pursuing a career as a physical therapist, to help fulfill his goals of helping athletes heal and come back stronger. This summer, Vincent interned with Jay Alberts Research lab at the Cleveland Clinic in Cleveland, Ohio. 
How did you find your internship, or how did the internship find you?
I learned about this internship opportunity through my brother's best friend's step mom Susan Linder. I contacted Susan about a possible internship with her lab. Unfortunately, by the summer she would be finishing her studies. Therefore, she put me in contact with Anson Rosenfeldt from the Jay Alberts research lab. Dr. Alberts and Dr. Rosenfeldt graciously allowed me to complete my internship in the lab.
What did you expect from your internship initially?
With an internship at the Cleveland Clinic, I was expecting to see some cutting edge research as Dr. Alberts lab focuses on research with Parkinson's Disease to understand how certain changes caused by the disease, in the brain, can affect movement. I expected to gain knowledge and experience about treating patients all while in a nontraditional physical therapy setting creating innovative treatment techniques. 
What really happens in your day-to-day work?
In the research lab, there were a ton of different projects going on, all in different stages. Some were just getting developed, some were getting ready for study subjects, some with subjects coming in to participate while others were finishing up with data collection. There was a lot of group interaction to discuss what improvements could be done. There were also times for study "rehearsal" to run through the study to make sure protocol runs smoothly.
What connections have you made?
Interning at the Cleveland Clinic was such an amazing opportunity because along with an opportunity to expand my knowledge about the field of physical therapy, it allowed me to make so many connections. Having time to work with people from different projects allowed me to interact with them, to ask questions about their jobs and even to get to know them on a personal level. The advice and pure knowledge I was able to access from everyone in the lab truly is what made my experience so valuable.
What is the most valuable thing you'll bring back to the classroom after this experience?
My internship in Jay Alberts lab has helped me gain knowledge into a whole different realm of how research physical therapy can help better the field in a greater capacity to help the many get better who may have different debilitating diseases/injuries. Research is a vital part of science. This internship experience has allowed me to see the value of how research can help better understand difficult concepts and to allow for advancements that one day may lead to a cure for injuries and illnesses.
If your internship was a book or a chapter in a book, what should it be titled?
"Just the Beginning"
For more information about Jay Alberts Research Lab visit their website.
Published on
Jul 19, 2023