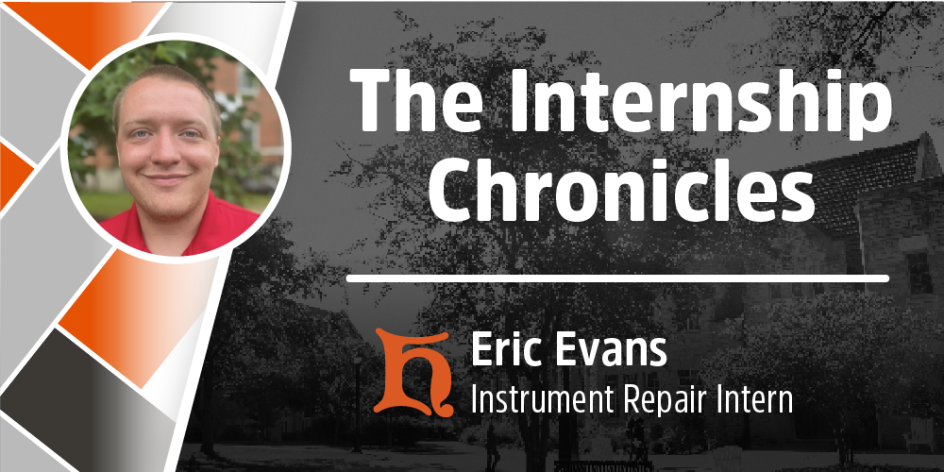 One summer day, a Student Prince decided to go on a little adventure. "It won't be long before I have a career," the Prince said, "so I'd better start preparing now." So with some 'Berg education under their hat, and some connections in their back pocket, the Student Prince began forging their way through an internship.
We continue our web series, Internship Chronicles.
Chapter 30: Finding a New Forte
Eric Evans is a music major from Tiffin, Ohio. Eric is studying pop music with a vocal focus, and minoring in Business Administration. After graduation, Eric wants to earn his masters in conducting and then conduct a professional ensemble while simultaneously working as an instrument repair technician. This summer, he is apprenticing with Second Wind Music Center in Tiffin, Ohio and interning with the All Ohio State Fair Youth Choir in Columbus, Ohio, where he wants to continue to work as he continues his career.
How did you find your internship, or how did the internship find you?
I found Second Winds by researching local repair shops in the area and reaching out to them to find out if I could pick up an apprenticeship. 
As for the Youth Choir, I was a member back in high school. I was invited to come work on the team as a staff member after my time in the choir.
What did you expect from your internship initially?
From Second Winds, I wanted to learn more in depth caretaking of instruments. Rather than just the standard "how to make it play the way I need to", I instead wanted to know how to tear it apart, remove dents, replace pads, and put it back together. 
From the Youth Choir I wanted to help grow their mission by working with the students and staff by making sure they can give the best performance possible without the stress of making sure their venues are ready for them.
What really happens in your day-to-day work?
At Second Winds, I spend most of my day sitting or standing in front of a workbench with various instruments laid out in front of me. I take the time to tear them apart, find and fix the problems, then reassemble them to make sure everything is working the way the original maker intended. It can be anything from removing dents from trumpets and baritones, to doing a complete pad replacement on a saxophone or flute. 
At the state fair, I help move the choir's performance equipment from concert to concert making sure everything is set up and performance ready for when the students arrive. We handle things like riser set ups, running microphone cables to even setting up drum sets for our percussionist. On top of that I help lead a team of students selected to help with all of the concert setup.
What connections have you made?
Through the youth choir, I've met several amazing musicians on the staff and have gotten to know them on a more personal level than when I was a member of the choir myself. 
What is the most valuable thing you'll bring back to the classroom after this experience?
I think the most valuable thing I'll be taking back to the classroom is the knowledge of the instruments I'm working with as well as a sense of teamwork needed to complete tasks greater than just one person can do alone.
If your internship was a book or a chapter in a book, what should it be titled?
"Finding a New Forte"
For more information about Second Winds, visit their website.
For more information about the Ohio State Fair Youth Choir, visit their website.
Published on
Jul 27, 2023