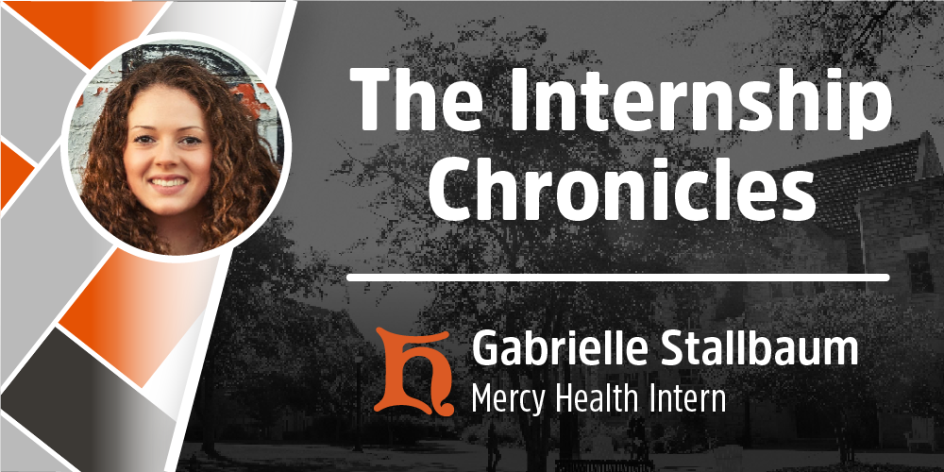 ---
One summer day, a Student Prince decided to go on a little adventure. "It won't be long before I have a career," the Prince said, "so I'd better start preparing now." So with some 'Berg education under their hat, and some connections in their back pocket, the Student Prince began forging their way through an internship.
We continue our web series, Internship Chronicles.
Chapter 31: What the Heart Has to Say
Gabrielle Stallbaum is a health science major from Paulding, Ohio. In her studies, she has chosen to pursue a pre-physician's assistant concentration as well as a biology minor. She is just as passionate about education as she is about healthcare, and seeks to empower her future patients with knowledge about medicine. She hopes to become a professor to help guide future healthcare professionals with these same ideals. This summer, she is interning at Mercy Health in Tiffin, Ohio.
How did you find your internship, or how did the internship find you?
I was able to find my internship site through my softball coach, Mari Briggs. She put me in contact with a Physician Assistant at Mercy Health.
What did you expect from your internship initially?
Initially, I expected to learn more about the everyday routine of a PA in a small town and gain information about the basics of cardiology. I knew I wouldn't be able to be very hands-on, so I was relying on my eyes and ears to soak up as much as they could.   
What really happens in your day-to-day work?
On a normal day, I will go into medical visits with the PA and listen to her conversations with the patients. I watch her interact with patients, perform physical exams, and operate EKGs. It is also common for us to visit patients on the nursing floor to give clearances and provide checkups. Some days, when I'm lucky, I get to go into the cath lab and watch the doctor perform heart catheterizations. Also, with patients comes paperwork so I get a glimpse at what charting and billing look like.  
What connections have you made?
I have created a meaningful connection with the PA I am interning with. She has given me a look into what her life outside of the hospital is like and has shared information with me that she wished she knew early on. While in her office, I also created connections with the medical assistants and gained some helpful information from them as well.  
What is the most valuable thing you'll bring back to the classroom after this experience?
The most valuable experience I'll bring back is the information I gained in the cath lab. Being able to watch the procedures and see everything in person was extremely helpful. We can read and learn about things in class, but seeing things in person adds another dimension of information. 
If your internship was a book or a chapter in a book, what should it be titled?
"What the Heart has to Say"
For more information about Mercy Health at Tiffin, Ohio, visit their website.