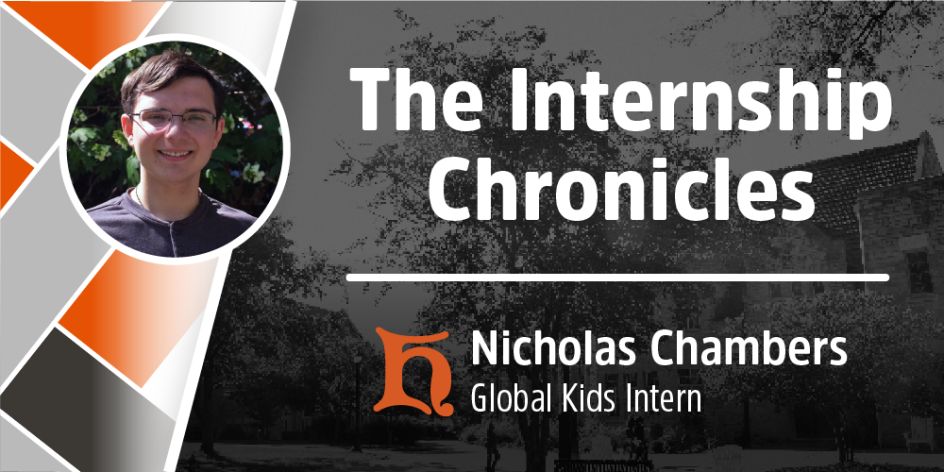 One summer day, a Student Prince decided to go on a little adventure. "It won't be long before I have a career," the Prince said, "so I'd better start preparing now." So with some 'Berg education under their hat, and some connections in their back pocket, the Student Prince began forging their way through an internship.
We continue our web series, Internship Chronicles.
Chapter 32: Navigating the Classroom - My Experience with Global Kids
Nicholas Chambers is studying History and Education, with a concentration on Adolescent/Young Adult Social Studies. Nicholas, who hails from Lima, Ohio, is looking for a career that allows him to express his interest in history and support himself and his loving family. Above all else, though, Nicholas is looking for a meaningful career. This summer, Nicholas journeyed to New York City to intern for Global Kids, an organization that educates and inspires kids from underserved populations to be advocates and leaders.
How did you find your internship, or how did the internship find you?
I found my internship by joining Bard College's Globalization and International Affairs Program (BGIA) this Summer. This program involved taking two academic/professional development courses while also obtaining an internship with a BGIA partner organization. It was from their list of around 100 organizations that I found Global Kids and felt drawn to their mission to educate, activate, and inspire children in NYC. 
What did you expect from your internship initially?
What I expected from my internship initially was that I would perform smaller, more administrative activities with my site manager while also helping fellow GK group leaders throughout the day. Despite being an intern, I was also made a group leader and facilitated the implementation of GK curriculum for Kindergarteners and 1st Graders with another staff member.
What really happens in your day-to-day work?
During my time with Global Kids, I usually arrived at the site at around 11:00 a.m. since our day officially started at noon. From 11:00 am to noon, I created a detailed schedule of what activities the kindergartners and first graders would do that day. I also talked with my site manager and other staff members present (for both advice on activities and just casually.) Once the day started at noon, we would collect our students from around the school and bring them in for check-ins before transitioning outside or to the school's gym for physical exercise (called Right to Play). This lasted one hour, then the rest of the day was spent doing various class/club activities; from movie literacy, leadership classes, STEM, Global Arts, etc. While the day officially ended at 6:00 pm, I often left early (around 4:00 pm) to attend my BGIA classes in downtown Manhattan, with Wednesday and Friday being the days I stayed the whole time. 
What connections have you made?
Through my time with Global Kids, I made connections with my fellow staff members and site manager (Briana Mitchell) who were all so supportive and welcoming that they made each morning a daily highlight. On my last day, I even had the chance to meet with Dominique Jones, the executive director of Global Kids, during a mini-field day. 
What is the most valuable thing you'll bring back to the classroom after this experience?
The most valuable thing that I'll bring back to the classroom after this experience is a better appreciation and understanding of my professors' experiences when it comes to teaching. Before this internship, I had some limited experience teaching with Noble Elementary's Read-to-Succeed Program. Now that I have completed my time with Global Kids, I better understand what challenges teachers face when it comes to their daily activities along with the joy that comes from helping students by being a positive role model they interact with almost daily.
If your internship was a book or a chapter in a book, what should it be titled?
"Navigating the Classroom - My Experience with Global Kids"
For more information about Global Kids, check out their website.
Published on
Aug 17, 2023