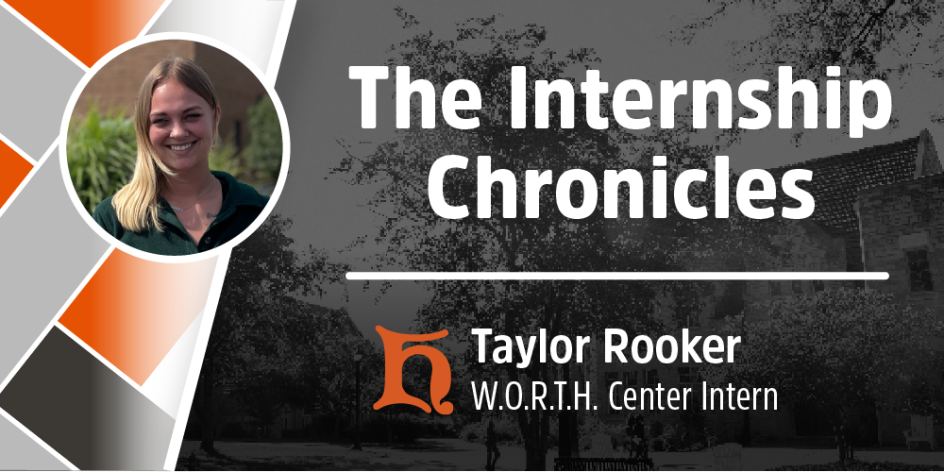 One summer day, a Student Prince decided to go on a little adventure. "It won't be long before I have a career," the Prince said, "so I'd better start preparing now." So with some 'Berg education under their hat, and some connections in their back pocket, the Student Prince began forging their way through an internship.
We continue our web series, Internship Chronicles.
Chapter 34: The Beginning
Taylor Rooker is a double major studying Psychology and Criminology from Lima, Ohio. Taylor is searching for a passion that she can turn into a career, and it's her goal to find a job that she loves so much it never feels like work. This summer, Taylor interned with the Western Ohio Regional Treatment and Habilitation (W.O.R.T.H.) Center in her hometown.
How did you find your internship, or how did the internship find you?
Dr. Gregg actually mentioned it to me when I decided to do an internship. She then reached out to Dr. Lazzari, who was able to get me in contact with Chuck Honigford, the Director of Clinical Services at the W.O.R.T.H Center. 
What did you expect from your internship initially?
Honestly, I kind of expected the stereotypical "make coffee and copies" type of internship. I didn't really expect to actually interact with the residents, especially in the beginning.   
What really happens in your day-to-day work?
A variety of things go on in my day-to-day work, one of the main things being classes. Different classes are taught throughout the day such as TFAC (Thinking For A Change), CBISA (Cognitive-Behavioral Interventions for Substance Abuse), and Epictetus, where the residents read "The Epictetus Club" by Jeffrey Traylor and then discuss different topics from the book and Epictetus' writings throughout the remaining sessions. There are also case managers present that are there to guide the residents throughout the program by signing them up for different classes, creating their treatment/success plan, getting them set up for interviews after their release, and working with the residents' probation officers for a number of reasons, such as finding appropriate housing. Throughout my internship, I worked with both the case managers as well as the teachers (Cognitive Behavioral Specialists). 
What connections have you made?
I made a lot of great connections with the other case managers and teachers. I also made connections with a few individuals from the administrative side, such as the Director of Clinical Services, one of the counselors, and the manager of the treatment team. 
What is the most valuable thing you'll bring back to the classroom after this experience?
I think the most valuable thing I'll bring back to the classroom is the knowledge that I gained while being inside those brick walls and fences. I was able to work with and connect with the residents in a way that gave me a much better understanding of not only the life in a CBCF, but also substance abuse and the mental struggles that come along with it. 
If your internship was a book or a chapter in a book, what should it be titled?
"The Beginning"
To keep up with Taylor, find her on LinkedIn.
For more information about the W.O.R.T.H. Center, check out their website.