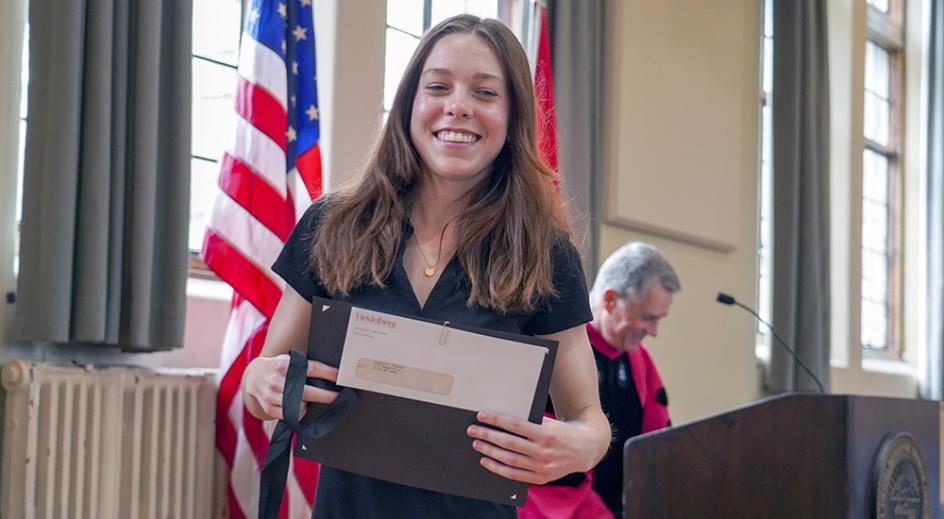 ---
On one of the most festive occasions of the year, Heidelberg honored students, faculty and staff members for their achievements inside and outside the classroom at the annual Student Awards Celebration on Friday.
In his remarks, President Rob Huntington expressed sincere gratitude "to all the students who worked so hard to get here."
"You contribute to the vibrancy of everything Heidelberg is and aspires to be," he said.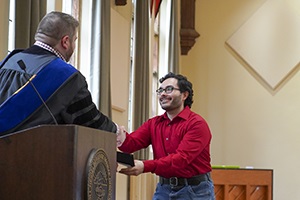 Isabel Chasney and Nicholas Hausman are the recipients of the Daniel J. and W.J.K Snyder Prize, awarded to the top graduating seniors who faculty judged to have excelled during their four years at Heidelberg in leadership based on character and scholarship. Carson Pottenger is this year's recipient of the Burghalter Memorial Award, given to a student who best exemplifies the spirit of the Good Samaritan. Carson was recognized for his work with the local Habitat for Humanity and Heidelberg's Blitz Build.
Isabel was chosen to give the student remarks at the celebration. She titled her remarks "Zoomsday." In her speech, she reflected on the many ups and downs the Class of '23 experienced through their years at Heidelberg, the resilience they demonstrated and the memories made along the way.
Congratulations to year's award recipients as presented on Friday:
•    ACS Chemistry Club Underclassman Award – Sarah Grosse
•    Alexander and Christina Garver Memorial Prize – Rowan Gill, first place; Makenzie Bowling, second place
•    Alan S. Okun Award – Lily Roth
•    Alan King Zartman Prize in Biology – Kylie Rice
•    Arnold "Skip" Oliver Award – Isabel Chasney, Gavin Robison, Noah Paris
•    Arthur E. and Helen M. Bean Award – Ashtyn Wolph
•    Berg Bravo! Prize – Jackson Helmholtz, Jacob Frankart
•    Berg Falcon Master of Accountancy Scholarship – Lauren Gronsky
•    Charles M. Legalley Prize in Speech – Julia Schaefer
•    Clyde Lamb-Ohio Athletic Conference Award in Athletics – Audrey Kaufman, Griffin Pendry
•    Curtis A. Helman Memorial Award for Outstanding Graduating Senior in Criminology – Courtney Bryson
•    Dr. A. G. McQuate Award in Field Biology – David Harbaugh
•    Dr. Andrew J. '81 and Anne Hering Gase Medical School Award – Courtney Temple
•    Dr. Rose Moore Education Award – Audrey Kaufman
•    Dr. John W. Groce Prize in Chemistry – Kiara Grow
•    Edward Lamb Foundation Prize – Lillian Whitcomb
•    E.I.F. Williams Memorial Prize in Elementary & Secondary Education – Kaitlyn Hage, Skylar Sloan, elementary education; Liana Petitti, Brennan Scheck, secondary education
•    E.J. Shives Prize in Chemistry – Nick Hausman
•    Emerging Leader Award – Conor Sukel
•    Ernest & Martha Hammel Research Awards – Molly Cannon, first place; Cole Stoots, second place; Sean Friedhoff and Ella Hoover, third place
•    Faculty Member of the Year – Scott Miller
•    Ferris and Dorothy Ohl Prize – Celia DeTray
•    F.J. Brand Prize – Nick Hausman
•    Frederick D. Lemke Award in English – Chayenne Powers
•    G.A. Stinchcomb Prize in Natural Science or Mathematics – Emma Keto
•    H. Dana Hopkins Award – Kirsten Kracht
•    Herman E. Sayger Award – Tyler Turek, Hanna Blasinsky
•    Ira and Roberg Wilson Memorial Prize – Courtney Temple, Kaiden Hammer
•    Jane Frost Kalnow Memorial Fund Career in Accounting Award – Reese Recker
•    Jane Frost Kalnow Memorial Fund Career in Industry Award – Trent Green
•    John Allen Krout Prize in American History – Isaac Hulburt
•    John C. Shinn Memorial Prize – cade Powell, Siera Octaviano
•    John I. Kolehmainen Scholarship – Brooklynn Wharton, Cameron Gaietto
•    J. Robert Allman Award in Theatre Arts – Benjamin Pollizi
•    Leanne O. Wolff Award in Communication – Aaron McCoy
•    Lenore Osterholm Prize in Spanish – Averi Hunt, Kamryn Stanfield
•    Lewis E. Miller International Ambassador Award – Andre Navas Villafuerte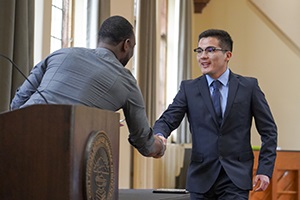 •    Liston Award – Kelly Peterson
•    Martin A. Reno Emerging Scholar Prize in Computer Science – Jessica Harness-Koehnle
•    Martin A. Reno Senior Scholar Prize in Computer Science – Jarett Woodall
•    Martin Walker Smith Prize in History: Best Paper – Tyler Turek
•    Martin Walker Smith Prize in History: Highest GPA – Gavin Robison
•    Outstanding Freshman in Criminology – Owen Frizzell, Hope Kreais
•    Outstanding First-Year Student in Psychology Award – Jaislynn Woodall
•    Outstanding Senior in Health Science Award – Morgan Adams
•    Outstanding Student Employee of the Year – Lauren Gronsky
•    Paul H. Hoernemann Award in Athletics – Seth Hohman, Isabel Chasney
•    Paul H. Hoernemann Memorial Prize for Voice – Jacob Reuter
•    Prugh Prize in Athletics – Jacob Logsdon, Alyssa Martin
•    Psi Chi Outstanding Senior Award – Jessica Voitko
•    Ralph & Sue Quellhorst Community Service and Civic Engagement Award – Andre Navas Villafuerte
•    Robert E. Oleson Outstanding Student Leader Award – Jayce Porter
•    Sayre Family Outstanding Senior in International Studies Award – Isabel Chasney
•    Student Leader for Diversity – Alyssa Martin
•    Student Organization Advisor of the Year – Kayela Tidrick
•    Student Organization of the Year – Nu Sigma Alpha
•    Wickham Prize in Business – Megan Vesely
•    William F. Steele Prize in Mathematics – Nick Hausman
•    William Henry and Harriet Jane Gibson Prize – Jacob Frankart, Jaislynn Woodall