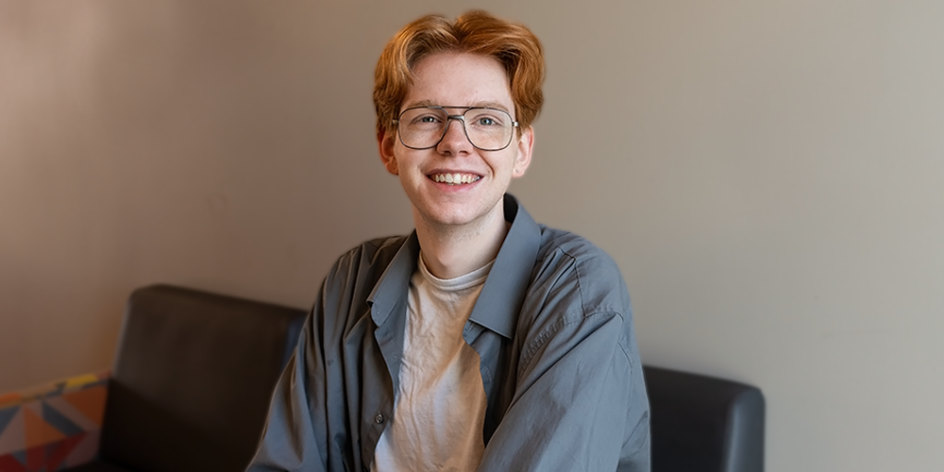 ---
Jackson Helmholtz is thrilled to share their passion for genocide education with the campus and community through the Lichtman-Behm Lecture Series.
Jackson is a third-year student set to graduate this spring. They hail from Dexter, Michigan, and are studying theatre with a concentration in acting here at Heidelberg. They have already directed several shows since beginning their college career, and are preparing to direct Endgame by Samuel Beckett later this semester.
The Lichtman-Behm Lecture Series aims to spread awareness of past and current-day genocides, and is an issue close to Jackson's heart. Jackson's sister, Lindsay Helmholtz, was the student representative for Lichtman-Behm in years past. Jackson currently serves as the head of Jewish Student Life on campus, and has a strong passion for education.
For all their hard work and passion, Jackson has a special role this year when the annual Lichtman-Behm presentation returns on Oct. 24. As a rare occurrence, Jackson will be teaching their own session as part of the community education aspect of the Lichtman-Behm program. Jackson has been researching modern plays that discuss themes of genocide or were written by survivors of genocide. They will be analyzing the commonalities of these plays and the presentation of genocide as a whole, to present to the school children who will be visiting campus the morning of October 24.
Primarily, Jackson has analyzed three plays: Book of Life by Odile Gakire Katese, and Life in a Jar by Irena Sendler. The perspectives about genocide from this collection all ring true to the work of this year's Lichtman-Behm keynote speaker, Dr. Peter Van Arsdale. "Genocide is the result of a system. It's caused by a lack of education, and a lack of understanding," Jackson explains. "Many of the people who commit or contribute to genocide don't fully know what they're doing – they were told it's a necessary evil." For Jackson, preventing genocide means education about genocide, and ensuring that the next generation knows how to speak up against systemic injustices and the empathy to recognize when such injustices are occurring. It's part of their personal goal for their life: after Heidelberg, Jackson plans to earn an MFA and use theatre to educate throughout their early career, and one day, wants to earn a Ph.D. and educate as a professor.
The Lichtman-Behm Lecture Series, and genocide education events like it, are vital to creating a better tomorrow. The day will begin on October 24th, with educational mini-sessions for local students led by Heidelberg professors and Jackson Helmholtz. Jackson's talk will be at 10 a.m. and 10:30 a.m.. Jackson's mini-session, along with those by several Heidelberg faculty members, will be followed by Dr. Van Arsdale's keynote at 11:00 a.m., open to the visiting students as well as Heidelberg students. 
"I'm always looking to further my understanding of these subjects," Jackson shares, "and I think Dr. Van Arsdale's talk will be an interesting one, and one worth listening to." At 7:00 p.m. that day, Dr. Van Arsdale will be giving the talk once again in an event open to the public. In a special treat, on Oct. 25, Dr. Van Arsdale will be visiting local schools to give a separate talk with students about the slope from bullying to the rhetoric that begins genocides.