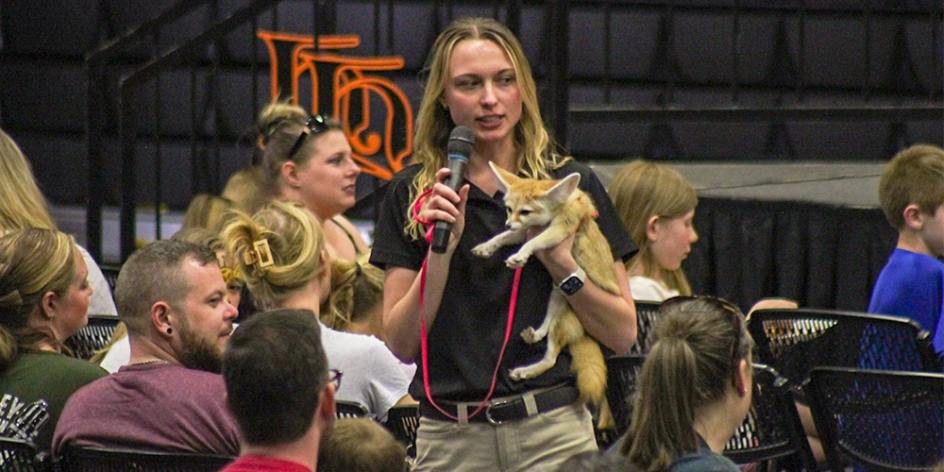 ---
Excelsior Men's Society had a great thing going with its annual fundraiser, Animal Jam – and then COVID hit. For the first time since the pandemic, the EX's brought back Animal Jam on Saturday, and it was a huge hit.
Excelsior started Animal Jam in 2015 to raise awareness about wildlife rehabilitation while also hosting a fun-filled event for local kids and families. "The passion we have for this event is strong," said Excelsior member Avery Shaw.
This year's Animal Jam featured six animals from the Columbus Zoo, whose handlers brought them to Seiberling Gym to interact with those in attendance. There was more to the event than animals, though; the EX's also offered face painting, a bouncy house, a coloring contest, a raffle and food.
One of the major goals of the event is to raise funds for Back to the Wild, a non-profit organization in Castalia dedicated to the rehab of injured, orphaned and displaced wildlife and release of the animals back into their natural habitat. Each year, Back to the Wild rescues about 2,000 animals and presents educational and awareness programs to about 50,000 people.
According to Avery, the men of Excelsior have been volunteering with Back to the Wild for a number of years. Their work includes cleaning pens, helping feed/water the animals and other tasks. The EX's hope to raise awareness about Back to the Wild and the great work they do, so they designated the organization as the beneficiary of Animal Jam.
Published on
Apr 18, 2023