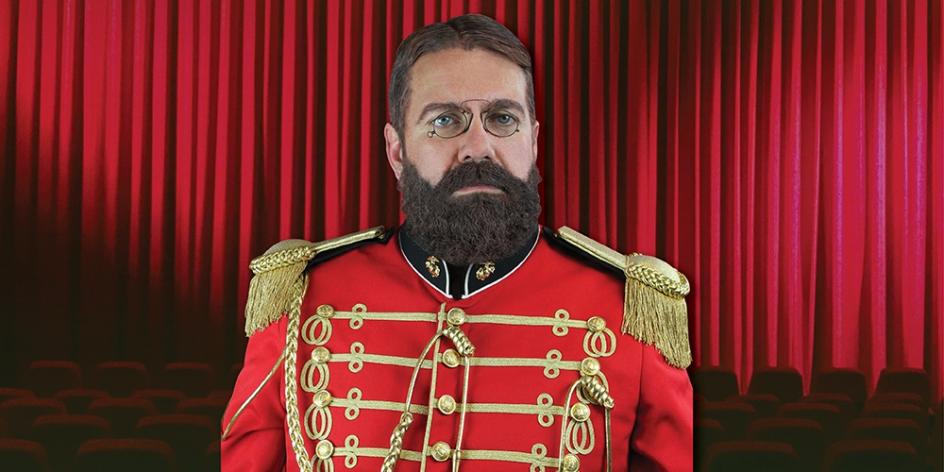 ---
Heidelberg Director of Bands Rod Miller chose quite the appropriate figure – "March King" John Philip Sousa – as the basis for his personal research and performance inspiration. Sousa is the American composer and conductor known primarily for American military marches who composed the famed Stars and Stripes and Forever and the Marine Corps' Semper Fidelis.
As one of the foremost experts and the top portrayer of Sousa, Rod has for 35 years conducted and performed tribute concerts and lectures around the country that rise to the level of pageantry. He dresses in an exact replica full Sousa band uniform befitting the man behind the marches, all the way down to dying his white beard and hair black. The concerts are fast-paced and lively, and frequently honor veterans and currently serving military personnel.
While Heidelberg's upcoming Symphonic Band concert at 7 p.m Saturday, April 29 – titled Stars, Stripes, and Sousa" – will be a first for Heidelberg, it won't be the first for Tiffin.
It turns out that Sousa himself actually performed three concerts in Tiffin in the late 1890s and early 1900s, as the city was the hometown of one of the maestro's bassoonists, William Decker. A performance at Decker's memorial service and another local concert that night brings the total to five, according to Rod.
"These concerts really are a lesson in musicality and patriotism," said Rod, completing his first year as Heidelberg's band director. "I emulate the style of music Sousa played."
The Heidelberg concert fittingly will be a special tribute to veterans and current military personnel. Previously, Rod's Sousa concerts have honored the likes of the Tuskegee Airmen, 9/11 survivors, Iwo Jima survivors, Pearl Harbor survivors, Korean, World War II and Vietnam veterans, and Space Shuttle astronauts. 
"It's a huge thrill to be able to bring this concert to Heidelberg," Rod said, "and to be able to honor veterans and especially our Vietnam veterans who are near and dear to my heart. And also, to let people, through the vehicle of music, forget about life for a while and bring them on a musical journey with us."
Heidelberg alumnus Brian Stitak '89, orchestra conductor at Norwalk City Schools, will again serve as the emcee for the concert. Additionally, there will be a video presentation in tribute to veterans and solos by Dr. Carol Dusdieker, director of the School of Music & Theatre, and Josh Heaney, adjunct instructor of clarinet and saxophone, on alto sax.
Stars, Stripes and Sousa will kick off with a Sousa Fanfare, followed by the Star-Spangled Banner and An American Fanfare overture. The Symphonic Band will then perform a march, The Liberty Bell, followed by saxophone solos by Josh Heaney on The Carnival of Venice and Schindler's List. The band's saxophonists will be featured in a march to Root Beer Rag, followed by vocal solos by Dr. Carol Dusdieker to Il Bacio and Someone to Watch Over Me.
The tribute to veterans and military personnel will include Hymn to the Fallen and the Marches of the Armed Forces. Two additional marches, Nobles of the Mystic Shrine and Stars and Stripes Forever round out the Symphonic Band's repertoire. A stirring finale, America the Beautiful, will conclude the performance.
Heidelberg's Stars, Stripes, and Sousa concert will be held at Trinity United Church of Christ in Tiffin. The concert is free and open to the public. A freewill offering will be received.
 
Published on
Apr 13, 2023