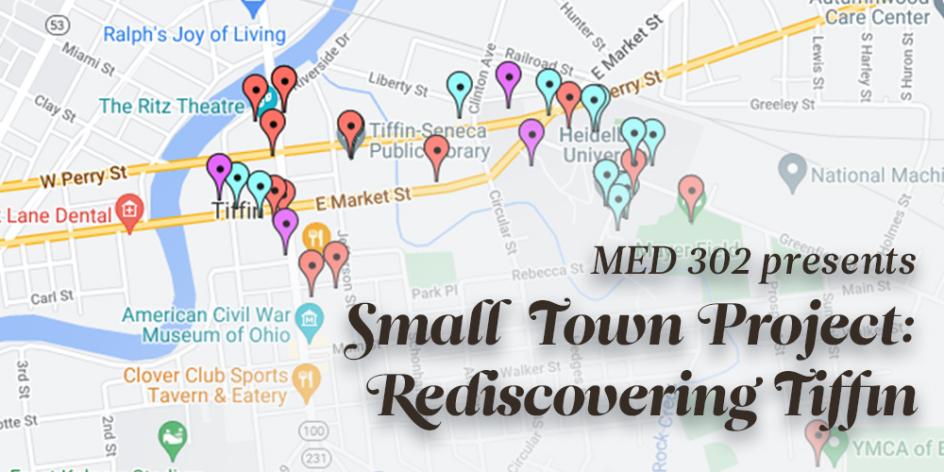 ---
Dr. Hong's Multimedia Storytelling class has finalized their semester-long project. "Small Town Project: Rediscovering Tiffin" is a transmedia exploration of the citizens and community of Tiffin, Ohio, centralized in an interactive map.
Throughout the past semester, students were researching and conducting interviews about various organizations, locations and people that are essential to their understanding and appreciation of Tiffin. Through their research, they have created photo stories, podcast episodes, a music video, news packages and creative videos about the corners of Tiffin they discovered throughout the semester. 
Scooter Austin, a junior communications major, was a student of the class and greatly enjoyed the semester-long endeavor. "It helped me see Tiffin in a different light," they explained. "So many people who come to Heidelberg – including me – used to say 'there's not much to do in Tiffin.' But there are so many small businesses and friendly people to support." 
Scooter, in particular, fell in love with the owners of Tiffin's Enchanted Moment Doll Museum. Although they were the first visit on Scooter's journey to discover the town, meeting them has remained their favorite moment of the undertaking. Through their 2-hour-long tour of the Enchanted Moment Doll Museum, they heard endless stories and the tireless dedication of the owners, Miriam and Myrna. You can find the photo of their visit and a story about their experiences on pin 10 of the map. After truly discovering all that Tiffin has to offer, Scooter was elated. "I legitimately love Tiffin so much," they shared.
The course had about ten students, who all edited their own contributions to the map. It features some of Tiffin's friendliest baristas, boldest coaches, and a musical exploration of Tiffin's finest collections. To enjoy their project and rediscover Tiffin for yourself, you can visit the finalized map on Zeemaps.
Published on
May 22, 2023