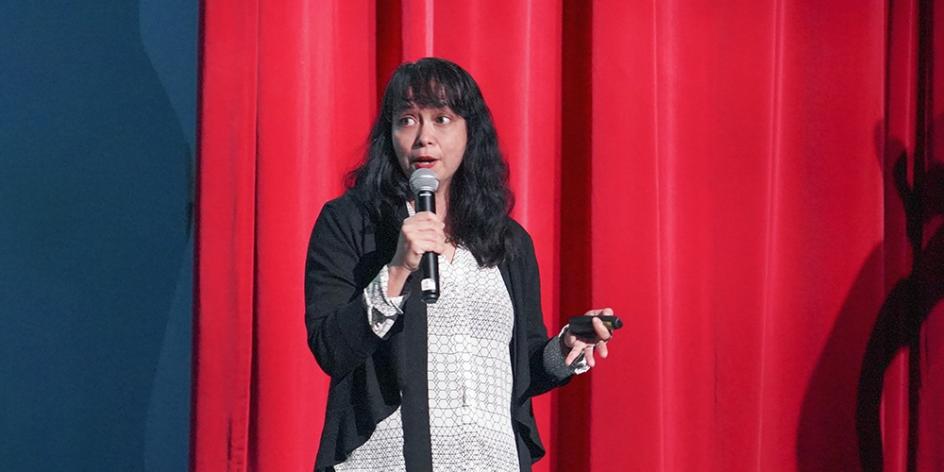 ---
It's a wild, wild, wild world out there, full of all kinds of interesting research opportunities and partnerships for undergrads to work with faculty members on a quest for discovery. That was the message delivered by Dr. Alisa Hove, professor of biology at Warren Wilson College in Asheville, North Carolina, who made her first trip to Ohio to deliver the keynote at Heidelberg's 30th annual Minds@Work Student Research Conference Tuesday.
Throughout her career, Dr. Hove has been extremely interested in and dedicated to student research. During her presentation, she shared three long-term projects for which she has collaborated with undergrad and grad students.
"Think about your research project. What sparked your interest and made you want to know more?" she asked the 'Berg students. For her, it was the knowledge of all the things that can't be seen in the forest that co-exist beneath the forest floor.
Dr. Hove has spent the last 10 years conducting research with students in the Blue Ridge Mountains at some "places that are pretty darn wild." With an interest in evolutionary biology, she has studied a below-ground fungal community and the influences upon it.
"In forests and in research, connections and collaborations matter. The network really mattered and allowed us to do more than any of us thought possible," she said. 
She also has studied American ginseng, which is at risk of extinction. Her project investigated population dynamics as part of a multi-pronged approach to investigating patterns of gene flow. "What we found after two years of research and analysis of 500 plants is evidence of gene flow between populations," she said.
This and other research, she added, "would not be possible without the diverse set of skillsets and interests driving discovery."
Finally, she asked students to "embrace their inner pika," a small, adorable mountain-dwelling mammal found in Asia and North America. They survive in high elevations and have an unusual resiliency to the cold – their "evolutionary superpower."
The elusive pikas are much harder to study than plants, but Dr. Hove and her team did just that by looking at diet and gut microbiota to figure out gender, thus uncovering community interactions. 
She encouraged the students to be proud of the work they're doing and sharing with the community and to continue being curious. "Always be on the lookout for new ways to solve sticky problems," she told them. 
Advice for undergrad researchers
Though collaboration and connections can be really hard sometimes – and it's especially hard to embrace someone else's point of view – stepping outside of your comfort zone can pay huge dividends for your studies and career.
"There's a lot of potential to discover the way our world works and to share our work with the world by doing undergraduate research. I hope you take the opportunity to share your work, like you doing are today," Dr. Hove said.
She offered two pieces of advice for students interested in pursuing research further: talk to as many people as you can who are doing research in the field you're interested in and consider a Research Experience for Undergraduates (REU) through the National Science Foundation.
"I never thought I wanted to go to grad school, but the mentorship and research experience I got as an undergraduate really prepared me for that," she concluded.
Congrats, presenters!
Congratulations to all of the student presenters and mentors for this year's Student Research Conference:
•    Kaitlyn Kroll (Dr. Traci Stark) – "American Heartbreak: Marilyn Monroe"
•    Gavin Robison (Dr. Courtney DeMayo Pugno) – "Overconfident: A Comparative Analysis Between the winger War and the Russo-Ukrainian War"
•    Zane Mirgon (Professor Douglas Woods) – "Modern Cost Accounting Practices in Healthcare"
•    Macray Metz (Dr. Nathaniel Beres) – "Twin Arginine Transport in Synechocystis"
•    Kelsey Stanfield (Professor Dan Higgins) – "Stepping Up and Stepping In: Mitigating the Bystander Effect"
•    Kelsey Wells and Rachel Terbovich (Dr. Ryan Musgrave) – "Depression in Intercollegiate Fall Sports Teams"
•    Bridger Cline (Dr. Amy Berger) – "Review of Field Trip to the Colorado Front Ranges"
•    Molly Cannon (Dr. Traci Stark) – "Edvard Munch and His Experience with Mental Illness"
•    William Bohlen (Dr. Amy Berger) – "Constructing a Virtual Museum: An Exercise in Game Development"
•    Adam McVicker (Professor Douglas Woods) – "Accounting Issues in the MLB"
•    Tristen Hatfield and Madison Mosier (Dr. Sarah Lazzari) – "Neurodivergent Behavior in Incarcerated Environments"
•    Megan Hamilton (Dr. Ginny Gregg) – "The Effectiveness of Support Groups for Cancer Patients"
•    Kaiden Hammer (Dr. Pam Faber) – "Acidic Erosion on Mandibular Teeth of Human Cadaver"
•    Cole Stoots (Dr. Barry Devine) – "The Language of Flowers in the Picture of Dorian Gray: An Ecocritical Analysis"
•    Katelyn Gluck (Dr. Traci Stark) – "The Ethics of True Crime Media"
•    Braxton Fox (Professor Douglas Woods) – "Hedging Their Bet: Accounting for Futures Contracts in the Farming Industry"
•    Cassidy Beringer and Taylor Ratliff (Dr. Sarah Lazzari) – "Exploring the Behavior and Pre-Incarceration Family Situations of Incarcerated Parents"
•    Easton St. Clair, Isaac Wienen and Bridgette Burrus (Dr. Ginny Gregg) – "Attraction: Positive Qualities of Beauty"
•    Madalyn Newby (Dr. Pam Faber) – "Effect of Long Term and Short Term Nicotine on the Development of Female Rats and Their Pups"
•    Ella Hoover and Sean Friedhoff (Dr. Sarah Lazzari) – "Diplomas and Delinquency: How Education Influences an Individual's Entrance into Crime"
•    Claire St. Bernard (Dr. Traci Stark) – "Britney Spears: Mental Health in the Media"
•    Lauren Gronsky (Professor Douglas Woods) – "Gender Differences in Terms of Ethical Practices and Behaviors of Accounting Professionals"
•    Rowan Gill (Dr. Julie O'Reilly) – "The Horror (Movies) of the LGBTQ+ Community"
•    Lindsay Cline, Madison Sundquist, Jaxon Howard and Cheyenne Wright (Dr. Ginny Gregg – "The Relationships among Political Parties, News Finds Me Perspective, Education Status and Knowledge of U.S. History in Belief of Fake News Stories"
•    Cale Horsch, Meredith Bruce and Brynlee Vermillion (Dr. Pam Faber) – "Food Waste Differences between Male and Female Rats When Given or Not Given Catalog Strips)
•    Cameron Spraggins (Dr. David Hogan) – "The Legacy of the Iraq War"
•    David Harbaugh (Dr. Amy Berger) – "Comparing the Quality of Rock Creek to the Sandusky River Using Different Diversity Indices"
•    Guy Tibbels (Professor Douglas Woods) – "Sin Taxes: Paying for Your Sins"
•    Chloe Yuhasz and Maggie Hoffman (Dr. Ryan Musgrave) – "Coping Mechanisms in College Students"
•    Sophia Lee (Dr. Barry Devine) – "How the History of 'Holy Thursday' Affects William Blake's Poems of the Same Name"
•    Elliston Herner (Dr. Jiachun Hong) – "My Journey through Music (Documentary Project)"
•    Sarah Clemens (Dr. David Hogan) – "The Women Against Women's Suffrage"
•    Cody Benesh (Dr. Amy Berger) – "Climate Change Effects on Small Ohio Streams"
•    Darrion Thomas (Professor Douglas Woods) – "Life, Death and Taxes"
•    Morgan Adams and Alexis Langwasser (Dr. Ryan Musgrave) – "Analysis of the Hydration Levels of Women and Their Implications throughout the Menstrual Cycle"
•    Serria Allen (Dr. Barry Devine) – "Morphine"
•    Kamryn Stanfield (Dr. Jiachun Hong) – "Under the Rustling"
•    Tyler Turek (Dr. David Hogan) – "African American Influence in the Union Army"
•    Chloe Duquette (Professor Sean Joyce) – "Cybersecurity Risks in Precision Agriculture"
•    Chayne Treharn (Professor Douglas Woods) – "Refereeing the NCAA, Accounting Regulation of a Billion Dollar Corporation"
•    Zakariea Vincent (Dr. Ryan Musgrave) – "Antidepressants Affecting College Students' Daily Routine"
•    Autumn Perry (Dr. Barry Devine) "Interpreting Frankenstein's Behavioral Changes"
•    Kennedi Siders (Professor Douglas Woods) – "Corporate Financial Fraud Prevention and Detection Strategies"
•    Jessica Harness-Koehnle (Dr. Laura Johnson) – "A Look at Water Monitoring Data"
•    Jarett Woodall (Professor Sean Joyce) – "LSTM Predictions of Water Temperatures for Cold-Stunning Events"
•    Griffin Pendry (Professor Douglas Woods) – "Issues in Real Estate Accounting"
•    Tyler Amstutz (Dr. Robert Oates) – "Depression & Anxiety Among Injured Athletes"
•    Lillian Whitcomb (Dr. Marc O'Reilly) – "Economic Feasibility of Green Infrastructure"
•    Nakhi Taylor (Professor Douglas Woods) – "Understanding a Company's Financial Performance"
•    Hussein Ali Faraj (Dr. Steven Velasquez) – "Astrolabe"
•    Ethan Campbell (Professor Sean Joyce) – "Infrastructure as Code and the Disruptive Force of Cloud Computing within Industries such as Consumer Packaged Goods"
•    Ella Lane (Professor Douglas Woods) – "Big Data and Its Role in Accounting"
•    Abigail Birchenough and Iosef Nunez Torres (Dr. Robert Oates) – "Anxiety Related to Class Load"
•    Alexis Kirkendall (Dr. Justin Pruneski) – "Cryptosporidium and Other Parasites Found in Farm Calves Using Multiple Lab Techniques"
Posters were presented by the following students:
•    Crimson Stuckert (Dr. David Hogan) – "The Legacy of the Iraq War"
•    Jake Justice (Dr. Amy Berger) – "A Brief Study on Lake Size and Nutrient Loads between Grand Lake St. Marys and Lake Erie"
•    Halie Monhollen (Dr. Robert Oates) – "College Athletes and Anxiety"
•    Kaiden Murphy (Dr. Amy Berger) – "Tracking Nitrate Trends in Ohio Using Remote Sensing"
•    Simon Yochheim (Dr. Amy Berger) – "Comparison of Soil Profiles at Heidelberg University through the Years"
•    Bridger Cline (Dr. Amy Berger) – "Comparison of the Invasion of Spotted Lanternfly and Emerald Ash Borer in the United States"