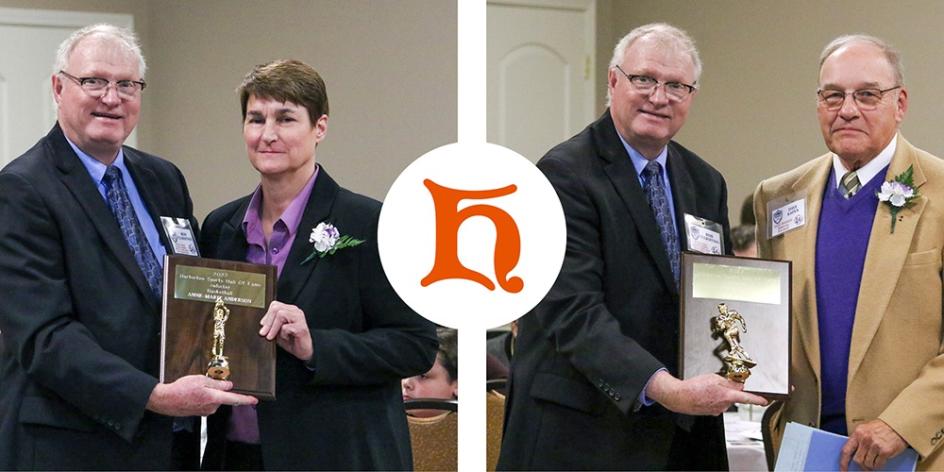 You just never know where you'll meet a Heidelberg alum.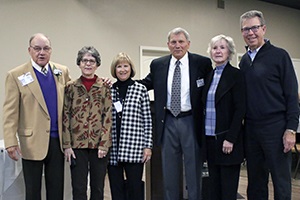 November 23 was a special evening for 'Berg alumnus Dave Kapes '70 as he was inducted into the Barberton Sports Hall of Fame. A stellar football player in the late '60s, Dave was joined at the ceremony by his wife, Sherry (Ickes) Kapes '70 and a proud contingent of former Student Prince teammates and classmates, among them Ed and Mary (Linder) Sogan, both '69, and Don Dietemyer '70 and his wife, Diane.
 
"It meant the world to me that a few of my close friends came to the induction ceremony," Dave says. "I was so honored."
 
His football history is a veritable who's who of coaches. Karl Harter '28, who is a member of the 'Berg Athletic Hall of Fame, was Dave's AD at Barberton High School. Also among them, Jim Getz '58 was one of his coaches who became head coach and AD at the 'Berg Dave's senior year, and Jim Gruden '58 of NFL and Notre Dame coaching fame, who was the backfield coach. Getz and Gruden are also HOF members, along with Dave, who was inducted as an assistant coach and his '72 Stagg Bowl-winning teammates in 2001.
 
But it was Karl Harter who made the biggest impression on Dave, who had been offered a full-ride scholarship to attend the University of Wisconsin. Karl took Dave to Heidelberg for a visit, and as they say, "the rest is history."
Chance meeting in this small world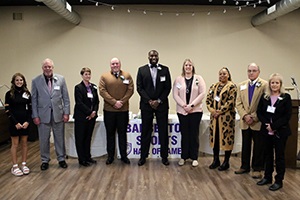 At the induction ceremony, Dave was approached by fellow 2022 Barberton Sports Hall of Fame inductee Anne Anderson, who introduced herself as the new dean of the School of Business and Adams Family Endowed Chair at – you guessed it! – Heidelberg.
 
It was one of those special "it's a small world" moments that both will remember.
 
Dave remembers Anne as "a lights-out basketball player at Barberton with quite a basketball resumé." Upon meeting her, he wasted little time singing Heidelberg's praises.
 
"Heidelberg is a great institution," he told her. "Give it your all. You'll enjoy it there."
 
Anne already had her sights set on saying hello to Dave and the Heidelberg contingent. Catching up with her former coach and organizers at the event, she put two and two together when they pointed out Dave and the other HU alumni.
 
"All of the alumni were very welcoming and spoke highly of the school and their experience here," Anne recalls of that first conversation.
About Anne's athletic career … and beyond
While at Barberton High, Anne was a four-year basketball star in high school, leading her team in scoring as state runners-up in the 1982-83 season. A host of honors came her way, including selection to the state All-Tournament Team, special mention AP All-Ohio Team and other local and conference honors. She tied the record for the most field goals in a state tournament game with 14.
 
After she graduated from Barberton, Anne entered the U.S. Military Academy at West Point, graduating in 1987 with her bachelor's degree in mathematics and operations research.
 
While attending the USMA, Anne played team handball. She was commissioned as a 2nd Lieutenant in the U.S. Army and served for 4-1/2 years in the Corps of Engineers. While on active duty, Anne also spent time in Honduras and Saudi Arabia, ending her service with the rank of captain.
 
Anne was named the new dean of Heidelberg's School of Business last fall and arrived to begin her duties on January 2. She comes to the Berg from Middle Tennessee State University, where she was the Weatherford Chair of Finance. Previously, she was on the faculty of Lehigh University for 15 years and worked for four years in the manufacturing sector. She earned her Ph.D. in finance from the University of Arizona and her MBA from the University of Tulsa.
About Dave's athletic career … and beyond
A 1966 Barberton High grad, Dave was a standout football player on both offense and defense. During the 1965 season, he was selected as a First Team All-District linebacker. Dave also participated in track.
 
He went on to play football for the Student Princes from 1966-69. During the 1969 season, he was a co-captain fullback named to the First Team All-Ohio Athletic Conference.
 
Dave spent his professional career as a health teacher for the Canton Local Schools. He also coached football, wrestling and track. He returned to Heidelberg as the offensive backfield coach in 1972, helping to lead a team that won the OAC and the NCAA Division III championship (Stagg Bowl).
 
In addition to coaching, Dave served as an AD, school administrator and consultant, retiring in 2001. Dave and Sherry are active Heidelberg alumni and donors, frequently participating in alumni events on campus.
First meeting, but not the last
Although the Barberton Sports Hall of Fame induction dinner was Anne and Dave's first meeting, it's not likely to be their last.
 
"I encouraged Dave and his wife to let me know when they were on campus so we could meet again," Anne says. As active alumni, she can be assured that they will. Dave says they will "look her up" during Alumni Weekend when he and some of his Excelsior brothers from the '60s and '70s return to campus for their annual golf outing and reunion.
 
Published on
Jan 11, 2023