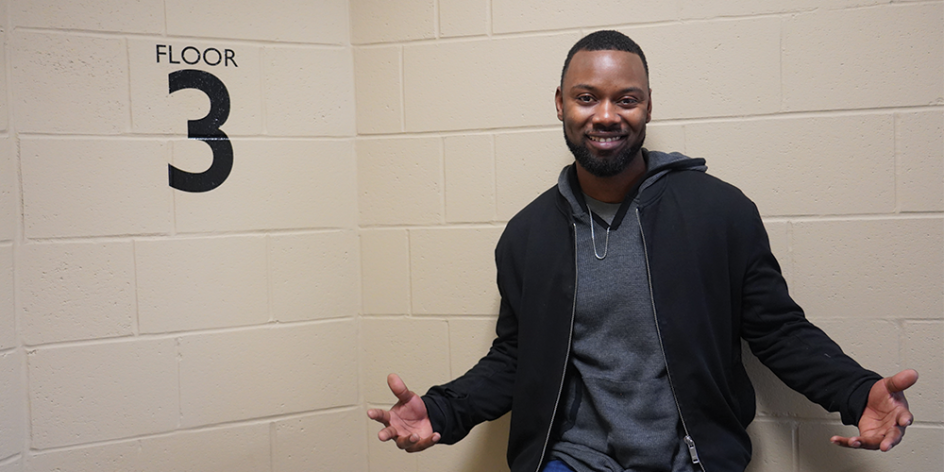 ---
Aaron Nelson '10 is Heidelberg's new Director for Diversity, Inclusion and Belonging, and he's taking campus by storm with his energy, love of open communication and dedication to building genuine interpersonal relationships.
Diversity & Inclusion
Celebrations are a huge part of Aaron's vision for diversity on campus. So he's gone big for Black History Month. With two events nearly every week of February, there are more opportunities than ever to build cultural competence and celebrate Black culture and the role it plays in the Heidelberg community. Aaron is most excited for the Shades of Blackness Gallery, the Sunday Brunch, and the Justice Jog.
Shades of Blackness Gallery
On February 16-17, the Shades of Blackness Gallery will be open in the University Commons. Here, intersectional Black people of historic importance will be showcased, with their stories and contributions to Black culture and beyond. With the addition of some music, Aaron hopes that this gallery will create a mindful and appreciative atmosphere for students to enjoy. "I hope students even just come and study here," he says.
Sunday Brunch
Sunday, February 19 from 10 a.m.-1 p.m.1, all students are welcome to join the Sunday Brunch in Hoernemann Refectory. "Brunch exists everywhere, obviously, but this is a chance for culture to speak for itself. In the Black community," Aaron explains, "we turn everything into a party." There will be music, wonderful food, and great conversations for all students to enjoy. "My goal is for everyone to stay for the brunch party the whole time."
Justice Jog
On February 23 at 5 p.m, the Justice Jog will begin in the University Commons. Students will walk in a group to various classrooms around campus to learn about victims of injustice. They will also get the opportunity to connect with community resources and organizations who want to begin the conversations necessary for connection with students as well. 
"When I think about victims of injustice," Aaron shares, "many times, they didn't have that footprint in their communities that meant that someone was going to fight for them or speak up for them." 
By starting those conversations, Aaron hopes to encourage our students to think more about their roles in their communities at home and how to prevent injustices in the future.
"When we talk about increasing inclusion, it's a two way street: we have to be willing to receive and give information freely," Aaron emphasizes. 
By highlighting an entire culture this month, Aaron knows these experiences will serve to empower students to learn more about one another and appreciate their differences and similarities. Celebrating a culture that's totally familiar or entirely new can create new advocates, or simply more culturally competent global citizens.  
"Experiences and feelings are so important," Aaron says. "I want students to walk away from this month, or this University, with a new favorite song or food or memory." 
Belonging
Aaron graduated from Heidelberg in 2010 with a degree in communications and broadcast journalism. When he began his studies at Heidelberg back in 2006, the minority population was so small, it came as a "culture shock" to him. That shock, however, was eased by a connection with Dr. Julie O'Reilly. "We clicked," he recalls. "She reached out first to me, and wanted to connect me with all the things I could do on campus." 
Aaron gradually became known for his willingness to do it all, and his involvement all over campus. The start of that openness to try new things, he attributes to the work of Dr. O'Reilly. "When she recommended something to me, she didn't want me to try it and feel like 'Aww, she doesn't really know who I am.' But she did the work, and we've had a phone call probably once a month since I graduated." 
Aaron is now doing the work for current students, getting to know people on a personal level so they can feel as understood as he did with Dr. O'Reilly.
Aaron's current job is being a bridge. When people come into his office, he is determined to truly know them, so he can direct them to where they may feel the most belonging. His goal: to give students a reason to stay at Heidelberg, beyond why they came. 
"In high school, these kids are being told 'Look left, look right, you won't know those people in 20 years.' But that's just not how it is in college. Relationships don't stop here." He knows how important it is to provide that initial contact to the passions, interests and people that will stay with our students for decades.