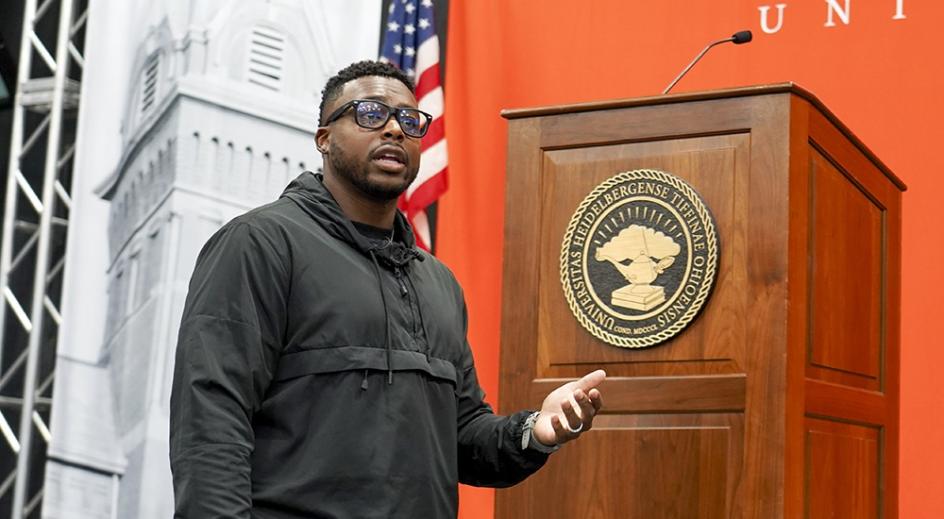 ---
If you read retired NFL veteran linebacker Brandon Copeland's personal "money playbook," you'd learn he's a business, man, not a businessman.
On Tuesday, Copeland spoke to a packed Seiberling Gymnasium crowd of students, faculty and staff about creating their own financial playbook. Now a financial educator, philanthropist and real estate developer, he was the keynote speaker for the first HYPE Day of the fall semester.
"Money is just a tool to help you get to your north star," Copeland said during his interactive presentation. "But how do you plan to accomplish it? A lot of people talk about a dream, but how does that come into play? 
"When you know your end goal, the rest of it is just an equation."
In addition to his NFL career, Copeland created Life 101, a course he teaches at the University of Pennsylvania. He turned the course into a platform for resources to assist generations on their financial journeys. Heidelberg students will benefit from his six steps to reach the financial life you want in his Money Playbook:
•    Identify your "why" – what you want to be remembered for – and create a budget.
•    Build an emergency fund – a cushion of 3-6 months of living expenses is a good plan.
•    Assess and pay off debt. Figure out what is good debt and bad debt and pay down your bad debt.
•    Make money your employee. In other words, put your money to work for you.
•    Secure your legacy. Think about ways to create generational wealth.
•    Keep growing, keep going. Keep an open mind and continue to learn about investments.
When you think of yourself as a business, executing your personal money playbook will seem more achievable, Copeland said. 
Thought-provoking questions, more advice
He kicked off his presentation by asking students two thought-provoking questions: How did you get here? What do you want to be remembered for? 
He spoke about the humble beginnings of companies like Netflix and individuals like Jeff Bezos, who, in 1995, sat in a small garage to create Amazon. "Did he think, 'I'll be one of the wealthiest people in the world?' Probably not."
The secret, Copeland said, is to not put ceilings on yourself. "In life, it's about continued growth, continued excellence." And it's an evolutionary process. He noted his former NFL Coach Bill Belichick, who repeatedly told his players that there is no magic pill for success. "You just gotta do the work," Belichick reminded them.
It's the same with financial success, Copeland said. "You just have to execute."
And be true to yourself and your goals. There is an inherent danger in aspiring to be someone else, just to earn more. 
"Don't get caught up looking at and comparing yourself to others," he said. "If you do, you'll never be content with what you have achieved. Run your race."
More about Brandon Copeland's success
A graduate of Penn's Wharton School of Business, where he teaches his Life 101 course, he is a member of CNBC's Financial Wellness Council, a Forbes 30 Under 30 honoree, a member of the NFL's Players Inc. Advisory Committee and a recipient of the NFL Players Association's highest honor, the Alan Page Community Service Award. 
Additionally, he stars in the Netflix series, Buy My House. Throughout his career, Copeland has embodied the lessons learned from his internships with firms like UBS IB, Samuel James Limited and George Weiss Multi-Strategy Advisers.
As an undrafted free agent, Copeland played 10 years in the NFL with six different teams. 
Published on
Sep 12, 2023
Programs
Accounting
Business Administration
Finance
Management
Marketing