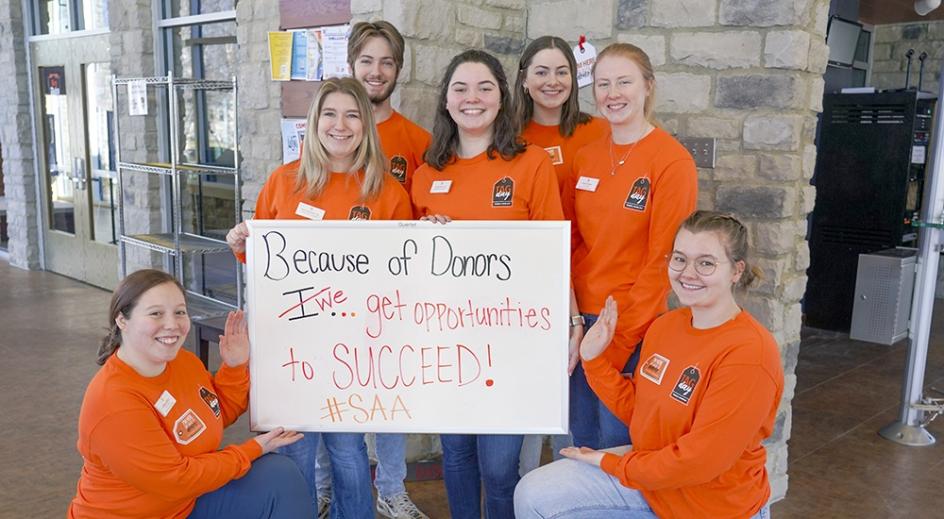 A wave of positivity and joy spread across Heidelberg's campus on Thursday as students participated in the 11th annual TAG day, short for Thank A Giver Day.
Everywhere you looked, there were orange "tags" around campus – more than 400 – as a visible reminder about the many opportunities Berg donors have provided to the campus, especially to students.
And Thursday was a day to thank them for the many ways they've made a difference!
The Student Alumni Association organized and staffed TAG Day in the Commons, under the guidance of the Alumni Engagement team of Ashley Helmstetter, Bob Youngblood and Cassey Bolyard. Throughout the day, groups of students gathered to write postcards to donors, expressing gratitude for their gifts. This year, students signed about 1,300 postcards, thanking donors for making their 'Berg experience not only possible but memorable and impactful. Throughout the day, social media was alive with posts, photos and TikToks of the fun elements of the day.
TAG Day is held annually in honor of National Philanthropy Day. This year's theme was "We're Not HU without U." Although the day is fun-filled, its underlying concept is to teach our students about the joy of philanthropy and to reinforce the advantages it gives them and the essential ways it touches every phase of the university.
 
Published on
Feb 24, 2023