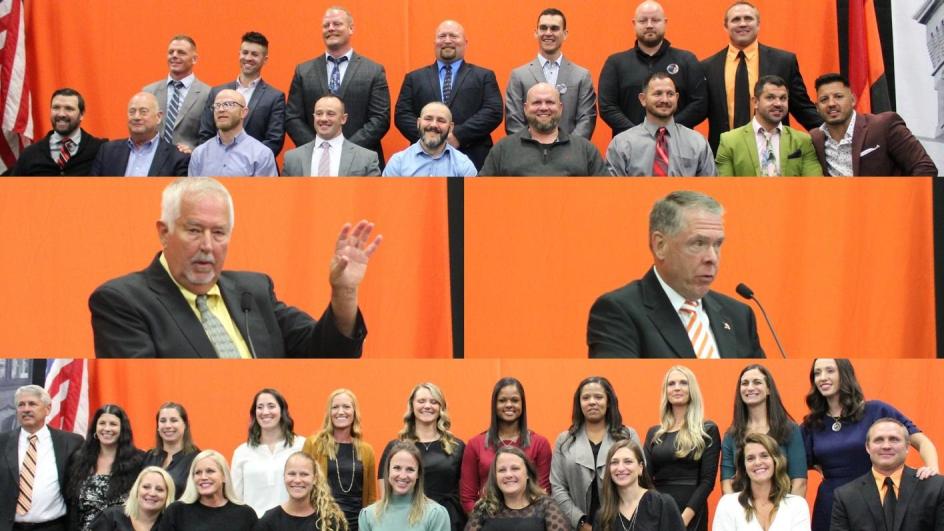 With the largest crowd in recent memory looking on, the Heidelberg University Athletics Hall of Fame inducted its 37th class on Saturday night in Seiberling Gymnasium. Enshrined were athlete, coach and administrator Jerry McDonald '76, Coach Larry Brown, the 2005-06 Wrestling Team and the 2007 Volleyball Team.  
McDonald, a member of the 1972 Stagg Bowl team and a long-time coach, was presented for induction by one of his former football players, Steve Maple '94. Maple spoke about how much Jerry cared for his players, as evidenced by the number of them in attendance that evening.  He produced a video with a number of McDonald's colleagues and players offering up their congratulations.  
Going through his 50+ years of affiliation with Heidelberg, including his stint as athletic director, McDonald reminisced about the lifelong friendships he has developed. He intentionally refrained from singling out specific student-athletes, instead preferring to honor them as a collective group. 
In something of a role reversal, Brown -- who has served as the presenter for many of his student-athletes and teams that have been enshrined in previous years -- sat and listened while John Gilbert '98 discussed Brown's highly decorated tenure as cross country and track coach at Heidelberg.  
Brown, two-time OAC Coach of the Year, was appreciative of his time on campus, sharing several stories about the teams of the late 1990s.  
Associate Athletic Director Jason Miller spoke next, presenting the 2005-06 Wrestling team.  He described the group as being deep with talent, saying that often, practices in the Tin Gym were more strenuous than the matches with opponents. The results were plain to see -- the first OAC regular season and tournament title in school history.
Chris Phillips '06 spoke on behalf of his teammates and praised the wrestlers who came before them, and lauded the coaching staff. In particular, he joked about the "Hada Transfer Portal," a nod to assistant coach Joe Hada, whose coaching connections within the Greater Cleveland high school wrestling community helped bring several transfers to Tiffin.  
Miller returned to the dais to present his 2007 Volleyball team for induction. After describing the team's boisterous personality, he shared a story about when he learned that the team had earned an at-large berth into the NCAA Tournament -- the first in school history.  
Speaking for her teammates, Laurie (Patrick) McPhee corroborated Miller's description of their gregarious nature, laughing about how excited the team was to show up at the NCAA Tournament -- especially compared to the more buttoned-up blue bloods like Wittenberg.  
Created in 1985, the Heidelberg Athletics Hall of Fame has enshrined 183 individuals and 17 teams. All of the profiles are available on the touchscreen in the Seiberling Gymnasium lobby and online.  
Those wishing to nominate a team or an individual for induction can do so online.  
 
Published on
Sep 25, 2023