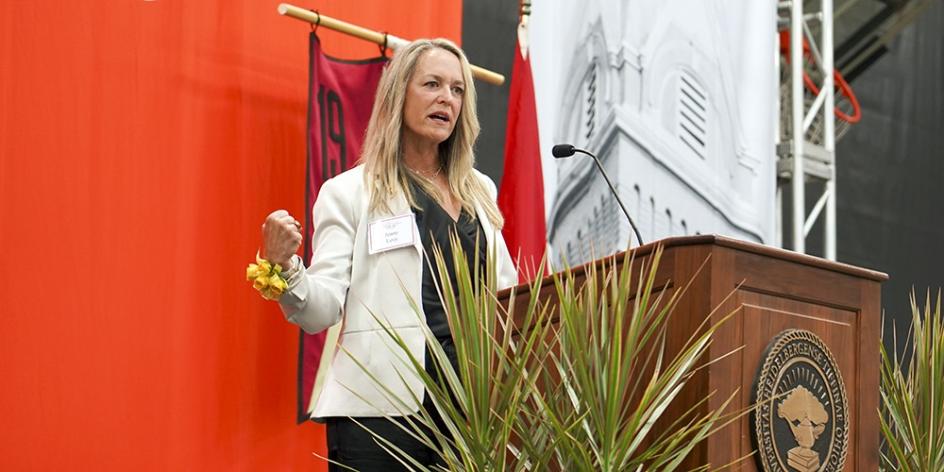 ---
This semester, The Patricia Adams Lecture Series (PALS) at Heidelberg hosted Jenny Levy, legendary head coach of the University of North Carolina's women's lacrosse team, as its keynote speaker.
Jenny has led her team to three national championships and was twice named the National Coach of the Year. In 2017, she was named the head coach for the United States women's national lacrosse team, and in 2021, she was inducted into the National Lacrosse Hall of Fame. Her story of passion and perseverance in athletics and life served as an inspiration to Heidelberg students, and a heartfelt tribute to the memory of the late Patricia Adams, the founder of the series who passed away earlier this year.
Engaging with students
After a day of meeting with students in various settings and packing Gundlach Theatre with a fireside chat, it came time for the PALS dinner.
Earlier this year, we lost Patricia Adams, a strong champion for Heidelberg students and the namesake of PALS. Her memory was heavy on the hearts of our community as Susan McCafferty offered her welcome. "Pat was fun to work with," Susan shared. "She was very welcoming." Over 14 years ago, Pat, along with her husband, John '58 and Trustee Emeritus, decided to create a lecture series focused on women's leadership and empowerment. On our first PALS night after Pat's passing, Jenny spoke to that vision stronger than ever. "Jenny Levy demonstrated leadership and empowerment in a world where she was often outnumbered," Susan said as her welcome came to a close.
After dinner was served and finished, Sherri Adams took the stage. Sherri is the daughter of Pat and John Adams and is serving as the new face of PALS. It was her first time welcoming a speaker in her mothers' stead, and her touching remembrance of her mother brought tears to several people's eyes. Sherri was supported by several family members, including her siblings and father, as she welcomed Jenny to the podium 
Keynote: Empowering ass-kickers
Jenny began by commenting on the small and unheard-of nature of little Tiffin, Ohio, and Heidelberg's home within it. "Although small," she added, "you are mighty – and the size of your hearts I have felt all day."
Jenny continued to share about the success of the 1999 FIFA Women's World Cup, hosted at the Rose Bowl and won by the United States Team. "The 99-ers changed the attitude about women in society," she explained, "when they packed the Rose Bowl, they sent the message, we're here to dominate, and we're here to pack stadiums – as a team." 
And while that change started – the idea that when women reached their full potential, they were powerful, brutal, and excellent – continuing those ideas has taken time. But continuing down that path requires women figuring out their full potential – and it starts at a young age.
When Jenny was young, she described waiting at the sidelines of the neighborhood boys' soccer  games for 20 minutes before finally being invited to join the match. "I waited and I waited, and it didn't deter my energy – I refused to go away, I kept showing up," Jenny recalled. "You have to push the limits, and take up space, in order to change the game."
Jenny went to college at the University of Virginia, and played lacrosse there. She described the way coaches at UV encouraged ferocity in their womens' teams. "There was this coach, and his name for the people he respected was ass-kicker," she said, "and I wanted to figure out how to be an ass-kicker."
So when, at the ripe age of 24, she began her coaching career at UNC, she "was so excited to have an opportunity to make a change."
However, the other women coaching around her weren't always welcoming. "They came from a generation of scarcity," Jenny provided, "where there was only one woman allowed at the table. They hadn't had mentors, and they weren't prepared to be mentors to me."
So Jenny returned to the question, "how can I become an ass-kicker?" And she began by cultivating her own confidence, and then cultivating the confidence of others. "I went beyond coaching lacrosse, and began asking how I could coach these women to take up space and pursue what I call a champion's journey.
"There's struggle, there's failure. But there's also grit and resilience. Because champions will do what others will not," she said.
Now, as a coach, she prioritizes a series of principles with her players. By offering this guidance, she has created national champions. Relationships, self-awareness, leadership toward a vision, intentional effort through preparation, daily choices that support priorities, refusing to go away, striving for excellence and not perfection, and the understanding that confidence and belief are earned – these are the pillars of success on and off the field. "What it takes to be a successful athlete is no different than what it takes to succeed in every area of life," Jenny said. 
As the speech came to a close, Jenny reiterated the importance of empowerment. "We all have an inner ass-kicker," Jenny said, "when we empower ourselves to be that, we're empowering others as well. And although we never met, I do believe that from all her empowerment and empowering others, Patricia Adams was an ass-kicker."
A special recognition
The story of the night doesn't stop there. Adorning the stage was the Class of '58's banner. Past interim president of Heidelberg Dr. Jim Getz, a classmate and teammate of John's, was in attendance.
While John went to school at Heidelberg, Pat supported him and his success as a student. Although Pat herself never attended Heidelberg, the Heidelberg family continues to love her as dearly as she loved us. So, with great honor and love, the Board of Trustees voted to make Pat Adams an honorary member of the class of 1958, and John was presented with recognition for her and in her honor. As many who knew Pat wiped away tears, Heidelberg was overjoyed to welcome a new ass-kicker to the class of 1958.
Published on
Sep 29, 2023
Programs
Athletics Coaching
Business Administration
Data Analytics
Finance
Human Resource Management
Management
Marketing
Sport Management
Supply Chain Management