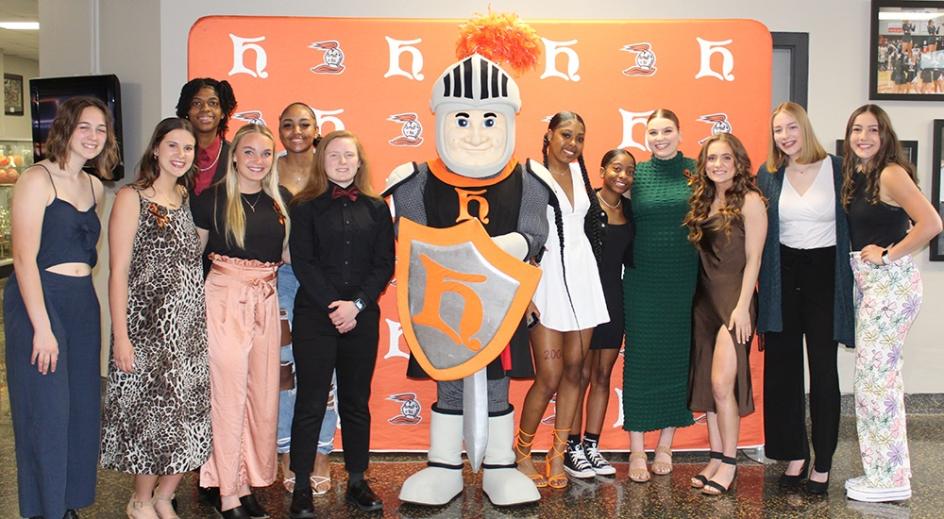 ---
The Student Athlete Advisory Committee of Heidelberg University and the Office of Athletic Marketing & Information rolled out the red carpet – literally – for the eighth annual Siggy Awards on Sunday night in Seiberling Gymnasium. The event was the premier event of Heidelberg's Division III Week celebration.
The Siggys recognize on-field and off-field excellence of Heidelberg's student-athletes, teams, coaches, athletic trainers, student athletic trainers and faculty/staff.
Congratulations to football player Branden Steckel and softball player Kat Brady, who received the top awards of Athlete of the Year for a male and a female student-athlete.
This year, the Siggys were hosted by Chayne Treharn. In addition to the award presentations, the event also feature pre-recorded segments, on-stage games and highlight videos.
The 2023 Siggy Awards drew nominations from Spring 2022, Fall 2022 and Winter 2022-23.  
View a photo gallery of this year's Siggy Awards.
Watch a video of the Awards show.
Here is the list of this year's finalists, with winners in bold:
Athlete of the Year - Male
Zach Blackiston - FB
Branden Steckel - FB
Isaiah Young - MBB
Athlete of the Year - Female
Liv Bean - TF/WSOC
Kat Brady - SB
Anamya Truex - VB
Top Individual Performance in Game or Competition - Male
Rick Cimino - XC
Brady Knizner - BSB
Isaiah Young - MBB
Top Individual Performance in Game or Competition - Female
Liv Bean - TF
Isabel Chasney - XC
Hallie Rogers - WBB
Breakthrough Athlete of the Year - Male
Camden Farley - BSB
Jo Norris III - FB
Connor VanSkyock - MG
Breakthrough Athlete of the Year - Female
Meghan Bame - SB
Alyssa Martin - WBB
Olivia Perry - WSOC
Top Newcomer - Male
Brady Bosma - MBB
Josh Ferdon - MG
Owen Frizzell - WRS
Top Newcomer - Female
Caitlyn Cross - WSOC
Grace Dohanyos - VB
Lexi Wachtman - OTF
Comeback Athlete of the Year - Male
Rick Cimino - XC
Dimitri Penick - FB
Comeback Athlete of the Year - Female
Vanessa Shanaman - XC/TF
Senior Leadership - Male
Seth Hohman - MBB
Jacob Horsch - WRS
Sigurd Ilestad - MSOC
Senior Leadership - Female
Audrey Kaufman - WSOC
Liana Petitti - VB
Bailey Walter - WBB
The "Oh, Siggy!" Moment of the Year
SB: Jessica Voitko hits pinch-hit, bases-clearing, walk-off double against John Carroll
FB: Branden Steckel kicks program-record 53-yard field goal at Wilmington
MBB: Berg beats No. 2 Mount Union, 82-70
SAAC Athletic Trainer of the Year
Dillon Hoskins
Lauren McGraw
Mattie Overmyer
SAAC Most Supportive Campus Community Member
Scott Miller, Co-Faculty Athletic Rep.
Debbie Panuto, Parkhurst Dining
Bryan Smith, Provost
Head Coach of the Year
Andy Bucheit - MBB
Scott Donaldson - FB
Maddie McLaughlin - WSOC
GA of the Year
Matt Gordon - WSOC
Devin Miller - WRS
Toby Miller - MBB
Most Supportive Team
Football
Women's Soccer
Wrestling
Team of the Year
Men's Basketball
Track & Field
Football
 
Published on
Apr 18, 2023