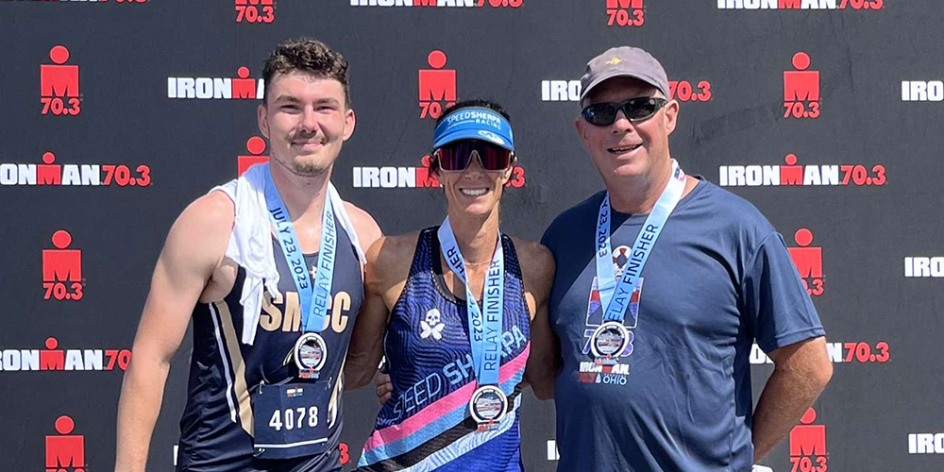 ---
Incoming senior Brett Reed accomplished more in the world of athletics before graduating college than many do in a lifetime.
Brett was born and raised in the Sandusky, Ohio area. He's been an athlete his whole life, and has always been interested in Ironman competitions. An Ironman is a triathlon-style race, where athletes can compete individually or as a team. The Ironman has three parts: a swim, a bike ride, and a foot race. Back when Brett was in high school, he would talk about eventually doing an Ironman after college with one of his buddies. The two always said when the time came, they would do it.
So when an Ironman was announced to be hosted in Sandusky, Ohio, last year, Brett was on board and off to the races. He reached out to his friend from high school, and the two agreed, "We have to do this. There's no way we can pass this up." They both signed up and started training. Brett competed as a sole competitor and finished. Swimming, biking and running for a sum of over 70 miles.
With this feat under his belt, Brett went back to school last fall and continued with his favorite sports. He enjoyed cross country in the fall and thrived in the spring in track and field. He was named Academic All-OAC and set a personal best in the 3,000 meter race. At the end of the day, Brett was expanding his skills and was content with his completion of the Ironman in the summer of 2022.
Brett's parents moved to a different area during the 2022-2023 school year. After helping with the move, a more important question came into Brett's mind: Who am I going to run with? Some of his old running friends recommended he connect with local athlete Kim Wikel. Kim is from the area where his parents had just moved, and is a beast in competition. She has competed on Team USA and placed in triathlons all over the world. Not only was she an inspiring running buddy for Brett, she quickly became an empowering coach for him.
After training with Kim for a few months, Kim invited Brett to be on her team for the upcoming Sandusky 70.3 half-Ironman relay. Kim was looking for a runner to tackle the half-marathon, as she planned to bike the 56 miles, and had another friend perfect for the 1.2-mile swimming race.
Of course, Brett joined the team. But, as he said yes, he knew that this would be a sort of last-hurrah for him for a while. He was planning to take some time off from competitive running for the next two years to better take care of his health. While he could never fully give up his love of running, the competition would probably be his last for some time.
"We never thought – I never thought – we were going to win going into it," Brett said. "So to win was really great."
After his teammate John Stauffer finished the swimming portion, and Kim finished the biking portion, it was Brett's time to shine. He was about 15 minutes behind the leader when he began his portion. As Brett ran through historic downtown Sandusky, it occurred to him that he was going out from competitive running with some new friends in his corner back in his hometown. As the anchor leg, he was determined to do it right.
Brett achieved an average running rate of 6 minutes and 8 seconds per mile, far faster than his goal of a 6 minute, 45 second pace. Through his hard work and the work of his teammates, Brett and his team won 1st place in the Ironman 70.3 Ohio Relay. 
"To win was great," Brett added, looking back on the experience. "I pushed because I knew, to go out like that is the way I wanna go out. And to win was like a bonus."
For younger runners out there interested in running, Brett knows that consistency and discipline are vital to his practice. "You have to work hard, obviously, and stay consistent – getting out the door when it's the hardest. Those are the basic things," Brett explained. "On the other side of it, mentally, you have to keep yourself in check and stay mentally healthy." Brett described times when he had hit a slump and let it get to him, and all that did was make it harder to get out of the slump. "At the end of the day, you have to have another life outside of running too."
For Brett, running is a passion – a "get-to." It's something that he loves doing, and won't give up even if he has to give up the competition factor. That passion and love of it is something that keeps him going. "You can't treat it like it's a job," he explained, "That'll only make it harder. One of the most important things you can do is keep having fun with it."
As Brett continues to wrap up his college career and pursue victory elsewhere, he and Heidelberg are proud of how far his passion and his pursuit of balance have brought him. Congratulations, Brett!
 
Published on
Jul 31, 2023