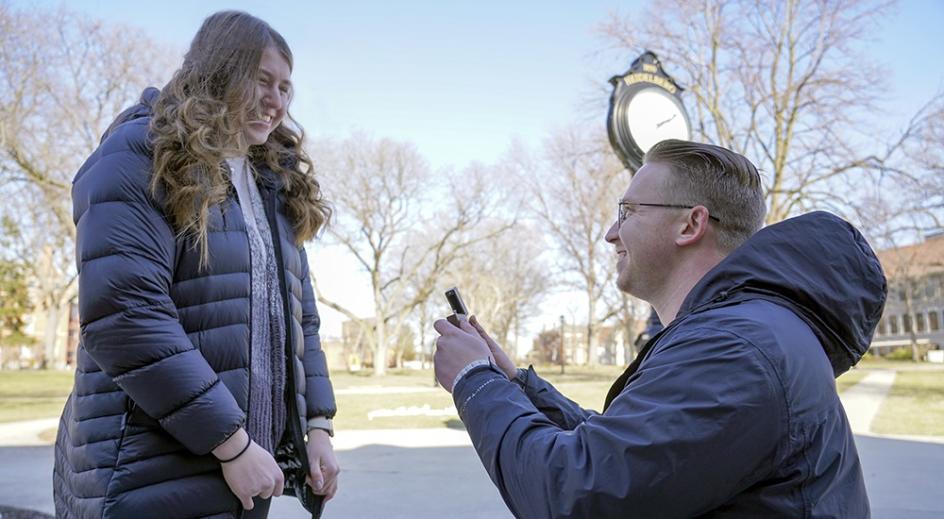 Rachel Gerken '21 thought she and long-time boyfriend Austin Nainiger '20 were heading to Tiffin for an early Valentine's Day celebration on Saturday. It turned out to be so much more.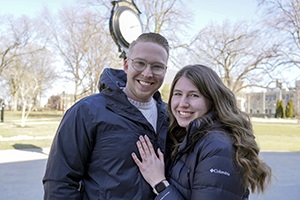 Instead, Austin brought Rachel to campus where they took a short stroll, stopping in front of the Campus Center. There, he got down on one knee and proposed. She said yes!
When they say their "I do's," they'll join the ranks of 3,214 individuals who met their spouse at Heidelberg.
After the proposal, the two couldn't stop beaming. "I was so nervous," said Austin. "Yeah, I could tell you were a little off today," Rachel added.
The two met during Rachel's sophomore year and Austin's junior year when both were serving as Welcome Week leaders. Their paths occasionally crossed on campus and later, during Greek activities, when they found themselves working closely together to plan Greek events. She is a Delt and he is a Delt Guy.
Soon after, they made it official by becoming a couple.
Austin has known for some time he wanted to propose and worked with a local jeweler to find the perfect ring. And even though Rachel had "a little idea" they would soon be getting engaged, his detailed plan caught her by surprise.
He meticulously planned all of the details of the day, right down to the path they'd walk to get to the front of the Campus Center. One of the first details was the actual location where he'd propose.
"It's just the most special place to us," he said afterwards. "It's where we met and we have lots of memories here. If it wasn't for Heidelberg, we wouldn't have ever met."
After Rachel said yes, the two walked over to T-Bridge for a sweet reflection. Then, after making a few phone calls to share their wonderful news, they hit some local establishments to celebrate with drinks, dinner and a nightcap at the popular Madison Street Tavern for mac and cheese bites.
Austin joked that now, Rachel can give him access to her Pinterest folder where she saved "some ideas and inspiration" for their big day.
All of our best wishes to Austin and Rachel and happy wedding planning!