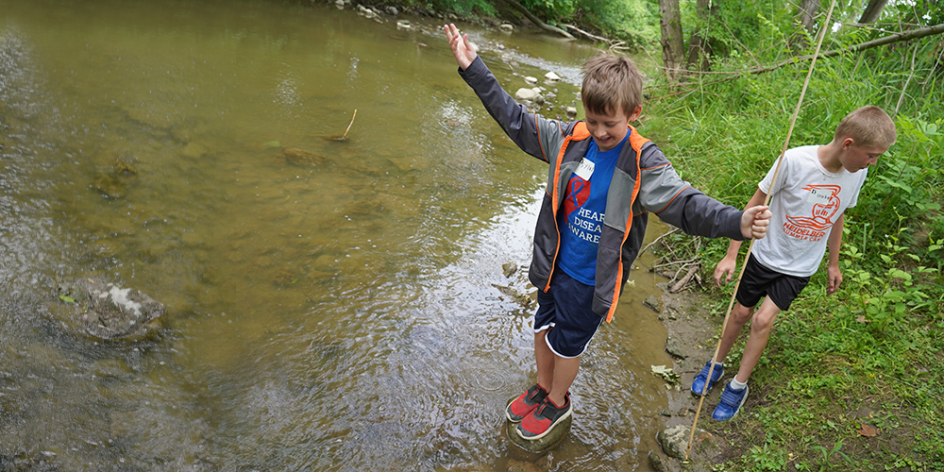 ---
On Thursday and Friday last week, a dozen kids between the ages of 10 and 12 took part in the first Sandusky River Watershed Coalition Water Camp, hosted by Heidelberg University's National Center for Water Quality Research. These kids got a close-up view of what it means to work in a water lab and a deeper appreciation for the outdoors for free – the cost prorated by the Tiffin Community Foundation White Family Fund and Youth Advisory Council. Led by NCWQR Field Manager & Sandusky River Watershed Coalition Coordinator, Jakob Boehler, students learned about a variety of tasks in field work. 
"I think it is very important for us as water quality researchers to share the information we know about water quality with others," Jake said. "These kids are going to be the leaders of their generation, so it is critical for us to teach them about how science works and why water quality is so important,"
Starting on Thursday, campers interacted with a watershed model to learn more about the keys to maintaining clean, healthy waterways. From there, they took off on a nature walk on the Rock Creek Trail. They measured the distance of the river bank, learned interesting vocabulary and facts about the importance of trees, shrubs and roots – and they learned what mulberries and wild onions look (and smell and taste) like! After lunch, they got to jump into Rock Creek, and learned about the animals and fish that call the Creek home, and how to assess their habitat by testing water sample's chemical breakdown. They wrapped up day one with a tour of the National Center for Water Quality Research at Heidelberg.
On Friday, they departed for a tour of the Aqua Drinking Water Plant here in Tiffin, where they learned about how we make our local water safe to drink. When they returned, they tried their hand at fishing at the Heidelberg Pond, and identifying the invasive species that they had been learning about throughout the camp. After lunch, they learned how to use Water Filter Kits, and put what they had learned at the Aqua Drinking Water Plant to the test.
To round out the two-day camp of education, the kids finished their experience playing well-loved water games, like sponge or cup races and water balloons. This celebration of water and the nature that keeps it clean was fun from start to finish, both for the children who like running outside, as well as those who like keeping tally on a clipboard.
"This was our first year doing a water camp and it definitely will not be our last!" Jakob shared. "Seeing the kids light up and get excited about water quality was just awesome and made all the preparation and hard work put into the camp worth it!" These future scientists were the first of many groups to get this first-hand look at what it means to be devoted to sustainability, and the importance of what the NCWQR and SRWC are trying to sustain: good ol' H2O!
Published on
Jun 27, 2023
Programs
Environmental Science & Sustainability