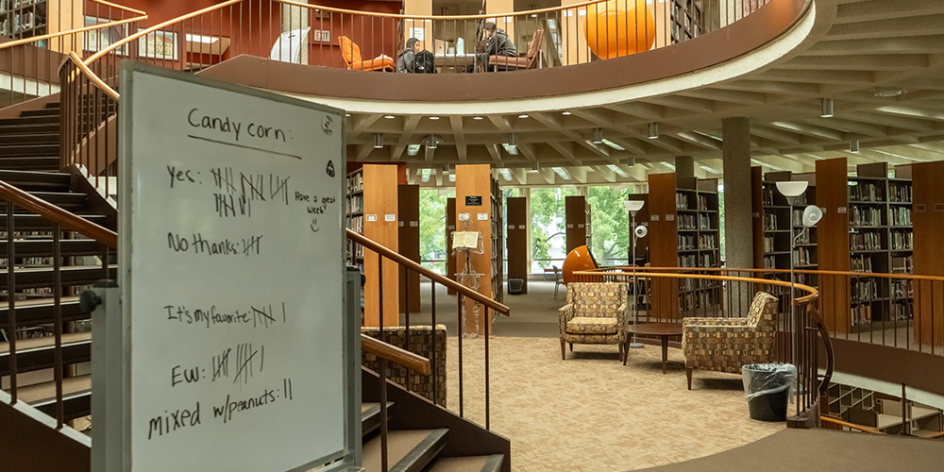 ---
Beeghly Library is undergoing several changes to make their space a more accessible "one-stop-shop for students' academic needs," according to Director Cassandra Brown.
Although there are more additions on the horizon, Beeghly Library has already become the place for students to receive research guidance, academic support, advising and accommodations. A key aspect to this change was the moving of the Owen Center for Teaching and Learning into Beeghly this summer. The move granted the professionals at the Owen Center more space (and a more visible space) to assist students.
The early weeks of a new school year are always busy for Beeghly, but these changes have indicated more sustained traffic in the library can be expected throughout the rest of the semester. And more people using the library is what librarians love most!
"It's easy to think you're not using the library correctly when you are," Cassandra explained. "We teach students how to use all these resources, but then using a library is all about self-direction. We're here to serve, support and provide what you need." 
Additionally, librarians like Cassandra love helping students make the most out of the education they're paying for – and utilizing the library is a huge part of that! "Not utilizing library services, like databases, is like double-paying for a Netflix subscription. What you pay for your Heidelberg education entitles you to the full range of services – which we can help you understand and learn how to use!" 
As the library adds resources, they're also refining what they offer. Many out-of-date articles and periodicals were cleared to make room for new services and offices, while ensuring that the beloved quiet spaces are still available. Those coveted, cozy study areas are still growing, too. The library is increasing its accessibility for students, making those study spaces wider and easier to navigate for everyone, thanks to improvements to elevator doors and the addition of an inclusive restroom.
This fall is the library's "soft opening," in a way, according to Cassandra. There's still more changes and additions to be made, but students are still able to enjoy and utilize what Beeghly is offering currently. So, be sure to stop by, see the progress and learn something new about what Beeghly library has to offer!