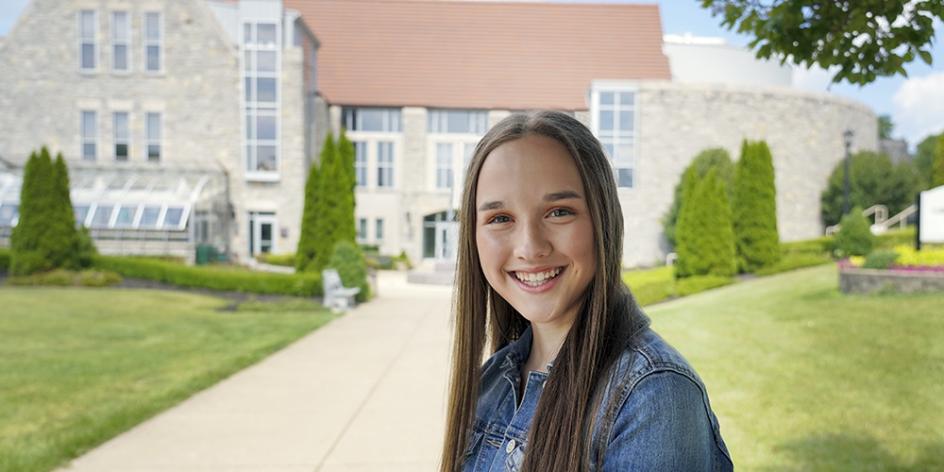 ---
Olivia Raubenolt's first experience in college did not go as she had envisioned. So the second-semester freshman transferred to Heidelberg, and her decision has made all the difference.
"I didn't originally consider Heidelberg. Honestly, it never crossed my mind because I didn't want to go to college in my hometown," Olivia says. "I was ready to get out." She initially enrolled in another university, realizing almost immediately that it wasn't a good fit.
The other university fell far short in residential living and especially academic support – critical to Olivia's career goal to become a cardiothoracic surgeon.
"I had always been an exceptional student in high school and I began to question my abilities," Olivia says. "Am I not cut out for college? Do I need to give it more time to adjust? I was barely keeping my head above water."
She recalls making tutoring appointments for which the tutor didn't show up and going to faculty office hours where no faculty member was present. "That really tainted my image of what I now have learned college is supposed to be."
As a biology major on the pre-med track, Olivia had a big decision to make. "Is it worth it to just be content where I am or to take that uncomfortable step and potentially have a better experience?" she wondered.
It didn't take long to make the hardest yet best decision of her life. She transferred to Heidelberg. And while she thought it would be temporary, after the first week she knew she had found her academic home.
"I got here and within the first week, I knew I was never going to leave," says Olivia, who joined the Honors program this semester.
Confidence restored
At the Owen Center for Teaching & Learning, she found exactly the academic support she was looking for. And she found connections with her faculty members who went above and beyond to help her get through her most challenging courses. 
Because she enrolled mid-academic year, Olivia was apprehensive that she would fall behind. "But that fear quickly dissipated once I learned about the Owen Center" and how easy it is to take advantage of the academic support resources available to all students.
"My tutors not only helped keep me in great academic standing, but they restored the confidence I had lost from my previous university. … Everyone at my previous school told me they had everything that Heidelberg actually has.
"It was nice to have that sense of comfort that if I don't understand something, I won't be thrown to the wolves."
Full circle
When she enrolled at Heidelberg, Olivia was terrified to take chemistry, which her high school didn't offer. With the support she found at the Owen Center and from her professor, Dr. Brandon VanNess, she aced the course.
It was such a positive experience that Olivia decided to pay it forward and become a tutor through the Owen Center for other 'Berg chemistry students. She's also going to tutor in public speaking and piano.
"It's so amazing. The class I struggled in the most and now I'm going to tutor in it!" she says.
Now that she's settled at the Berg, this semester Olivia plans to explore some major-specific student organizations such as Chemistry Club and SCRUBS. 
Positive experience = scholarship
Last semester, Morgan Harrigan, the Owen Center's Director of Academic Support, nominated Olivia to receive a NOSS: OH Student Scholarship and she won. The scholarship was based on an essay along with faculty and staff nominations. 
Olivia will use the $350 award toward the purchase of her textbooks. But even more, she's looking forward to getting a jump on her ultimate goal: to change people's lives in positive ways. 
"Because of the experience with tutoring I had at Heidelberg, I can 'start my career' right now. In helping others with their coursework, it will not only solidify course material for me but will allow me to begin making a difference.
"That is the greater, and arguably more important, lesson I have learned in my educational journey at Heidelberg so far."
Published on
Aug 21, 2023