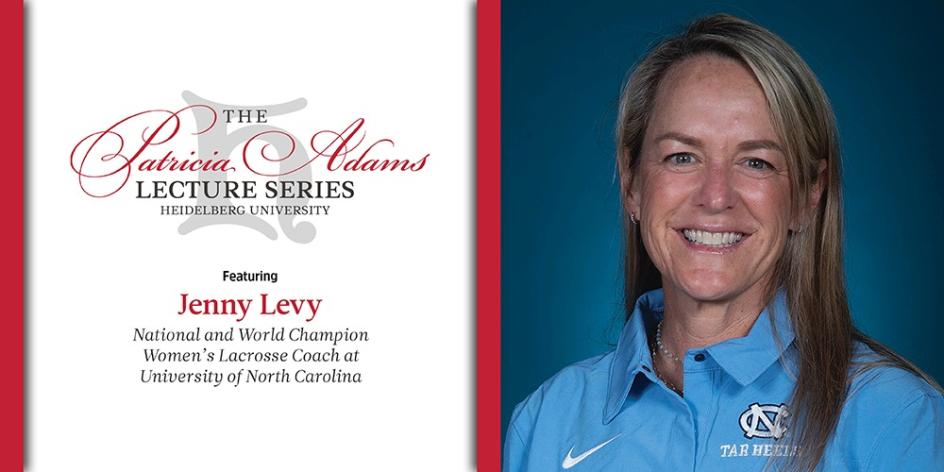 ---
University of North Carolina women's lacrosse coach Jenny Levy – a Hall of Famer as one of the winningest coaches in the sport – is coming to Heidelberg this fall as the keynote speaker for the 2023 Patricia Adams Lecture Series.
The announcement of Jenny's visit to Heidelberg was made today by Susan McCafferty, chair of the PALS Selection Committee. PALS will be held this fall on Thursday, Sept. 28.
During Jenny's visit to Heidelberg, she will have an opportunity to interact with the entire campus community, and especially with students. She will meet with students in various classes, participate in an informal fireside chat and engage with Heidelberg's student-athletes and coaches. The highlight will be her keynote address during an evening dinner and reception.
About Jenny Levy's career
Entering her 28th season as North Carolina's head coach, Jenny ranks third in NCAA Division I history in career wins, is a three-time national champion and a three-time National Coach of the Year. She has more wins and more Atlantic Coast Conference regular season victories than any coach in history. She has a career record of 395-118, including 96-33 in ACC play, in 27 seasons. In 2021, she was inducted into the National Lacrosse Hall of Fame.
Jenny was named head coach of the United States National Team in November 2017 and guided Team USA to the gold medal at the 2022 World Championships. The U.S. went undefeated throughout the tournament and six athletes on the 18-person roster played under Levy at UNC – the most of any school in the nation.
She has led the Tar Heels to 13 appearances in the NCAA Tournament semifinals, tied for most in NCAA history, including 10 of the last 13. Her 40 NCAA Tournament wins rank third in history. 
Jenny became the fourth coach in women's lacrosse history to win an NCAA championship as a player – with Virginia in 1991 and as a head coach. She is one of only five head coaches to win three or more NCAA titles.
UNC in the record books
North Carolina posted a storybook season in 2022, winning the national championship, its sixth ACC title in a row and the first undefeated (22-0 with a school-record 22 wins) campaign in program history. The IWLCA named Levy its National Coach of the Year for the third time after the season.
In 2021, UNC won its first 20 games and its fifth consecutive ACC championship on the way to reaching its ninth NCAA semifinal in 12 tournaments.
In 2016, UNC set a school record for most wins (20) and fewest losses (two) in a season, went 7-0 to win the ACC regular season and won the second ACC Tournament and NCAA Tournament titles in program history. The Tar Heels also won a program-record 17 games in a row to close the season. Levy earned National Coach of the Year honors after the season.
In 2013, North Carolina beat defending national champion Northwestern in the NCAA semifinals, then downed top-ranked Maryland 13-12 in three overtimes for the title in one of the most thrilling games in the sport's history. She earned national-coach-of-the-year honors from Inside Lacrosse, the IWLCA and Lacrosse Magazine.
The only head coach in UNC women's lacrosse history, Jenny built the Tar Heel program from scratch. She has guided North Carolina to 24 NCAA Tournament bids, 13 NCAA Tournament semifinal appearances, 10 ACC regular season titles, seven ACC Tournament titles and three NCAA championships in 27 seasons. She is a seven-time ACC Coach of the Year.
On a personal note …
An outstanding women's lacrosse player at the University of Virginia from 1988-92 and an assistant field hockey and assistant women's lacrosse coach at Georgetown University from 1993-94, Jenny was named North Carolina's first women's lacrosse coach in October 1994.  
She is a 1992 graduate of the University of Virginia with a BA in rhetoric and communications and was a member of the U.S. National Team in 1992-93 and again in 1995. Jenny played at Virginia from 1988-1992.  She led the Cavaliers to the 1991 NCAA championship, scoring three goals in the title game and five in the semifinal, leading to her selection as the tournament's Most Outstanding Attacker. A two-time first-team All-America, she was named the 1992 NCAA Attacker of the Year. In 2002, she was named one of the top 50 players in ACC history.
Jenny and her husband, Dan, are the parents of three children.
 
Published on
Apr 26, 2023