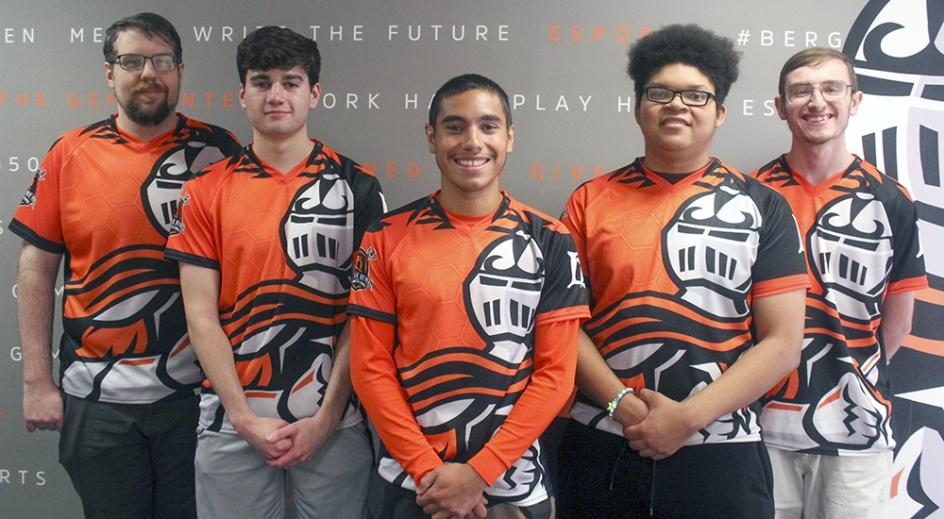 In its first year of competition, Heidelberg's Esports team feels somewhat like an underdog. As the digital athletic competition based around video games becomes a mainstay on campus, every step toward success is that much more satisfying.
In January, Ryan McDannell was hired to develop Heidelberg's first Esports team. He brought on Tiffin native Keygan Yonts as a graduate assistant coach. The Esport Club, led by Matthew Perry and Nate Jiminez, laid a strong foundation for one of Heidelberg's newest sports.
The co-ed Esports team recently traveled to Marietta to compete in its first-ever match, fielding two teams – playing the titles Super Smash Brothers and Valorant – as a member of the Great Lakes Esports Conference. And they scored their first win in program history, going 1-3. This weekend, they have a big challenge: the T-Town Throwdown against Tiffin University. It'll be an excellent platform to showcase the team's progress.
Regardless of the outcome, it's definitely been a year of "learn by doing" for the players and the coaches alike. For a lot of the players, this experience is their first being part of a competitive team.
"It's definitely going to be a learning year for us," Ryan says. "We are leaning on each other as coaches but also on the students and we're growing together as a team."
The team is up for the challenge.
"We're going up against a lot of programs that are well established and have had plenty of success in the last few years, but I just feel like that makes every win more satisfying," says sophomore team member Sam Miller, the team captain for Smash Brothers. "I think that our players will get a lot of valuable experience out of this year. It's a learning experience for all of us, and we have to put in the effort to really learn what it takes to be a successful collegiate Esports team."
That's exactly what they've done so far. Ryan and Keygan guide practices for the Smash Brothers and Valorant teams three times per week with competitions scheduled on Saturdays throughout the year. Next semester, Heidelberg will field four teams, including Overwatch, Rocket League, Rainbow Six Siege and Super Smash Brothers.
Building a program
Ryan hit the ground running when he arrived, visiting high schools, competitions and events in his effort to recruit for Heidelberg's team. He was active promoting the program on social media and other outlets. Back on campus, more than 30 students expressed interest either in competing or joining the team and its media broadcast effort.
This year's team, Ryan said, is primarily comprised of returning students who've had an ongoing interest in gaming, with a few freshmen mixed in. Among them is Matthew, a senior who organized the Esports Club to introduce competitive gaming to Heidelberg's campus. Now, he's the assistant team captain for Valorant and the assistant broadcast and streaming coordinator.
"Since I founded the program with Nate and many other friends, it only made sense that I should take some role in what we worked so hard for," Matthew says. His comrades are learning to play competitively "in a game that is inclusive, no matter race or gender," and that's a great outcome for his efforts.
There have been a lot of moving parts to putting the team together, with recruiting, practices and filling roles such as shot casters, photographers, video editors, in addition to the actual gamers. "We have tried to take student's strengths and knowledge and mold those into what our team will ultimately become," Ryan says. 
It's definitely a work in progress with road bumps along the way. But big goals are the guiding force. 
"A lot of the students want to try to go professional. That's the type of drive our students have," says Keygan, who competed for Muskingum University before landing the coaching gig at Heidelberg. "We're pushing ourselves and looking to push each other as well," Ryan adds.
Although it's just the team's first year, they're already looking for great results to come. "We have three years to build up our freshmen. When they're seniors, we're going to be really good," Keygan says. 
The main event: T-Town Throwdown
On Saturday, Sept. 23, Heidelberg Esports will make the trek across town to compete against Tiffin University in what the teams have billed as the T-Town Throwdown Esports Showcase.
"Since we were already slated to face one another this fall, we decided to turn it into a friendly 'showcase,'" Ryan says. "We've had very good communication with each other to try to establish the local esports scene together."
"We hope this is the start of something cool here in Tiffin, Ohio."
TU joined the competitive Esports scene in 2017, so they have an edge in experience as they try to claim the first traveling T-Town Throwdown trophy. But The Berg has its eye on the prize.
"I imagine they're going to have some strong teams. Hopefully, we'll steal that trophy away sooner than later," Ryan said. His team leaders are expecting an intense and thrilling atmosphere that will be appealing to watch in person or via live-stream on Twitch. The event is open to the public.
"One of the best things about Esports is meeting new players you wouldn't have met otherwise because you wouldn't have known they played the same game unless you knew them," says Nate. As the captain of the Valorant team and the only team member with direct competitive experience, he hopes his team shows improvement in communication, aiming and focus skills, not only at the T-Town Throwdown but throughout the season.
Big first-year goals
Battling through youth and inexperience, the team leaders recognize the potential going forward. A bit part of it is having fun.
Matthew says, "I hope to learn even if we are here to compete, we can still have fun and fair matches that are entertaining to watch."
Sam has a big-picture view. "My goal for this year is to prove ourselves as a team and build a solid foundation for the program," he says. "I want our team to have a good first year so we can establish ourselves as a program that potential recruits will want to be a part of."
Published on
Sep 15, 2023