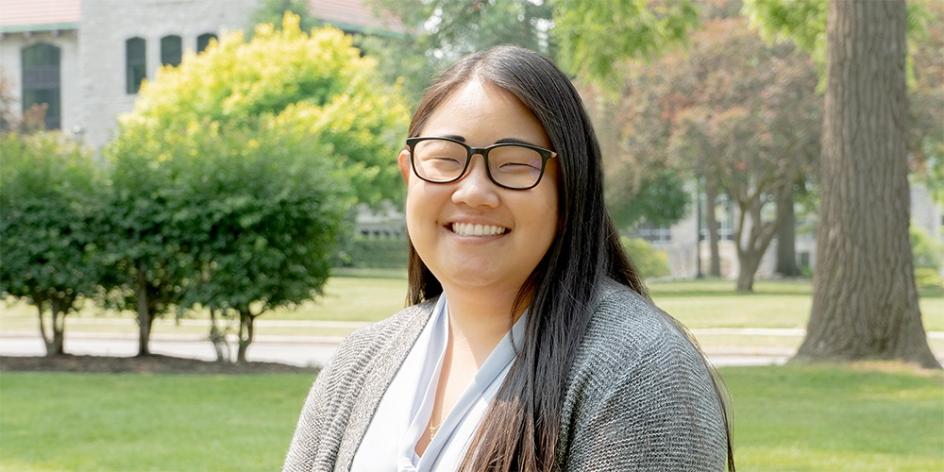 For Sydney (Calabro) Hieronymus, beginning her new role as the director of The Heidelberg Fund has been like coming home in more ways than one.
As a highly engaged student, Sydney was a member of Greek Life, Athletics, Berg Enactus and the Student Alumni Association. SAA was her first taste of higher education advancement and she has never looked back.
After graduating in 2019, Sydney began her professional career in higher education advancement at Heidelberg as the assistant director of Alumni Engagement. Serving successfully in that role for two years, she assisted with regional alumni events, regional chapter groups and larger-scale events such as Homecoming and Alumni Weekend.
Her passion for cultivating relationships literally started at Heidelberg. It's what took her to Hawai'i, where she led the annual giving efforts on multiple initiatives from growing overall donor participation to building a new and robust approach to amplify the senior-class giving campaign at Hawai'i Pacific University.
On June 1, she returned to Heidelberg, and can't wait to engage with alumni.
"I'm thrilled to be back at my Sweet Alma Home," Sydney says. "I look forward to giving back to the place that inspired me to become a fundraiser.
"Of course, it's rewarding to fundraise for any cause, but to do it or the place where it all began is extra special and hard to put into words. Heidelberg is home and always will be."
Sydney adds that she and her husband, Christian, '19, are "surpisingly excited" to be back on the mainland, even though she no longer has the pleasure of waking up to palm trees and the smell of the ocean breeze.
 
Published on
Jun 30, 2023