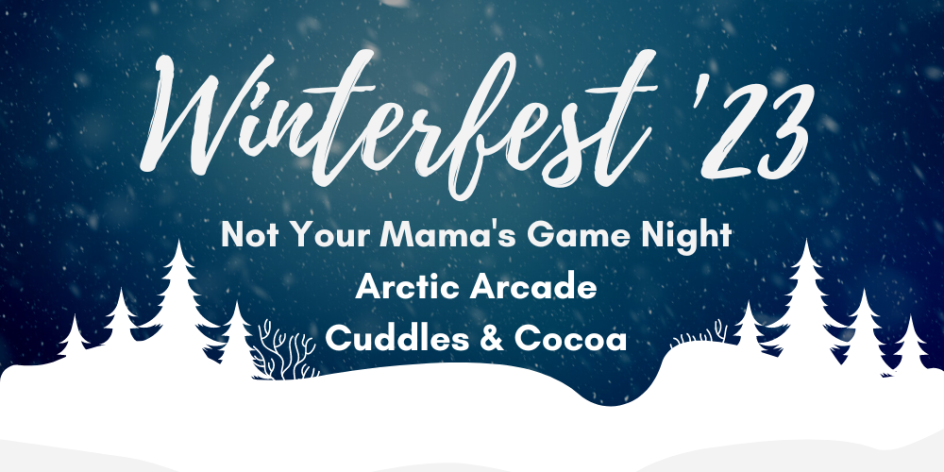 It's time: welcome to Winterfest 2023!
Winterfest is an annual celebration of getting back to student life, hosted by the Berg Event Council. Every year, BEC works to improve upon their regular events, while keeping the old favorites in tact. Students can still expect their favorite mocktails (or cocktails) and stuffed animals, but will be surprised and excited about the new games and activities that BEC is bringing to campus this year. "I'm most excited about the fact that it is our first major event since being back on campus, so it gives everyone a chance to come together and not worry about school for a night or two," Noah Parris, a member of BEC, explained. He is most excited for the first event of the weekend on Friday.
Winterfest starts with "Not Your Mama's Game Night" on Friday, January 20 at 7 p.m. in France Great Hall. A new twist on the traditional Winterfest dance, students can enjoy Parkhurst's snacks and drinks while playing a variety of board games and participating in the ever-popular BEC bingo game. 
Saturday is the big one – the Arctic Arcade event begins at 4 p.m. in Seiberling. Vaiden Mallonn, the traditions chair for BEC is most excited for this party. "We have completely revamped this to have different games, inflatables, roller-skating and the winterfest t-shirts for the students!" she shared. Remember how to roller-skate; test your skills on a mechanical snowboard (not dissimilar from a mechanical bull); defend the arctic with whack-a-penguin; race your pals in light-speed ninja snow; reach for the sky with a velcro wall bounce and so much more! 
On Sunday, BEC has their traditional Cuddles and Cocoa event to help students relax before jumping back into the week. At 2 p.m. in the University Commons, make your own stuffed animal out of a cute, curated selection, and warm up with hot cocoa and snacks.
Winterfest is always about reminding students how missed they were over the break, and this year is no different. With new events and old classics, throw yourself back into student life in 2023!
Published on
Jan 19, 2023