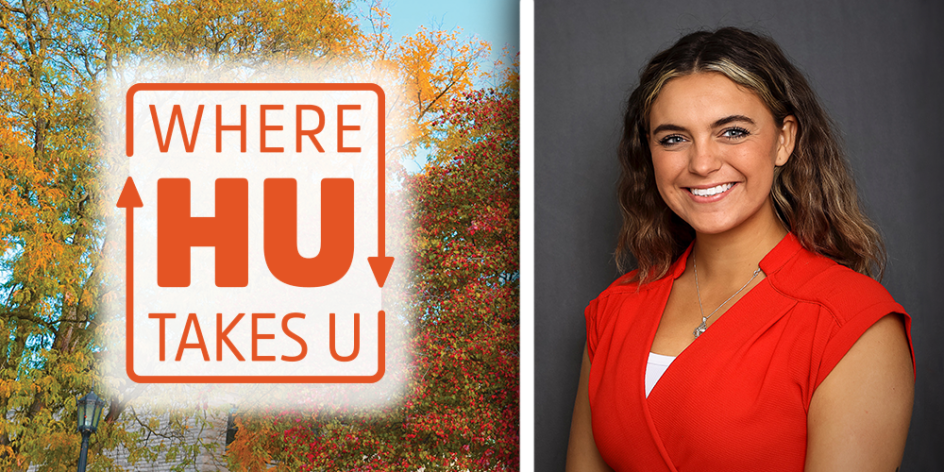 Once a part of the Heidelberg family, always a part of the Heidelberg family – but after graduation, our Student Princes are now the hard-working and ever-learning leaders of a new community. In our new web series, we're checking in with our recent grads about their Heidelberg journeys, and asking them Where HU Takes U.
Taylor Ramsey
Taylor Ramsey, raised in Springfield, Ohio, graduated from Heidelberg in 2021 with a degree in Athletic Training.
What is your current position and when did you begin?
Women's Basketball & Cheerleading Athletic Trainer/Instructor, Fall of 2021 
What has been surprising about your new position or the process of earning it thus far?
I have accomplished so many things since starting my career. Since graduating from Heidelberg, I have appreciated the chaos and learning experiences of a GA, moved into a fulltime position, finished my Master's of Science in Physical Education, and began teaching Athletic Training undergraduate and graduate courses. I have been surprised by how fast I have moved up in my profession and look forward to continuing this growth.   
What knowledge or skills do you rely on most in your day to day life?
Communication and self-confidence. The key to every successful person is the ability to communicate appropriately, which includes being confident in yourself and the information you are providing. 
What experiences or individuals were particularly impactful during your time at Heidelberg and in what ways?
Tyson Depinet was one of the most influential figures I had during my time at Heidelberg. He cared about his students in the classroom, in the clinic, on the sidelines, and in life. He has been a great mentor and taught me so much about AT and life. 
What advice do you have for current undergrads trying to find their next step?
Be involved on campus! Heidelberg offers so many fun organizations that help you build great relationships with your peers.
Published on
Aug 18, 2023