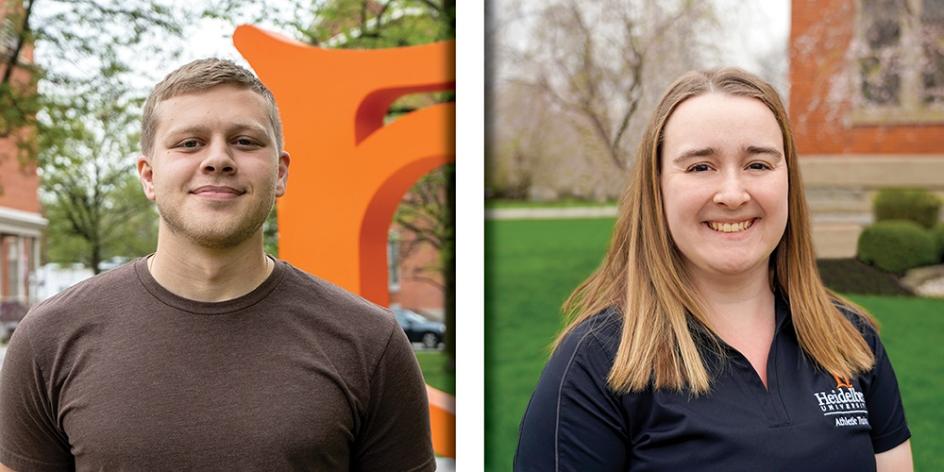 ---
Lauren Shaw and Levi Myers' paths crossed even before they enrolled in Heidelberg's new Master of Athletic Training (MAT) program two years ago. Now, the two of them share another distinction: they comprise the first-ever cohort to receive MAT degrees from Heidelberg.
In 2021, Heidelberg's popular Athletic Training program transitioned to the graduate level, as mandated by the Commission of Accreditation of Athletic Training Education. That started the ball rolling for Heidelberg to enroll its next generation of grad students.
Lauren and Levi were pursuing their MAT degrees at another area university that decided not to transition its athletic training program. Living close by, both chose Heidelberg as the next step in their athletic training journey.
"Now that we're done with the program, it's probably the best decision I could have made," said Levi, who was a student-athlete in high school and has always been interested in pursuing a career in athletic training.
Lauren had an equally positive experience. "Overall, I really enjoyed it," she said. "We have great faculty. They're always flexible and willing to meet our needs, and the Athletic Training staff was easy to work with."
It's been a win-win for the faculty who created the MAT program as well.
"I'm very happy we got to start our program with these two," says Dr. Jena Suffel, Clinical Education Coordinator and Assistant Professor of Athletic Training and Health Sciences. "I always appreciated their willingness to go with the flow and adapt as we needed to adapt."
Initially, Levi says he was unsure what to expect with a brand-new program. But it didn't take long to feel "super welcome." Both new grads enjoyed the personalized attention that such a small class afforded them. Lauren also had high praise for the strong communication of the faculty throughout their two years in the program.
They worked out the kinks together, frequently sharing feedback about the order of classes and other topics about the flow of the program.
"Nothing stopped us from growing as athletic trainers and people," Levi said. 
They were kept extremely busy, gaining tons of hands-on experience on campus, working with various 'Berg athletic teams. Lauren worked with football, volleyball, women's basketball, baseball, men's soccer, wrestling and men's lacrosse. Levi worked with football, women's soccer, men's soccer, men's basketball, women's basketball, baseball and wrestling, and completed an off-campus clinical rotation with Tiffin University's football team.
The experience of working with various teams exposed them to the full range of injuries that inherently come with different types of athletes. "It was very beneficial to be with all those different sports," Levi says.
Walking across the stage as the first two graduates in the MAT program, both Lauren and Levi realize they are trailblazers in a sense, and will forever be linked to the MAT program and Heidelberg.
"It's crazy to think about, really," Lauren says. The impact of the moment hasn't sunk in just yet, Levi adds.
When it does sink in, both of the new grads will be off to their first professional opportunities. Both are weighing multiple job offers.They couldn't have hoped for a better outcome.
Congrats, Lauren and Levi!
Published on
May 14, 2023
Programs
Master of Athletic Training