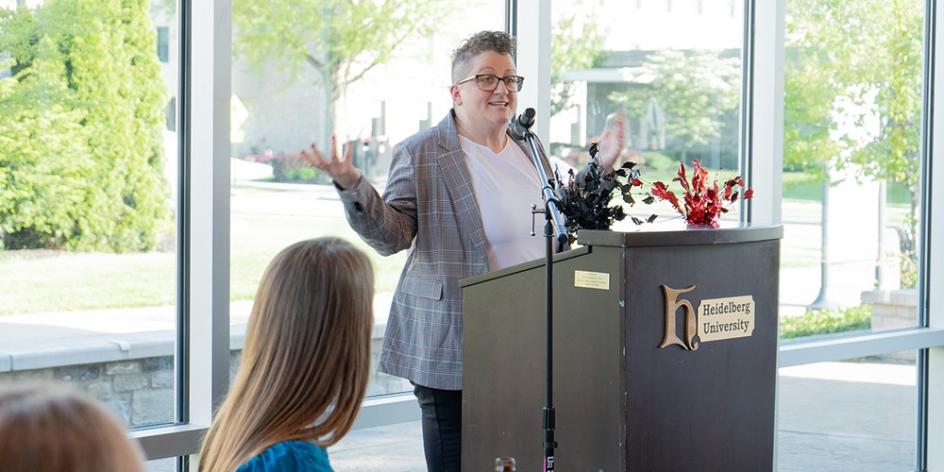 ---
Erin (Watts) Marchant '06 is the recipient of this year's Young Alumni Achievement Award, presented Thursday night as part of the Beyond the Berg event to welcome this year's graduating seniors into the alumni family.
The award recognizes a recent grad between their 5th and 20th class reunions who has demonstrated leadership and achieved distinction in their career field and/or service to mankind.
With her stellar resumé, Erin is the complete package – career woman, servant leader and wife and mother. Currently residing in Dayton, she balances a key position in supply chain management at Collins Aerospace with raising a family and serving her community.
Accepting the award, Erin reflected on her time as a leader on campus and her journey as an alumna. Her first interaction with her alma mater after graduation was to serve on a focus group that was exploring Heidelberg's name change from College to University. 
"As a young alum, I will tell you, I was offended by that," Erin recalled. "It was really hard to accept that change."
But time and life experiences softened her opinion. "As I've gotten older and learned more and seen the evolution of young people, I do believe it was a change for the better."
Later, Erin volunteered to serve on the alumni council of the Euglossian Society. It was an eye-opener and led to a lesson learned about resistance to change. She learned that it's important to listen to what young people want and need to be supported.
Erin's journey as an alumnus – in addition to being a learning and listening experience – ties into the words of advice she shared with the Class of '23.
"I would encourage all of you, as you become alumni this weekend and leave these hallowed halls, always keep in mind what the next generation needs and that it may be somewhat different than what you needed as a Heidelberg student," she told them.
"Keep in touch (with Heidelberg). But also be open to change and willing to have your minds stretched by the Heidelberg students of tomorrow. I think you will be – as I was – very pleasantly surprised."
A stellar resumé
After earning her bachelor's degree in economics and political science in the Honors Program, Erin launched into her career, spending the first 11 years in supply chain management.
    
At Collins Aerospace, the world's largest supplier of aerospace and defense products with annual sales of $22 billion and 70,000 employees, serves as the director and value stream leader of regional business and military jet lighting and interiors.
Throughout her career, Erin has also excelled in management positions at Moen Inc., Henkel Corporation, Rockwell Automation, Joy Mining Machinery and Rolls-Royce North America.
Erin is a lifelong learner, having completed an MBA from Ashland University, a master's degree from Kent State and an executive certificate in strategic management from Case Western Reserve University.  She's currently pursuing her Ph.D. in Global Leadership and Change at Tiffin University.
She continues her long-time involvement with Junior Achievement. Additionally, she volunteered as a mentor for CollegeNow of Greater Cleveland, a program that pairs at-risk college scholarship recipients with a mentor during their college journeys. She has lent her time and talent to a number of other organizations related to education and literacy. Currently, she serves on the Board of Directors for the Miami Valley Symphony Orchestra, where she is also a member of the viola section.
In addition to serving her community, she also serves her profession, having spoken at practitioner conferences all over the country.  She is a regular contributor to industry blogs and magazines. 
Welcome to the alumni family
About 100 seniors attended the annual Beyond the Berg event, which was co-sponsored by the Student Alumni Association, the Alumni Council, the Office of Alumni Engagement and HYPE Career Ready®. The grads-to-be won raffle prizes and had the opportunity to network with alumni.
Published on
May 12, 2023
Programs
Political Science
Supply Chain Management