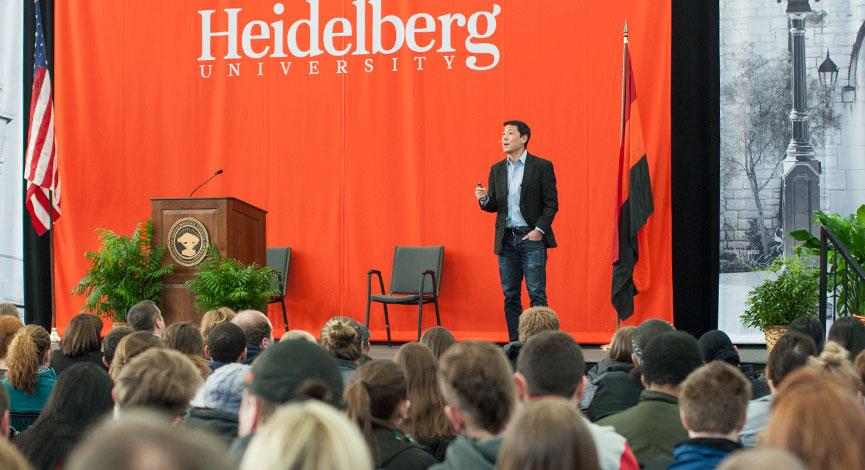 Michael Kim gave up a promising financial planning business in Chicago to pursue his passion: helping North Korean refugees escape a life of oppression.
New Year's Day in 2003, when Kim left the U.S. with two duffel bags and a one-way ticket to China, he began his journey to lead the refugees – and especially victims of sex trafficking – to safety and freedom.
As the final HYPE Career Ready speaker this academic year, the laid-back Kim shared his story with the 'Berg community Thursday, revealing his personal lessons for successfully dealing with conflict.
Along the way, Kim said he realized that life can get messy, and it's during those times when we learn how to manage conflict. "What differentiates us is when things are tough," he said. "If it hasn't already happened in your life, it will."
His challenges were self-imposed. Early in his career, Kim had learned of the plight of hundreds of thousands of North Korean refugees who were trying to flee to China in search of freedom. He decided he'd try to help them.
Internally, he wrestled with his decision. But ultimately, his passion fueled his mission. "You have to understand, (passion) really does help us deal with challenges and difficulties. If I wasn't passionate about this, I might have given up."
Instead, he forged on, leading many sex-trafficking victims to safety via a 6,000-mile modern-day underground railroad. It wasn't easy.
After arriving in China, about 30 minutes from the North Korean border, Kim went underground. He trained in Tae Kwon Do, legally changed his name and immersed himself in the culture. Through his four-year odyssey, he encountered harrowing experiences: interrogation, house arrest and being held at gunpoint.
For his HYPE keynote, he shared the stories of four teenagers and two women sex-trafficking victims whom he helped to freedom.
His message to students was this: The moments that test your resolve the most – moments he equated to being held at gunpoint – are the ones where you have to dig deep and creatively look for solutions in which everyone wins.
"When we're faced with challenges, we think there's an 'option a' and a 'option b', but often there's another option: 'option c,'" Kim said.
Today, Kim has returned to Deloitte, where he has married his career and passion by creating an organization – his "option c" – that uses data and analytics to assist sex-trafficking victims in the U.S. He continues to work on human rights issues by speaking around the country to raise awareness. Additionally, he authored a memoir about his experiences, "Escaping North Korea," which is being made into a film.
"When I decided to put my stories into a book, I had no idea of the power they'd have," Kim said. "I thought I was teaching and helping them (North Koreans), but what really happened is I was taught. This helped me identify my passion. It's fulfilling and it changes your life forever."
Published on
Mar 17, 2017