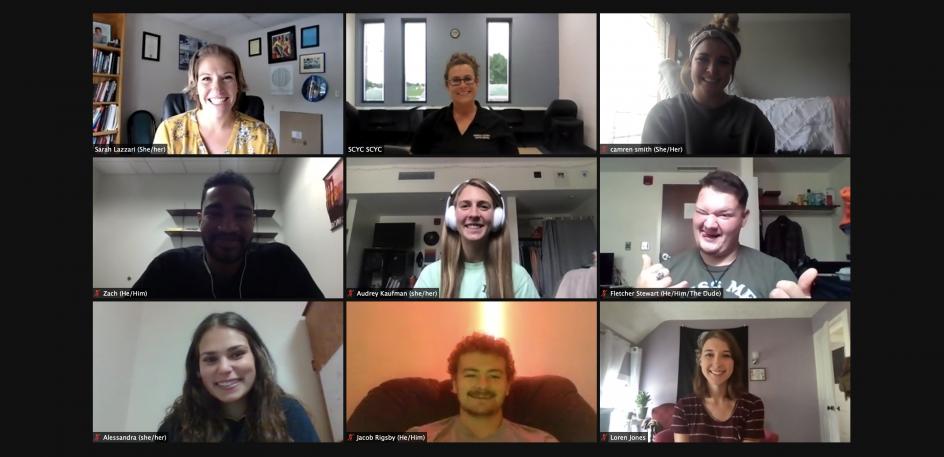 Every Thursday at 1 o'clock, eight Heidelberg students click into a very different kind of Zoom meeting. They connect with juveniles incarcerated at the Seneca County Youth Center and together, they write.
Through the Writers in Residence program, the youth find their voice through artistic expression and constructive self-expression. This is the second semester Heidelberg students have volunteered to serve as mentors in the program, guided by criminology professor Dr. Sarah Lazzari.
Writers in Residence was launched in 2017 as a student organization at John Carroll University by Co-founder and Director Zachary Thomas, who sought to replace playing basketball with the youth with a more creative outlet. Now officially a non-profit, Zach received funding to expand and develop it at other Ohio colleges and universities; in addition to Heidelberg, five others are participating this year.
The programs goals are to increase literacy levels and decrease recidivism rates among the youth, who are incarcerated on lower-level charges and whose sentences include an educational component. On the flip side, the 'Berg mentors are benefitting equally – breaking down barriers, building relationships, making connections, serving as advocates and learning transferrable skills for their own careers.
Senior English major Fletcher Grey was familiar with people from these situations who want to do better. "This is a learning experience for both sides," he says. "And whatever can be done to serve the community should be done for the community." He returned to Writers in Residence again this year with lessons learned and more to give. This year, he wants the youth with whom he's working to just "write what you think is most honest.
"After last year, I asked questions, I wanted to do better, because these guys want to do the same. So, why not do it?" Fletcher says.
Alexa Hawk, a senior psychology and criminology major, believes this opportunity will be great prep for grad school and her ultimate career goal of being a clinical psychologist, working with incarcerated juveniles. She also returned to the program this year.
"I got to work first-hand with juveniles who needed guidance. I made friendships and connections that will stay with me," she says. "I hope that in some way, shape or form, I impacted their live in a positive way too."
Alexa recalls that everyone's story and background are different. Sometimes, the stories were heartbreaking and emotional. But she tried to be a ray of sunshine for them, making the most out of their time together. And that is returned to her. "Knowing that you are someone these juveniles can feel comfortable talking to makes you smile, and it makes my heart happy," she says, adding that she hopes the youth also have fun with the experience.
For future educator Audrey Kaufman, it was important to gain an understanding of students of all backgrounds, especially those who are "the most stereotyped and misunderstood in schools." Audrey, a junior, also returns to the program this year following a positive experience last year.
"It gave me a deeper understanding of what they are going through," she says. "I also was able to connect with them through these conversations. … We all have our own experiences and that actually makes creative writing all the more interesting and engaging."
Audrey's hope for the juveniles is that they become comfortable with sharing and develop confidence in themselves and their academic abilities. In turn, she hopes to take her new understanding of this population into her own future classroom.
Ultimately, all of the Heidelberg students went into the Writers in Residence experience with an attitude to serve, to help and to learn.
"If I can learn to communicate better with others, trust myself to gain their trust, and marvel at the works that are in the making, then yes. I did it! And if they leave a better person than when they walked in, why, that's all the better," Fletcher says.
Last year, the writing workshops took place in person on Heidelberg's campus. But the COVID-19 pandemic has added a new layer of challenges. This year's sessions are taking place via Zoom. Both the juveniles and the 'Berg students are working their way through the process. After completing an orientation training with Zach, who leads most of the sessions, they were ready to jump right in.
"Obviously, with COVID, we are unable to be in an actual classroom, so it is a little more difficult to have those conversations and make those connections when I'm not sitting right next to them," Audrey observes. "I have noticed, though, that everyone being in their own environment that is familiar to them has led to more willingness to share our writings."
Sarah, who has extensive experience researching incarcerated populations, is proud of their contributions and their progress.
"This is a really great leadership component for our students," Sarah says. "They are learning what it means to be a writer, what it means to be a teacher and what it means to work within the criminal justice system."
To conclude the experience, each Writers in Residence cohort publishes a chapbook, highlighting and sharing the writings of the juveniles from that year. The work of the residents paired with Heidelberg students from last year is titled Words I Would Not Say.
Also participating as Writing in Residence mentors: Aurora Kinney, Camren Smith, Jacob Rigsby, Loren Jones and Alessandra Piazza.