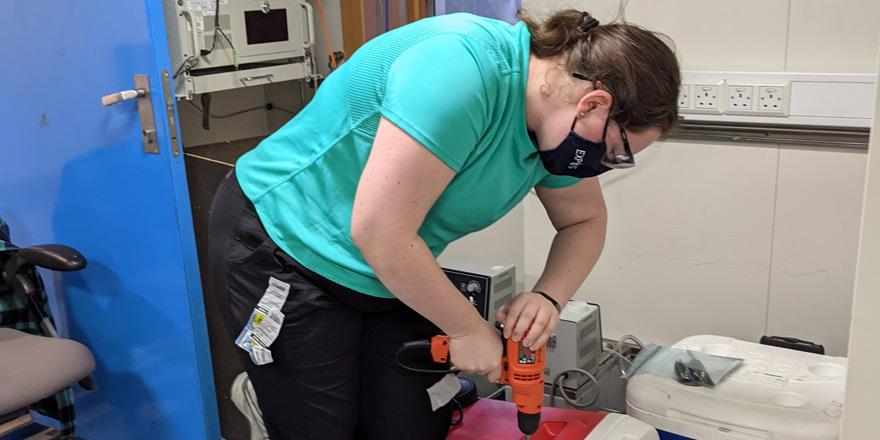 What better lab than an ocean vessel in the middle of the Northern Atlantic if your aspiration is to become a marine scientist?
Although she's glad to be back on solid ground, '19 alumna Melanie Cohn, a double major in chemistry and environmental science, recently returned from a monthlong ocean research expedition as part of her Ph.D. program in the Department of Marine Sciences at the University of North Carolina Chapel Hill.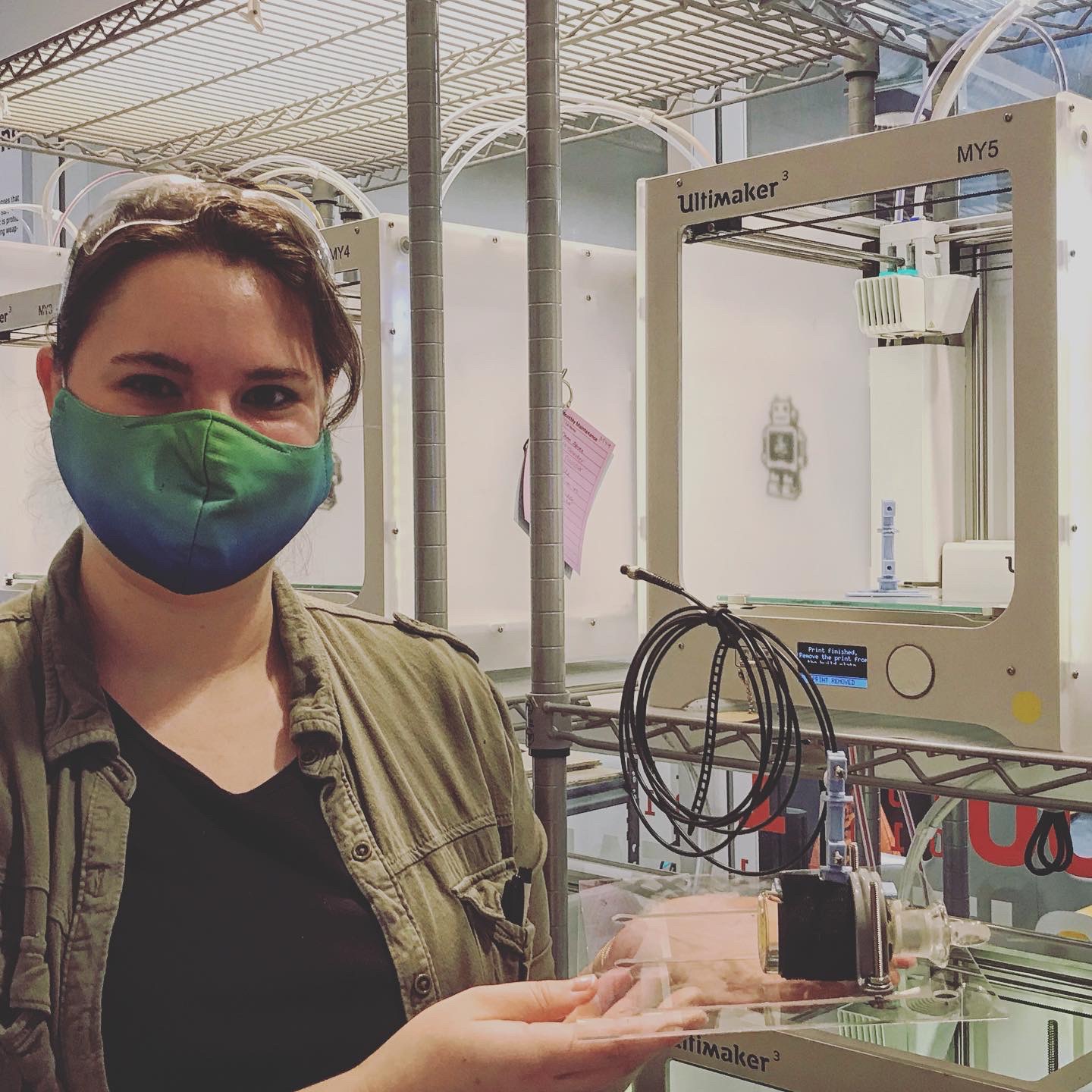 "When I joined the Gifford Lab at UNC, I expressed my interest in the project, in going to sea, and having the opportunity to network with such a large and impactful group of scientists in our field," Melanie says.
Funded by NASA and the National Science Foundation, EXport Processes in the Ocean from Remote Sensing science plan, or EXPORTS, is part of a massive, multi-year undertaking to study how carbon and energy move within the ocean. Scientists from across the globe are working to measure the stocks and rates of carbon transfer in the ocean. The first field campaign was held in 2018 in the North Pacific Ocean. The second – and the expedition on which Melanie worked – was last month near the Porcupine Abyssal Plain in the North Atlantic Ocean.
After over a year of planning, COVID delays, quarantine and travel logistics, and learning from her "incredible group," Melanie set sail on her first major research expedition aboard the RRS James Cook for the second leg of the field campaign. The experience certainly didn't disappoint.
"The expedition was amazing," she says.
As it turns out, ocean ecosystems are critical to the Earth's carbon cycle. Melanie explains how the research expedition plays into this: "Given that the oceans are two thirds of our planet, advancing our knowledge of the transfer of carbon and energy between the atmosphere to the oceans and within ocean food webs is critical in order to assess the impact of climate change in the ocean."
The Cook's mission
Essentially, Melanie and her fellow scientists are studying what microbes are present, how they are acting metabolically, what kinds of organic compounds they are producing, and what organic compounds they are degrading for energy and growth.
In short, the million-dollar question is this: "Can we link satellite ocean color imagery to the biological and chemical fluxes that move carbon in the ocean and across the ocean-atmosphere interface?"
From a single location at the field site, tracking the same water mass, Melanie's lab was primarily responsible for collecting marine microbes by filtering more than 1,600 liters of seawater. Additionally, she coordinated experiments with all of the collaborators on land and sea.
Each of the two main vessels had 27 scientists and 27 crew members. "We also had a tremendous team supporting us from land and space; our advisors back home, the NASA team tracking us and all 50-plus of our 'assets" in the water and taking satellite imagery, and the many, many others who helped pull off such an enormous project in the middle of a pandemic," Melanie says.
The inquisitive crew member
As the youngest member of her science party, Melanie was a sponge for new information. Her crew encouraged her endless questions. "I really enjoyed working with our collaborators because I learned new skills and other parts of the ocean systems that I normally wouldn't work on. The two most common questions I asked were 'What does that do?' and every morning at 2 a.m. when I woke up to start my experiment, I would visit the hanger where the zooplankton group had buckets full of deep-sea creatures and I wanted to know 'Can I poke it?'"
What's next back at home?
Melanie's crew got exactly what the chief scientists spent the past decade planning and hoping for. Their comparison of two oceans revealed the "desert" North Pacific from 2018 and the "rain forest" algal bloom and system collapse in the North Atlantic.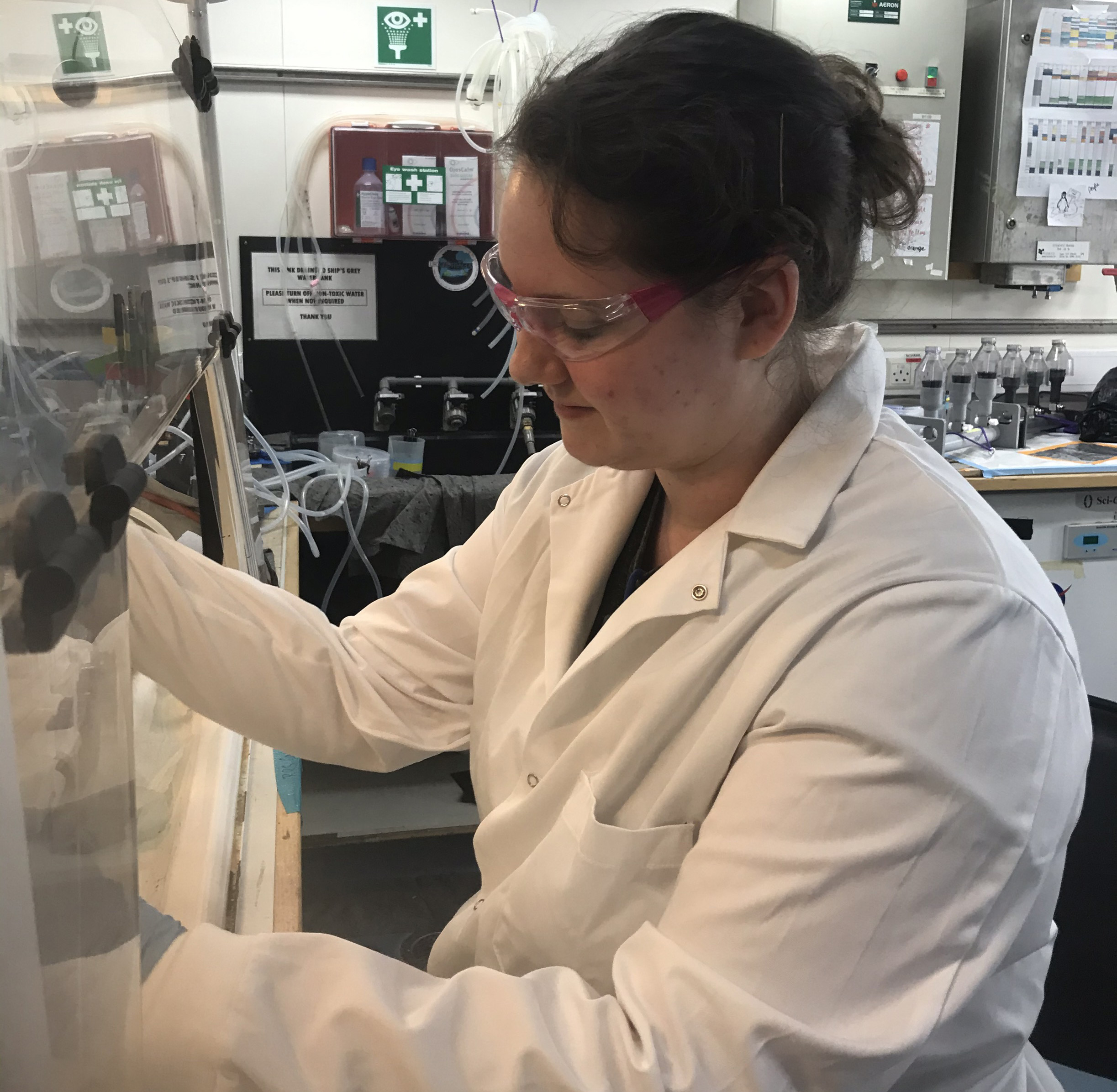 "We met or exceeded our sampling goals for all of our experiments, which after the years of planning by the team, feels like an amazing feat," she says.
They'll spend the coming months processing samples and conducting data analysis to answer those who, what and how questions. All of this will be in preparation for NASA's PACE project, will launch a satellite to take high-res images to assist in global climate and ocean modeling.
Support and encouragement
Years before she embarked on her ocean adventure, Melanie found a wealth of support from faculty members at Heidelberg. "I would have never imagined I'd be doing what I do today without the support and encouragement from my Heidelberg faculty," she says. 
'Berg faculty mentors Amy Berger, Nate Beres and Justin Pruneski, among others, provided more than just classroom instruction, according to Melanie.
"They didn't just teach me how to conduct solid science but encouraged my curiosity and passion."
She's also grateful for scholarships that allowed her to travel to teach, learn and conduct and present her research—such as a two-year study of Belize barrier reefs during her undergrad experience – were invaluable as she begins her career as a researcher.
There's no limit where the waves will take her.
 
Published on
Jun 22, 2021
Programs
Chemistry
Environmental Science & Sustainability