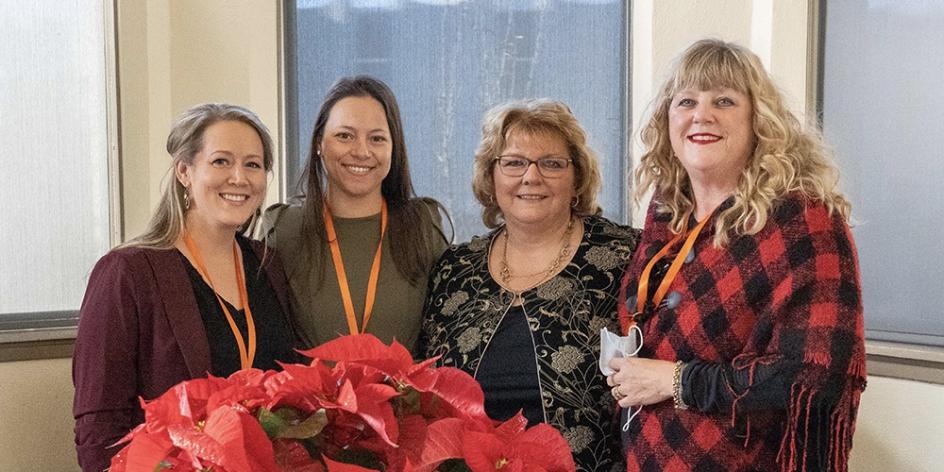 ---
Nursing students Beth Brown, Melissa Bucheit and Amanda Lutz will forever hold a wonderful distinction at Heidelberg. As the first group to have completed Heidelberg's RN-BSN program, they comprise the inaugural class to receive their nursing pins.
Already working nurses, Beth, Melissa and Amanda and their families participated in Heidelberg's first-ever Pinning Ceremony on Sunday. The ceremony was organized by Dr. Karen Estridge, director of the Nursing Program, and held in Herbster Chapel.
For Heidelberg's first Pinning Ceremony, Karen delivered the welcome, followed by an invocation and blessing of the hands by Chaplain Paul Sittason Stark. President Rob Huntington and Provost Bryan Smith provided congratulatory remarks before the students received their pin from Karen.
Beth, Melissa and Amanda began their RN-BSN completion coursework in January of this year. All three graduated on time while working professionally. 
"This is a very intelligent group," Karen said. "They've done a great job of balancing work, life and school responsibilities while completing their work and fulfilling graduation requirements."
The RN-BSN Completion pathway provides the opportunity for licensed nurses to obtain a BSN in a friendly and flexible online environment. It is designed to meet the needs of adult students who have employment or perhaps family commitments.
The program is project-based to encourage meaningful learning and immediate application of new knowledge and eliminate busy work that may or may not contribute to learning.
You will complete eight online baccalaureate nursing courses taught via Heidelberg faculty; two of which include a convenient clinical component. 
Heidelberg also offers a 1-2-1 Nursing pathway that leads to a bachelor's degree in nursing. The first class in Heidelberg's 1-2-1 Nursing Program is scheduled to graduate in May 2023.
Published on
Dec 13, 2021