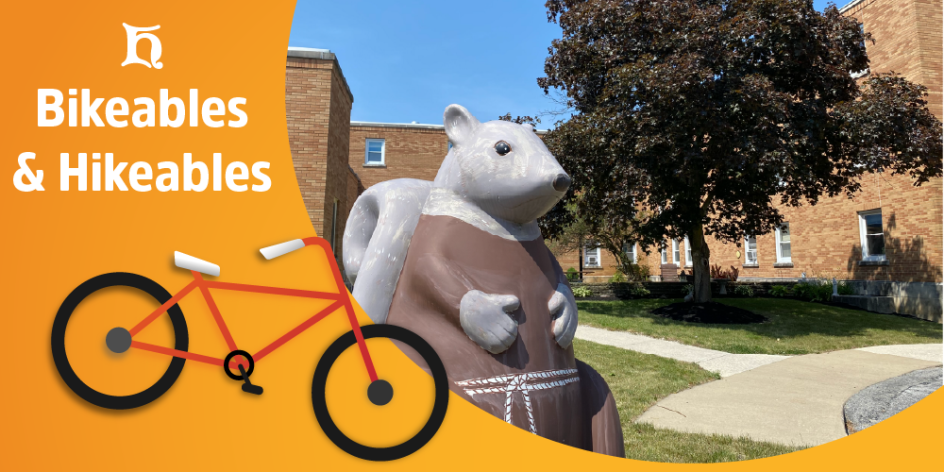 ---
Join Digital Marketing Specialist and recent 'Berg alum Em Swain '22, MBA '23 as they visit some of Tiffin's hidden gems, only a short bike-ride away from Heidelberg University's campus. It's our summer web series, Bikeables and Hikeables!
---
The St. Francis community campus is the definition of peace and quiet. Only an 8-minute bike ride from the center of Heidelberg's campus, the St. Francis community has endless opportunities to give back, enjoy the beauty of nature, and get in touch with oneself.
As many of the upperclassmen at Heidelberg know, St. Francis has endless volunteer opportunities available for students, and the Sisters who reside there are always willing to help out with a class project. Most recently, earlier this year, Dr. Desi Matherly's Writing for Social Change class interviewed Tiffin's local nuns about their lives and activism, ranging from desegregation to caring for AIDS patients in the early days of the crisis. (You can read more about the project here.)
The St. Francis Earth Literacy Center consistently has events to help educate young ones and adults alike about the natural world. The center is home to the Seeds of Hope Farm, which hosts cooking and gardening classes. Programs for the kids and a book club are also regular at the center. Just beyond the barn, you can find the Straw Bale House, a low-environmental impact demonstration house, which you can tour on the first Monday of each month. 
If you don't want to commit to a certain program, walking around the campus is just as rewarding. One of my favorite areas is the grotto behind the Spirituality Center. Words can't describe how beautiful it is around sunset, but I will say, the first time I visited there, I felt the need to take my shoes and hat off before stepping into the area. I also enjoy spending time right outside of the Earth Literacy Center barn, where I like to make friends with the chickens in the coop there, touch the lamb's ear plants in the sensory garden, or enjoy the flowers of the butterfly garden.
Now, I don't know if I could call it a secret, but if you continue to walk down Port Road, past the Franciscan Earth Literacy Center, the greenhouse, and the fields, you'll find St. Francis's forest. There are four paths through the forest, the end of the final path peeking out onto South Washington Street near US 224, which is currently in full bloom with purple and white flowers. Nothing makes you feel quite as alive as taking a moment in the middle of the forest to look up and only see green leaves. It's definitely one of my favorite experiences.
So, if you're looking for a "hikeable," walk or bike over to the St. Francis community campus. It's a beautiful, peaceful place to be.