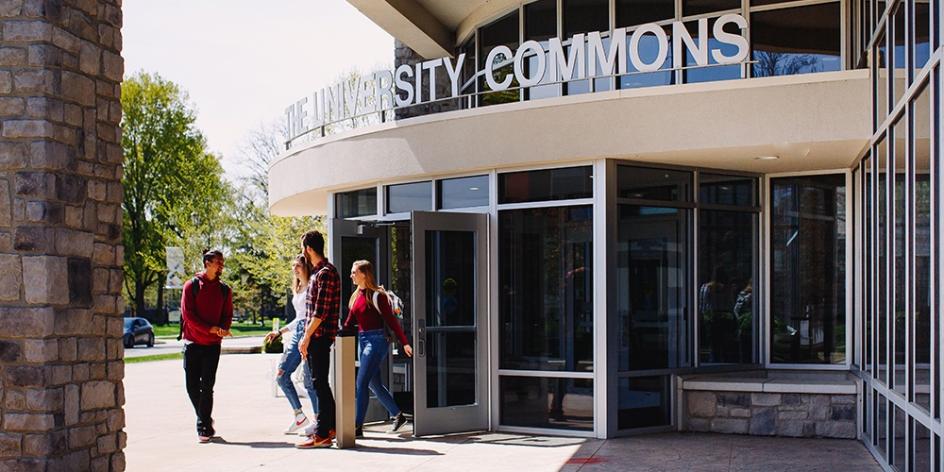 Already have your associate's degree? Want to go for more? You can take the next step and complete your bachelor's degree from Heidelberg University in less than two years' time through a unique new program designed specifically for transfer students announced today.
Heidelberg's new Open Transfer program is designed to save transfer students time, money and stress.
Transfer students with an associate of arts or an associate of science degree from an accredited institution can now enroll at Heidelberg and complete a bachelor's degree in the same major in only 60 credit hours, or about two years. No extra paperwork. No red tape. No barriers. Heidelberg's Open Transfer program removes all of that for you, said Dr. Tony Bourne, vice president for Enrollment Management and Marketing at Heidelberg.
Transfer students who want to pursue bachelor's degrees often face losing credits and courses that don't align with the university programs they choose when they decide to pursue their bachelor's degree, Tony explained. This means that degree-seeking transfer students must retake courses they have already passed or entirely new courses just to meet a four-year school's unique requirements. Just two or three extra classes may mean they have to stay for an extra semester, costing these students thousands of dollars. Often, students have a whole extra year in front of them.
"Universities should be finding ways to make this process work for students," Tony said. "We feel if you graduate from an accredited associate's degree program, you've done your part. Making a pathway toward a bachelor's degree is the university's burden, not the student's.
"Heidelberg has decided the old method of exclusionary agreements, paperwork and barriers to entry should no longer be the norm. We're excited to move past this outdated practice."
As the only school to adopt a policy of this kind across the bulk of its majors, Heidelberg is excited about the opportunities Open Transfer brings to community college graduates. "Heidelberg is committed to creating opportunities for students and this change in practice will save students time, money and stress," he said.
Open Transfer options
This new Open Transfer option will roll out in time for the Fall semester in August.
At the launch of the program, transfer students interested in pursuing a Heidelberg bachelor's degree can choose a course of study in any of the 8 business majors (accounting, business administration, economics, finance, human resources management, management, marketing, and supply chain management), criminology, English, history, political science and psychology as they enroll through the Open Transfer option. Additional majors will be added in the future.
The new Open Transfer policy also entitles transfer students to participate in Heidelberg's OnePlusAdvantage® MBA Tuition-Free Scholarship Program. Those who transfer in and complete a bachelor's degree in two years, earning a 3.0 GPA or higher, can go on to earn a Master of Business Administration degree in one year, with 50% off tuition.
Resources for success
A key component in respecting and encouraging transfer students is providing excellent resources and academic support. Dr. Bryan Smith, vice president for Academic Affairs and Provost, is confident that transfer students who have earned their associate's degree will be well-positioned to succeed academically. Heidelberg provides innovative resources – such as the Owen Center for Teaching and Learning (OCTL) and HYPE Career Ready® – to ensure success for all students.
"The Owen Center for Teaching and Learning provides an integrated and holistic approach to student support services including academic advising, academic support, and accessibility services which are available to all students as soon as they are admitted to Heidelberg," Bryan said. 
"The OCTL is complemented by the HYPE Career Ready® and Placement staff who assist students with procuring meaningful experiential learning experiences, including internships, to develop a complete resumé and assistance with preferred placement upon graduation."
At every step of the process, Heidelberg University is committed to providing the support transfer students need, and respecting the work they've already done.
For additional information, visit https://www.heidelberg.edu/open-transfer.
Published on
Feb 20, 2023
Programs
Business Administration
Criminology
English
Finance
Healthcare Administration
History
Management
Marketing
Political Science
Psychology