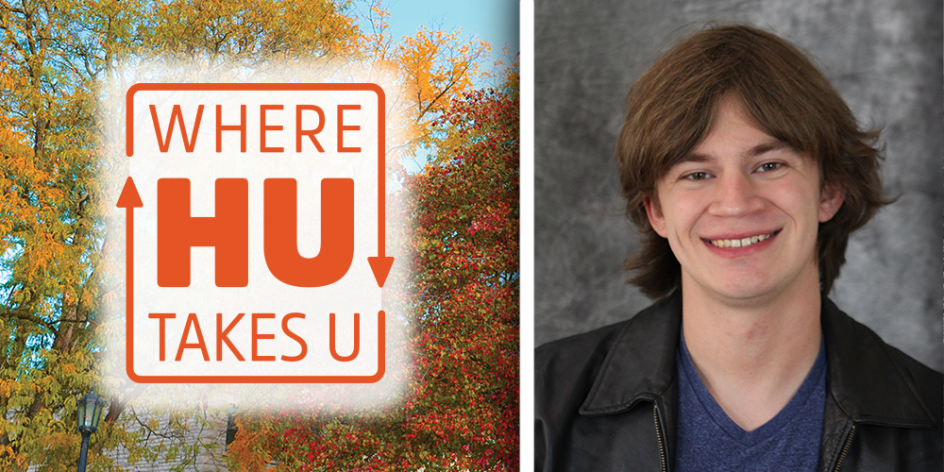 Once a part of the Heidelberg family, always a part of the Heidelberg family – but after graduation, our Student Princes are now the hard-working and ever-learning leaders of a new community. In our new web series, we're checking in with our recent grads about their Heidelberg journeys, and asking them Where HU Takes U.
Ethan Campbell
Ethan Campbell, raised in Fostoria, Ohio, graduated in May 2023 with a bachelors in science in computer science, with minors in music and business. You may recognize his name from his Internship Chronicle article last summer, discussing his time at J.M. Smucker – where he is now working full time.
What is your current position and when did you begin?
I am a developer at the J.M. Smucker Company. I began full time in June of 2023, however I interned here in the summer of 2022.
What has been surprising about your new position or the process of earning it thus far?
The amount of integrations that technology has in a business has been eye-opening. In college, I worked on a lot of individual projects and assignments, more or less in a vacuum. In a company, collaboration is so important. Everything works together and touches everything else. So every time a professor talks about how group projects are important? They are right.
What knowledge or skills do you rely on most in your day to day life?
I use a lot of the knowledge that I learned in class. It gives me a baseline to work off of and develop new skills. What I rely on the most, however, is problem solving skills that I learned along the way. Every day I get passed another piece of the puzzle, or I get to learn a new system. That is the biggest benefit of a college education. It's not really about the skills themselves, but the skills to learn other skills on the job, and that is what Heidelberg taught me. 
What experiences or individuals were particularly impactful during your time at Heidelberg and in what ways?
Professor Sean Joyce was so impactful to me during my time at Heidelberg. He always knew how to get me (and my classmates) to learn, and how to get me engaged. He taught me many skills that I use every day.
Professor Kurt Huenemann also had a large impact on my college career, and I will always value working with/learning from him at CNIT and learning from him when he taught the occasional class.
For experiences, the marching band was one of the best experiences I had in college. It taught me punctuality, it taught me leadership, and it taught me to care about the big picture. I credit it with the work ethic I now have.
What advice do you have for current undergrads trying to find their next step?
Don't rush! Do everything with purpose, do everything with meaning. Make sure you're taking care of yourself, physically and mentally. It's ok to stop and smell the roses once in a while!
Published on
Sep 15, 2023