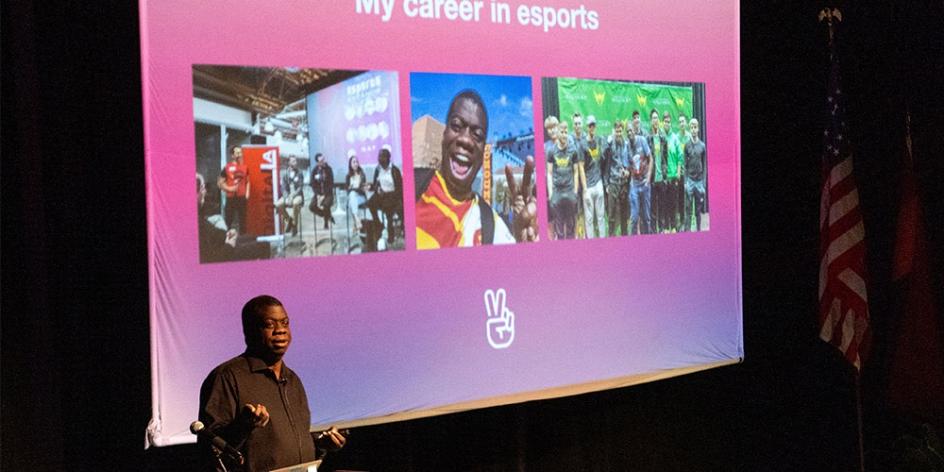 ---
Gordon Bellamy has made a monumental impact with his career in the gaming industry, specifically in sports gaming such as Madden NFL Football. Bellamy joined Heidelberg students to share his journey in the gaming field Tuesday as the last keynote speaker this semester in the 2021 HYPE Career Ready® program.
The game of life
Bellamy came from a family of lawyers, thus with high expectations to continue the family tradition. He originally went to Harvard to become an environmental attorney; however, he soon realized that what he was pursuing wasn't who he was or wanted to be.
"I needed to find out my passion so I could have a career – a life – being who I am," he said.
Bellamy is a sports enthusiast but also thoroughly enjoyed playing video games. He decided he wanted to network himself into ESPN, specifically for EA Sports. He sent his resumé off to the company and in return heard absolutely nothing. Bellamy knew that this is what he wanted to pursue and thus decided to call every single person in the credits of the EA Sports game to ask if they had an opportunity for him. Bellamy had made it all the way down to the special effects list of names when a man of the name Jim Simmons said that if Bellamy could make his way out to California, he would get a chance to be able to be an entry-level game tester. There was no promise of a job after but Bellamy knew he could ignore this opportunity. After saving and saving, he flew to California with his life in a single backpack.
As a video game tester, Bellamy was placed in front of a new game and was told to find as many bugs as possible within the game. Upon doing very well in this entry-level stage, Bellamy was hired for a summer internship making sports video games. For his first assignment, Bellamy was placed on the Madden NFL Football production team. Single-handedly, Bellamy went out and contacted NFL teams and took copious notes on his ideas for improvements to the game.
"I arrived (at an internship) not really ready to be a team player. I was banished to another building and game," he explained. "That's where I learned the actual craft of working with a team."
It was a humbling experience for Bellamy because even though it was a hard lesson, he learned that improving the game does not solely depend on him but on a team of skilled individuals. Returning back to the Madden game, he was able to work his way up to lead designer. Yet the work felt unsatisfying. Along with his best friend, Bellamy and his best friend decided to build their own company. Although successful, they decided to sell to a larger company. This move set him on the path to follow his passion to help others create and become game designers.
Gaming helps level up more than just on a screen
Bellamy is passionate about Esports because of how inclusive and accessible it is to anyone who can get to some form of phone or computer. Being a gay and black man, Bellamy recalls the rules that were laid out to follow. However, when it comes to Esports and other video games, a different set of rules apply. This concept feeds into one of Bellamy's main points: You are enough.
"We didn't grow up with social media the way you have … searching for validation 24/7. What was fun was fun. It's important for you to hear it: You are enough. It's hard enough with grades and jobs. It's just important to remember that."
The rise of esports
Bellamy has transitioned to a different form of gaming: teaching about the now multi-billion-dollar gaming industry, specifically esports.
"After years in gaming, now, I'm in education. I'm a professor. My motivation, my purpose is I love helping people get from point A to point B who didn't know how to get there."
Esports, he predicted, are going to be a big part of our future.
Collegiately, there is a wave of schools offering scholarships to play and manage video games. Additionally, there are all sorts of jobs around esports, such as business development, production, sponsorships and social media. More importantly, though, esports helps build professional skills such as teamwork, professionalism, problem solving, flexibility and time management.
"Esports is ready for you," Bellamy said. "You do not need to be good at (playing) video games if you are good at supporting the whole area. It's going to be around for your lifetime. It's worth pursuing."
-- by Bailey Walter, '22